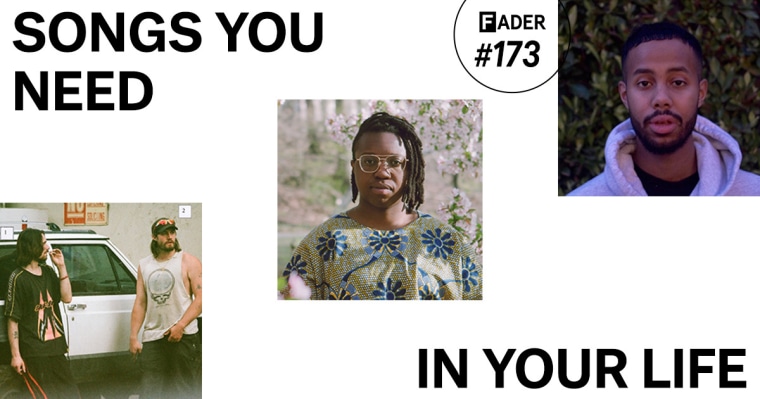 "Starfall" — Salem
The first official single from the witch house group's near-decade-long hiatus is a lovesick synth-pop prom ballad painted with the hues of a distant ice planet.
"hooligan" — Baby Keem
No rapper of his generation balances playfulness and substance quite like Baby Keem.
"Air Forces" — Mustafa
The Toronto artist is helping his city's notoriously moody sound turn a corner by delivering songs that are emotional Molotov cocktails. He suffers through a dark night of the soul on "Air Forces," but his gorgeous voice and celestial production strongly imply that heaven is not far off.
"Ndimakukonda" — Anjimile
The tenderness of Sufjan Stevens and the intensity of Xiu Xiu are gently adorned in the African pop melodies of Anjimile's childhood. Listen to Giver Taker now.
"SORE" — Yaw Tog feat O'kenneth, City Boy, Reggie, and Jay Bahd
A drill posse cut from the Kumasi region of Ghana, a subgenre known as "Asakaa," took the internet by storm in the past week. It's worth the hype.
"Move Bitch" — Big Jade feat. Asian Doll
This classic Ludacris beat gets laced within an inch of its life by these Texas upstarts. Move bitch, indeed. Might need a full project from these two.
"Oreo" — Tohji
The shadow of Bladee, Ecco2k, and Drain Gang is long on this new one from the London-born, Tokyo-based rapper. But isn't the end of summer the perfect time for a bit of shade?
"Top Floor" — Shy Glizzy
Glizzy raps with the kind of skill and range that must keep other rappers looking over their shoulder, hoping he never stops being underrated. On "Top Floor," he offers a view of trap life over a glittering Zaytoven beat.
"Sun" — Deradoorian
The final track on Deradoorian's wonderful album Find The Sun encapsulates so many of the genre collisions that make the project such a textured listen. Krautrock and no wave are conjured together in moonlit seance of a song.
"Wading In Waist-High Water" — Fleet Foxes