Report: Tory Lanez's team faked an email from Megan Thee Stallion's label to send stories to the press
Megan's label 300 Entertainment has denied emailing an article to members of the press which claims that Megan, who was shot in the foot in July, does not wish to testify against Tory Lanez.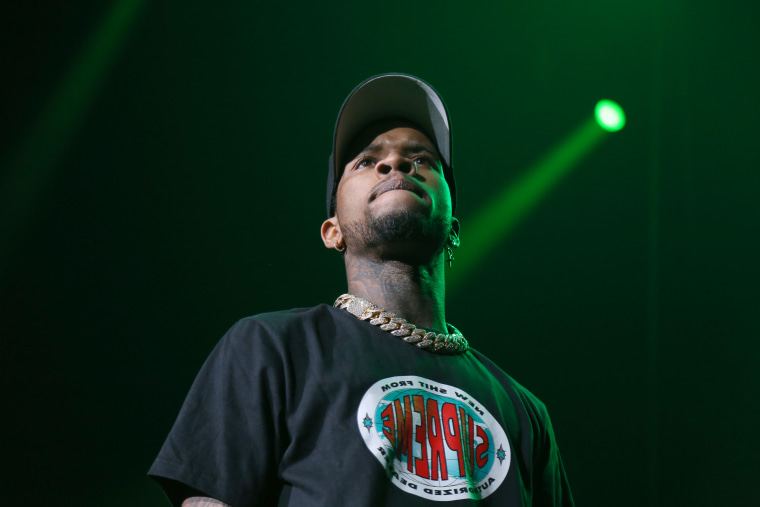 A member of Tory Lanez's team faked an email address pretending to be a representative from 300 Entertainment, Megan Thee Stallion's label, according to a Billboard report. The fraudulent account was created to impersonate 300's Head of Creative, Kevin Leong, and sent multiple press releases with stories pertaining to the July 12 shooting that left Megan wounded in the foot. Megan has accused Lanez of shooting her, and Lanez denied the allegations in lyrics contained on his new album DAYSTAR.
The messages were reportedly sent to bolster Lanez's public image following the shooting when Lanez was widely speculated to be the culprit. One email, which was received by The FADER on September 16, contains a link to a story alleging that Megan will refuse to testify against Tory Lanez in court and that the shooting was not intentional. Billboard's source also claims that the email account sent counterfeit text message conversations between Lanez and Megan.
300 Entertainment confirmed that the account did not belong to Leong in a statement to Billboard. "In this day and age, digital security is of utmost importance. The email impersonation of our Head of Creative Kevin Leong, with the intent to disseminate false information has been brought to our attention and we are working diligently on Megan's behalf to get to the bottom of the matter."
A representative for Tory Lanez told Billboard that the rapper was not behind the messages. "The only commentary which has been made on this topic was the creative output on the album... We are investigating who could be sending these false emails and intend to take action against them."
Billboard's source provided new details on the shooting and its aftermath. The source alleged that the shooting occurred following an argument between Megan and Lanez. "He started calling her names," the source claimed, "So she said she wanted to get out of the car. She got out of the car, walked away from the car, and at a short distance, he told her, 'dance b---h', pulled out a gun and shot [at] her four times. Two times hit her, one in each foot, and the other two missed her." Lanez was arrested after the shooting and charged with possession of a concealed weapon, and released on $35,000 bond.
While Megan was in surgery to recover from the shooting, Lanez was reportedly attempting to connect with Megan's team. "[Tory] was offering money, saying he wants to make it right and wants to resolve this issue. He starts calling her day-to-day managers and said he wants to talk to her, reaches out to the security guard, all of that."
Read the full report at Billboard. The FADER has reached out to representatives for Tory Lanez, Megan Thee Stallion, and 300 Entertainment for comment.