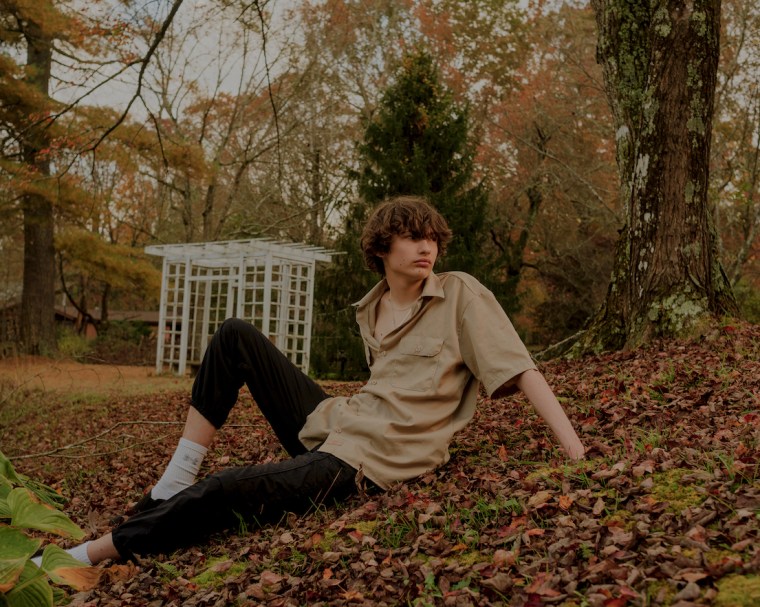 As he continues on his path to playlist ubiquity, a lot will be made of the fact that small-town North Carolina-based singer and producer glaive is just 15 years old. And there is something prodigious about the kid. Early singles "astrid" and "touché" are expertly crafted emo-leaning songs that conjure up images of bands he might consider classic rock (American Football's first album came out six years before he was born!) while "clover" and "arsenic" have marked him out as a gifted and nuanced pop writer. But there's also something very charmingly adolescent about glaive, who wrote a song called "pissed" about being pissed and usually cuts his tracks at the two-minute mark. That he's even releasing his debut EP next week — Cypress Grove is out November 20 via Interscope — is a feat in itself. I imagine he'd have been just as happy to keep working on these tracks in his bedroom and uploading them to SoundCloud one by one.
"eyesore," the EP's first single, is premiering below. It's one of glaive's poppier songs, underpinned by a synth line that would fit just as well on Katy Perry as it might on contemporaries like osquinn. It's also a neat encapsulation of what it feels like to be a teenager who occasionally wants to shrink from the glare of others. "I wrote 'eyesore' after a really long day and I just felt like I wanted the world to stop looking at me," glaive says of the song in a press release. "I locked the door to my room and stared at the ceiling for a bit then I wrote the song. I feel like everyone has felt like an eyesore or wanted people to look away at some point in their life. This feeling made me realize that time to yourself is needed in a world where we are almost constantly stimulated, you need to look after the number one bossman, yourself."
Listen to "eyesore" below.