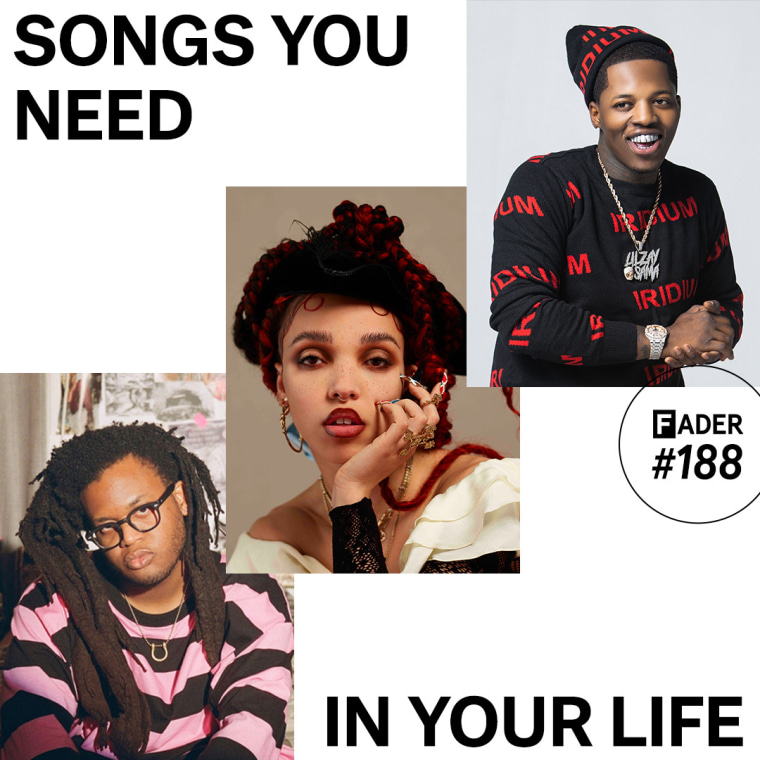 Each week, The FADER staff rounds up the songs we can't get enough of. Here they are, in no particular order.
"61st to 64th" — Lil Zay Osama
"61st to 64th" promises violence from the tense piano keys of the beat to Zay's flagrant threats against the opps. There's no respite to be found outside of sex and material comforts, and even those fail to fully distract from the scope of the carnage: "61st to 64th, ain't nobody on they porch / Everybody got a .30, everybody tryna score."
"Don't Judge Me" — FKA twigs, Headie One, and Fred again..
A plea for untainted love, "Don't Judge Me" exudes prismatic power. Her voice light and sturdy as iron feathers, twigs keeps the song in the realm of the personal while Headie One's verse dives through the effects of a system built on hatred. Far from dour, the song is balanced by its beat, assembled with bits of deconstructed club music and kick resembling a heartbeat after powerful, cathartic exertion.
"Somebody" — Yuno
Ska-pop-punk band 311 has seen an unlikely redemption in the past year or so. First George Clanton teams up with 311 frontman Nick Hexum for a strong project of hazy electronic pop, and now Sub Pop artist Yuno channels the group on his new single. Emo-pop and mid-naughties trap are two other ingredients in the song's heady recipe, and Yuno makes them all feel like natural partners.
"FACE TIME" — 454
454 is in a lane all his own. On "FACE TIME," he's mastered both the current trend of pitched-up melodic rap vocals and makes those highs even higher with a slowed-down second portion. Lj Beats' instrumental glows with '90s R&B chords, contributing to a feel-good track that borders on ecstasy.
"Creep" — SpotEmGottEm
Florida's SpottEmGottEm hit the Billboard Hot 100 this week with "Beat Box 2," thanks to a viral dance challenge on TikTok. It's no fluke, though: his flow is captivating, a combination of over-medicated drowsiness and iron-fisted punch, like every syllable could cause a concussion. His latest single "Creep" is jam-packed with brutality and undeniable swagger.
"Big Decisions" — Morray
North Carolina rapper Morray explores the archetypal struggle between the straight and narrow path and the more sinful, treasure-filled roads. With a voice built for traditional soul music, Morray pushes the emotion of his bars to the forefront of the song.
"Fellowship" — serpentwithfeet
serpentwithfeet is here to guide you through your pandemic-heightened quarter-life crisis. "Maybe it's the blessing of my thirties," he coos, "I'm spending less time worrying and more time recounting the love." His paen to friendship is direct and with a fulsome joy bolstered by jangly percussion.

"cloak n dagger" — glaive and ericdoa
glaive and fellow teenage hyperpop artist ericdoa channel lost love into the catchiest rage of the week. The hook opens with "Fuck you, I hope you rot in hell / I know you never cared, but I'm still doing well," a mantra begging to be screamed loudly in locked bedrooms and crowded concerts.
"La Maria" — Anuel AA and Ozuna
This standout song from Anuel and Ozuna's recent album Los Dioses takes the sound of trap back to where everything started: East Atlanta, Gucci Mane, the 2000s. The vintage elements of the production help the two artists sound like the kings — excuse me, gods — that they aim to be.
"Look at the Sky" — Porter Robinson
"Look at the Sky" might be the best song Porter Robinson's ever written. It's a culmination of his beginnings as a creator of dancefloor behemoths and his recent, introspective pop songwriting — pure hope, distilled, unsentimental, and sincere.