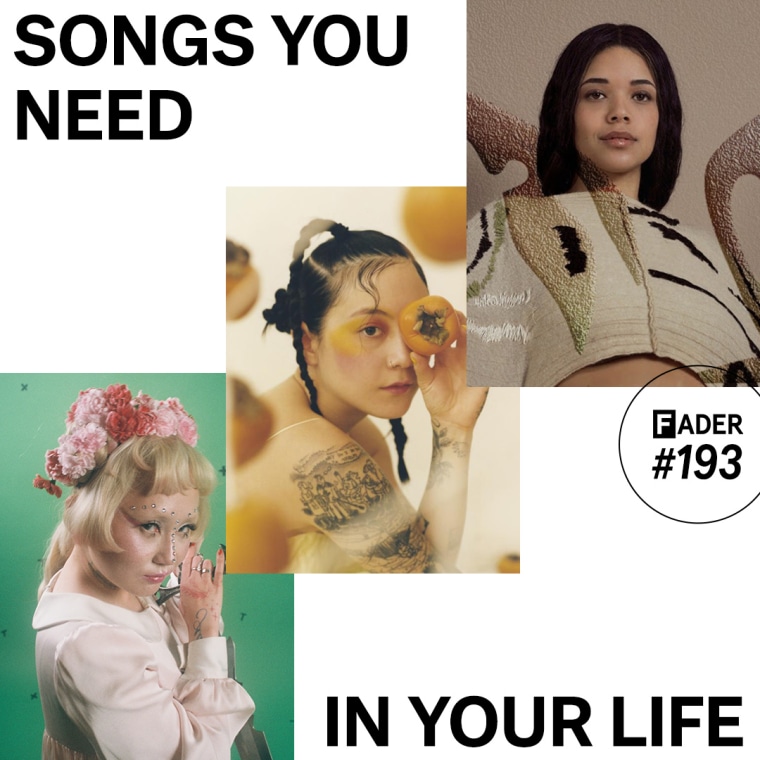 Each week, The FADER staff rounds up the songs we can't get enough of. Here they are, in no particular order.
"Tighter" — Cosha feat. Coby Sey
Irish artist Cosha is building up to something real good. Her latest single takes its time to smolder and scintillate, entwining vocals from Coby Sey to create something of a magnetic force. What comes next is bound to satisfy.
"Rainforest" — Noname
Noname's matter-of-fact radicalism is in full bloom: "It's fuck they money," she resolves on "Rainforest. "I'mma say it every song until the revolution come and all the feds start running." Reckoning with the maladies of late capitalism necessitates anger, but Noname makes it sound alleviating.
"Lux" — Pom Pom Squad
Come for the scrappy punk reimagining of The Virgin Suicides, stay for Pom Pom Squad's galvanizing treatise on feminine awakening in a world that would rather keep your eyes shut.
"Drama" — Erika de Casier
Jenna Maroney once said "drama is like gay man Gatorade. It replenishes their electrolytes." The same could be said about Erika de Casier's new single, which really has it all: reality show theatrics, a wig named Bianka, and of course, de Casier's ever-sharp ear for melody.
"Black On Black" — KAM-BU
UK rapper KAM-BU took inspiration from Fela Kuti on his latest, a connotation-flipping track that mines its strength from community building and financial independence.
"She Abunai" — Alice Longyu Gao feat. Mura Masa and Bülow
In Japan, "abunai" translates to dangerous. Alice Longyu Gao lives for danger. Her newest track finds her teaming with Mura Masa and Bülow to pen a love letter to unbothered Kyoto hotties who catch "those white boy eyes" — and likely store them in a jar. It's a bloodthirsty bounce for the ages.
"Doubt of Revival" — Jordana feat. Ryan Woods
If you put gears in reverse and set the wrong decisions right, would you? Would you forgo all the lessons you learned? Did you even learn anything in the first place? They're questions Jordana faces on her newest, a sweet duet with Ryan Woods.
"4Runner" — Rostam
Rostam's sophomore record Changephobia trades baroque for breezy, a switch-up that feels imminent on the undeniable, arms-wide-open jangle of "4Runner." It's a warm and winding ride that I don't want to get off.
"Be Sweet" — Japanese Breakfast
After four long years, Japanese Breakfast's third album is finally on its way and doesn't that feel so good to know? The lead single cuts through her ubiquitous dreaminess with an effectively direct message. Sincerity is an uphill battle, and Michelle Zauner is committed to the climb.
"Tala Tannam" — Mdou Moctar
It's well-established that Mdou Moctar know how to rip, but "Tala Tannam" shows a band that also knows how to mend. It's a gorgeous harbinger of their forthcoming Matador debut, Afrique Victime.