Spotify CEO Daniel Ek says he wants to buy Arsenal FC
As thousands of fans gathered in North London to protest against Arsenal's current owners, Ek tweeted that he'd be interested in owning his favorite club.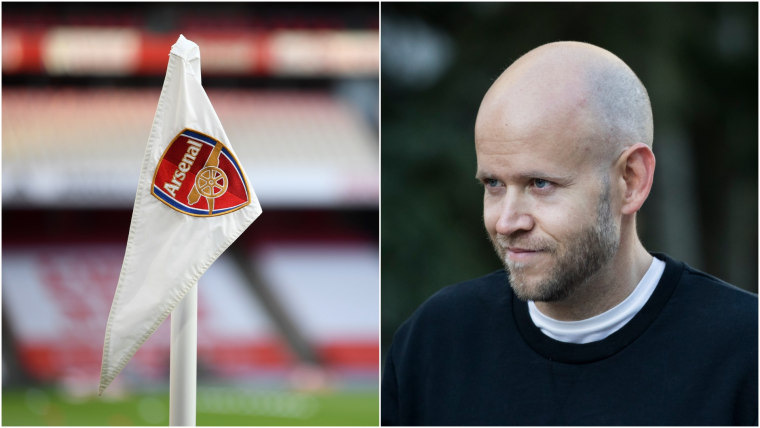 Spotify co-founder and CEO Daniel Ek says that he is interested in buying English Premier League club Arsenal if its current owners, Kroenke Sports Enterprises, are willing to sell. Ek tweeted out his intention to "throw my hat into the ring" in a tweet on Friday afternoon, as thousands of Arsenal fans protested against KSE outside the Emirates Stadium before a league game with Everton.
As a kid growing up, I've cheered for @Arsenal as long as I can remember. If KSE would like to sell Arsenal I'd be happy to throw my hat in the ring.

— Daniel Ek (@eldsjal) April 23, 2021
Ek's tweet comes after a tumultuous week in soccer, during which 12 of Europe's most famous clubs, Arsenal among them, hastily released plans for a breakaway "Super League," a closed competition without promotion or relegation for founder members, without the consent of European governing body UEFA or any of their domestic leagues. Facing unprecedented backlash from fans across Europe, particularly those of the six English clubs involved, the League had all but fallen apart within two days, and by Tuesday night Arsenal and the five other English clubs had announced their withdrawal from the project.
Most fans remain furious that the idea was ever put forward, though, and in many cases the Super League has simply reignited a smoldering distaste for club owners who, supporters have long argued, would happily cast aside their club's histories and communities in favor of profit. KSE, headed up by billionaire Stan Kroenke, owns the recently relocated Los Angeles Rams of the NFL, as well as the NBA's Denver Nuggets and the NHL's Colorado Avalanche.
It may be a struggle for Sweden-born Ek, who is worth $4.7 billion according to Forbes, to take control of the club he supported as a boy. At a meeting with supporters on Wednesday the club's director, Josh Kroenke, insisted that the family had no intention of selling, despite the Super League debacle and what he admitted had been a decade of mistrust between ownership and fans.
Spotify itself is the subject of near constant protests around the world. The Union of Musicians and Allied Workers, with the backing of over 4000 independent musicians, last year launched the Justice at Spotify campaign, demanding a penny per stream for rights holders, the adoption of a user-centric payment model, and increased transparency on "closed door contracts." Spotify responded by launching a website called Loud & Clear, on which they hoped "to increase transparency by sharing new data on the global streaming economy." But the UMAW's Damon Krukowski told The FADER that the site did nothing to meaningfully change the incomes of independent artists. "It is a lot of reshuffling of the same figures that we've seen before that don't add up to enough for artists," he said. "And that's our basic message. We don't need to be told how we're not being paid or why we're not being paid. We just need to be paid."