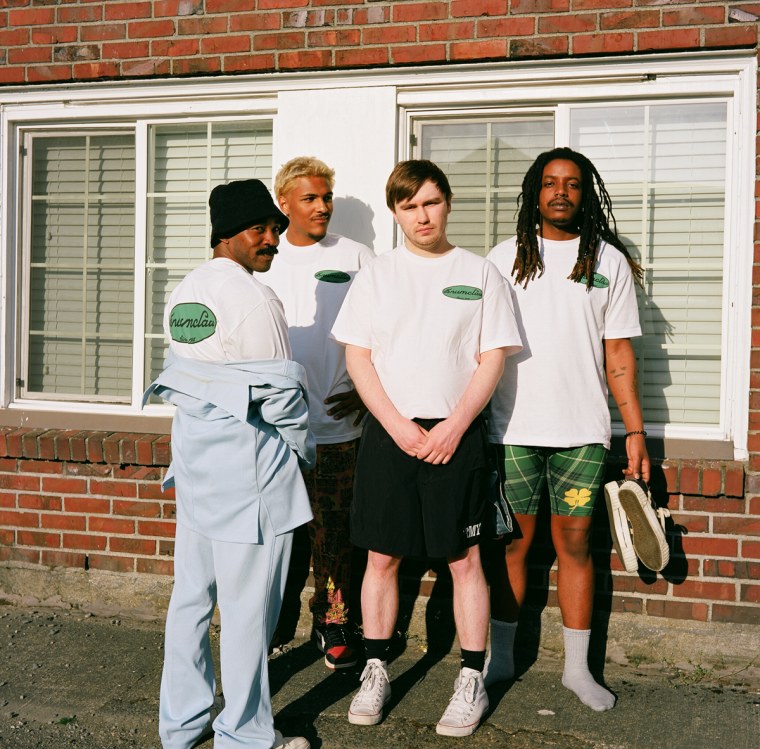 Enumclaw's Jimbo Demo EP is the sound of a band embracing the moment and running with it. Forming little over 18 months ago, the Tacoma band makes scrappy indie rock with a big pop heart and even bigger ambitions (their Twitter bio reads "Best Band Since Oasis"). Fronted by Aramis Johnson, until recently DJ for Northwestern rapper Ghoulavelli, Enumclaw's music is as raw and immediate as you might expect from a band that hadn't picked up, never mind mastered, many of its instruments prior to embarking on an adventure together.
"Cents" is the opening track on the EP and lays out the Enumclaw formula immediately. The guitars are sludgey but with enough jangle to remain pretty while Johnson wails "Can you make it last?/ Can you bring it back?" It's a song with one eye on escape and another already nostalgic for the place you're departing. The "Cents" video, premiering below, offers up a more fantastical scenario in which the band, clad in balaclavas, carry out a heist and a similarly speedy getaway.
Speaking to The FADER via email, Johnson says: "'Cents' is a song about how fast things can stop making sense. I wrote the song this past summer after hanging out with some friends I don't see that often, reflecting on how fast things changed between us all. For the video, I wanted to put together something that played on the song in a way that doesn't really make sense, like most action films."
Enumclaw's Jimbo Demo EP is released April 30 via Youth Riot.