Ty Dolla $ign on learning from Kanye, his love of house music, and getting nervous around Stevie Wonder
Read the full transcript to the 15th episode of The FADER Uncovered.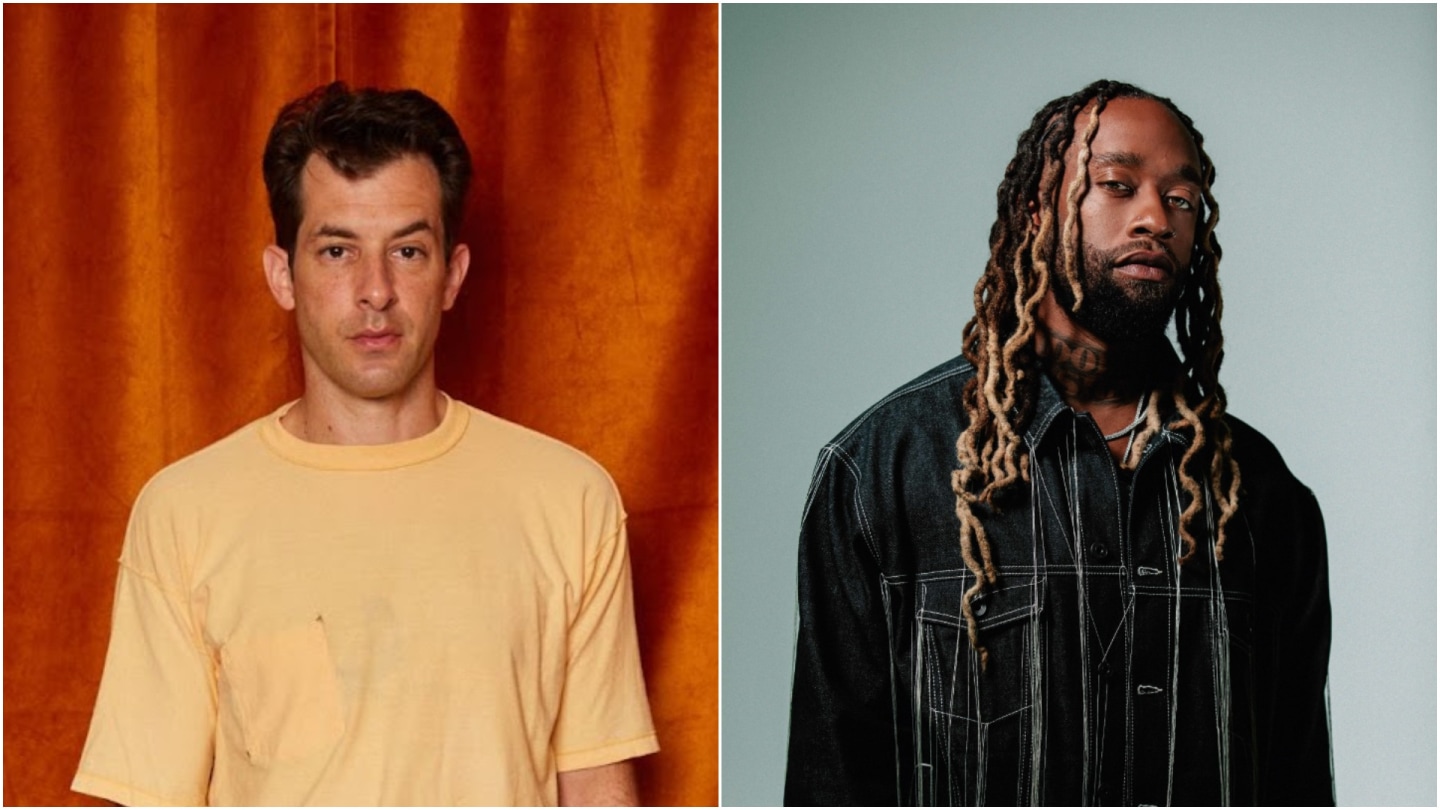 Today, my guest is West Coast OG and hook lord, Ty Dolla Sign. Although it may feel premature to call someone who's only been smashing the game for the past 10 years or so, an OG, the pure volume of this man's output kind of requires it. He's had a lifetime's worth of hits since he came onto the scene with "Toot It and Boot It" with YG in 2011. And with his true coming out party in 2014, which included the club staples "Or Nah," "Paranoid," "Loyal," Ty, along with his boy DJ Mustard, changed the very sound of hip hop and R&B at that time. Super stripped back production, usually with the finger snaps, a killer beat, and a bass synth sound borrowed from '90s club music, see Robin S's "Show Me Love." And then with no less than Ty's brilliant earworm hooks bringing the whole thing home. With the slightest bit of auto tune on his voice, he sounded like a soulful cyborg or something, nonchalantly serenading the entire club.
I remember DJing in 2014. From New York to Tokyo and definitely Vegas in between, those songs would tear the club up. Around this same exact time, Ty appeared on the cover of FADER issue number 92, and the title of the excellent piece Life Of The Party, written by my old friend and EVR compatriot, Julianne Escobedo Shepherd. Well, that pretty much sums it up. Here was a man who had been working very hard for 10 years behind the scenes waiting for his break, and he was going to into enjoy this moment for all it was worth, tearing the club up and then the after party. But behind all that was also an exceptionally talented producer musician and arranger. I've jammed with Ty before, he can jump on anything, drums, bass, keys, whatever, and kill it.
And his love for everything from Earth, Wind & Fire, to Patrice Rushen, to Chicago house, is a big part of what makes his stuff so versatile and musically rich. As well as writing and guest starring on iconic huge hits for Post Malone, Kanye, SZA, Kehlani, et cetera, et cetera, he's put out a ridiculous amount of good music on his own, including the now classic Beach House mixtape series, his Atlantic album Free TC, and most recently some great collab records. One with Jeremih titled MihTy, and another with OVO's dvsn. You can tell this man is in a constant state of creating. He literally couldn't even sit still during our interview over Zoom. It starts out in his studio, pretty soon he's walking all over the house, lighting a joint, and will end with him outside in his garden, talking admiringly about his teenage daughter. There is obviously no point in asking Ty Dolla Sign to sit still, you just roll with him wherever he's going.
Mark Ronson: Hello, by the way, officially. It's good to see you. I thought seeing that we are really using the FADER cover story that you had from 2014 as kind of the jump off point for this article, I just wanted to actually show you this and ask you if you remembered anything about this picture or that shoot or what it was like when you first saw it. Because I imagine it was one of the first covers that you had, right?
Ty Dolla $ign: Yeah, that was one of the first covers. I remember that day for sure. It was a very long time ago.
Yeah. And then this is a great picture too. This is you and YG, and I don't know who the other people are.
Oh, is that at my grandmother's house? Looks like my grandma's house.
Yeah. We all know a lot of the story and the background up to this point, but that really was the breakthrough moment, I guess, 2014. Because you had "Paranoid," "Loyal," "Or Nah." I actually remember it because I had been in a fucking cocoon making my Uptown Special record for two years, and I hadn't DJed or done anything. And I suddenly came out 2014 and I was like, "Okay." And I think I wrote to Ross One or some DJ that I know, I was like, "Can you just send me all the new hot shit, because I have the DJ in Vegas this weekend." And literally, every record was you. And I really wasn't that familiar. And I was like, "Who is Ty Dolla Sign?" I just remember the entire set, you brought back a certain tempo, I guess it was you and Mustard together. But can you talk a little bit about what that feeling was like, because it must have been like the biggest coming out party in some ways, just going from sort of zero to 3000.
Yeah. I guess it kind of looked like zero to 3000 from the outside, but for me, I had been doing music and learning all the instruments and having groups and shit and just trying all different types of ways to get my music out there. And then finally around 2010, we had "Toot It And Boot It," me and YG. And we kind of hit. And then like you said, 2014 was when it really was out there. And of course, when I got that FADER cover, I really felt like I was doing something it's like, "Wow, we hit a cover." And then after that there were more. So it was definitely a great time. And as far as coming with a new sound, that was even better. We didn't come out following something someone else did, it was like we had our own thing, our own sound, our own genre, even. So it was definitely hard paying off.
Yeah. "Toot It And Boot It" came out in 2010, and then Mustard's first big record, "Rack City," is actually 2011. So you were already doing the snap. You had had a hit that you had produced with this sound, and you even talk about it. Mustard talks about you gave him his first sample pack, and then you talk about how Mustard was the one who told you to simplify stuff. So it sounds like there was this amazing relationship between you teaching him, him teaching you, and you both kind of finding this thing at the same time.
Definitely. Like I say, I come from being on some musician shit, learning the bass, the guitar, keys, learning how to write string parts, learn how to do all that kind of shit. So when I got to getting in the lab with Mustard, which before I even knew he was into doing beats, he was just our DJ. He would always be like, "Yo, you don't got to put all that in there. You should just simplify it. We only need this and this and that. It's done. The beat is done." And I'm like, "What do you know, bro?" But what he was saying was right, for certain things. It definitely changed my life.
I love "Toot It and Boot It" actually, because I hadn't listened to it in a while. And it's got the sample in there, the soul sample, but then mixed with the snap. And then that was something, obviously the sound chain got a little bit more electronic after that. But it's a really amazing synthesis of probably the influences of where you came from and where you were about to go. That's why it's really interesting to listen to that now.
Appreciate it, man.
What do you think it was like... Because it's true, what you just said about Mustard, just being like, "Yo, what do you know?' Because I'm fascinated as well, because Mustard's just had such an incredible run as well. From "Rack City" to now, to Roddy Rich and all the records, that's 10 years. In hip-hop, it's like dog years. That's like a hundred years of relevance in any other genre because hip hop is so quick to change styles, and the biggest producer today in two years can be hardly working. What do you think that having worked so closely with him, what is it about his-
I think not only is he just super talented, but being a DJ, I think that was a cheat code as well. And actually being in the streets and in the culture. He just applied that to what he was doing and it worked. And he just kept on getting better and better this whole last 10 years. It wasn't just like he stuck to one thing. And another thing I will say about him that I love and respect a lot is, during that time there was a lot of people that were like, "Oh, okay, I could do this," tried to make it some type of battle thing. But we just stuck to, we were doing it, advanced it little by little step by step, and we're still here. So I love that as well.
It's true. There's something when someone does something with a lot of simplicity, and people say that they'll walk into a museum and see some $50 million painting on the wall that's just a piece of white and blue solid color next to each other, and go like, "I could do that." But it's like, "But you didn't." You can try and do that but it won't be the same. It's like when you have the people who either originated it, there's an X factor in there, I feel like.
Yeah.
The other thing, when I first heard the records, you guys were putting out the early ones, for me, because I'm older and DJing in clubs since the '90s. And when I started playing in clubs in New York, I was a hip-hop DJ, but you had to play "Show Me Love" and know some of the classic house records and have 30 minutes of that music. I was instantly like, "Whoa, these guys have just brought back all the kind of cool kind of ominous electronic sounds from the house music that I remember from the '90s." And you've actually talked about house music being quite a big influence on you when you started out. How did you kind of get exposed to that?
I feel like just living in LA, back in the day we had 92.3 The Beat, and we had Power 106. And during my middle school years, I remember 92.3 was more R&B and hip-hop, and then Power 106 was more hip-hop and house. So I would get to hear a lot of house music and some of it I hated, the more techno vibe. Then some of it I loved, like you said, "Show Me Love," it was the gang of songs, we could go for hours. But as far as Mustard knowing about it, I'm not sure how he got into it, but I was loving the fact that he knew. Like I said, even before he gave me "Paranoid," he got into the "Show Me" sample for Jeremih. I did "Cabana," which I sampled Skrillex and Zedd. You know what I'm saying?
Yeah. Yeah.
So it was like we were both there in that world. It was dope how he did it, dope how I did it.
It reminded me too of the first time I heard "Yeah" by Little Jon. It was just like he took the most aggressive sounds from I think it might have even been the Korg Triton, like the keyboard, but just the noisiest ones that really were only being used by house and then brought it with the crazy drums. And it was one of the biggest songs of its entire era.
Sure. He's definitely a genius, man.
I'm trying to think now, and excuse my ignorance if I don't know. But have you ever done a straight house record or have you ever been tempted to do a house tempo?
Yeah. The first album. I can't even remember what the song is called. Fuck, I would have to look it up. I remember the interlude before it, and then my brother was like, "Man, you do everything, bro." I've definitely done hella house songs. On the newest album, I got like a house influenced song, "Ego Death" with me, Skrillex, and Kanye.
No, I know. I love that song.
And then before that, "Fade" with Kanye, that's definitely house. I got a lot of house records for sure that I haven't released as well.
Those records are so great. As a DJ, a record like "Fade" is just like... Because I've I never really DJed EDM and it's not my thing. But when you have to go and play some club in Ibiza, and you're looking out you're like, "How the fuck am I going to play my kind of music and make these people feel like they're having that energy?" That's what that whole run of records and "Fade" and all that stuff was the DJ's best friend. Because I could play hip-hop and not feel like I was selling out, but I had these records that just shook the club and then were familiar because they felt kind of housey and stuff like that. I guess I didn't really know this about you, that you did a whole stint living in New York and in Brooklyn early on when you was kind of trying to break out. And I was so curious, I was like, "Damn, what does Ty Dolla $ign in the winter in New York look like? Did you have the huge fucking coat? Did you go full New York?
Yeah. Bubble jackets, Timberlands. I hated it though. I couldn't do it. I love New York. It's one of my favorite places. It's LA, New York, Miami, Atlanta, Chicago, but New York is second home type shit. That winter time, man. I remember the second winter that I was there, because I stayed '07-'08, the second winter, I was fucking about to go back to LA and I was headed to the airport in this cab and then it was snowing and shit and just out of nowhere, I don't know where the fuck we were, he was just like, "Yo, get out." I'm like "What you mean? Take me to the airport da, da, da." He pulls out a strap on me, turns around like, "Get out." I'm like, "All right, I'm out of here." Yo, this shit was crazy. After that, I'm like, all right, I'm moving back. That's it.
That's really almost out of a movie. I mean, I hate that this fucking asshole ruined your New York experience, but obviously since then you've been back and I'm sure you've had a great time.
Yeah. I still love New York. Like I said, it's one of my second home type shit.
Who were you around while you were in that time? I know you had a connect with 50 Cent. Who was your other creative crew in New York? Did you have a clique that you were working with, even at that point?
Yeah. Back in the day I had another group I was doing called Ty & Kory, and we were working really from '04-'07, and we put out one tape on, I don't remember what, Myspace, I don't remember what was going on at the time. But we put out one thing called Raw & Bangin and then we did a Raw & Bangin 2 and that's when I started working with Timberlake and will.i.am and this other dude Venus. And once I got that situation with them, that's when we moved back to LA. But right before then, we were out there in New York, just grinding, bro. Just trying to get beats off to the G-Unit cats and whoever else I could come into contact with. Other than that, just me and Kory in the studio. It was right between Brownsville and Flatbush at my homie Randy's studio, the big homie. So we were just cooking up every day, bro. Just learning and really just getting to the point that I am now. That was like school. You know what I'm saying?
Yeah. Were there any clubs that you remembered or anything about that New York experience? I'm sure now it's great because you come back a superstar and just the rope opens up and you're treated like you're supposed to. But I wonder even then, even though it probably wasn't the same, were there any spots or stuff that you remember going out or were you just guys just in the lab and just-
We went out a few times, I feel like. But it would always be to meet up with whatever artists, to meet up with whoever. I've never been a clubber type guy. That just happened because of the music, trying to get the music out there. But we were mostly just studio heads.
It's funny because your music is some of the most set the club off music ever. And the article and this thing, I think the first line of it is, "Ty Dolla $ign is the life of the party."
As Ty says, it took many years to become an overnight success. From my vantage point, the DJ who suddenly had a wealth of Ty Dolla $ign club bangers in his crate, it sort of seemed like he'd come out of nowhere. But he had been hustling away for years, tucked away in studios, freezing his ass off in New York winters, working away with little to show for it. Sometimes being around some OGs and learning things, but doing all those things you have to do when you're coming up, honing the craft. In this case, he was shedding the excess fat around his production so that the moment the stars aligned and he had that first run, he was able to hit it hard.
I figure it took me about 10 years banging away at it until my first pseudo hit, "Ooh Wee," and about four more until I did anything that really resonated. And that whole time while I was honing my craft, I'm sure I thought I was ready, I'm sure I was looking around at The Neptunes, Kanye, Danger Mouse, all of them, going, "Damnit, why not me?" But looking back, of course I wasn't ready. I wasn't even good enough. But you don't see that at the time. Now I realize all those thousands of hours in the studio, they all helped in some way. They all form you. Plus, luck is what happens when preparation meets opportunity. Is that the saying?
All those records, those near misses, the demos that didn't hit, hell, half of it is learning what not to do. I mean, I could tell by the way this A&R guy is looking at me that this beat is corny, these drums aren't hitting. But it's not like I was ever going to be able to do anything else. I probably would've continued to toil away in obscurity, supporting myself by doing music for Gap ads and whatever else I was doing, and I would've been fine with that. You get the feeling with Ty, there was never any choice with him to do anything other than music. But he was also way too special, too unique, too talented to stay unnoticed for that long.
That's funny you said Venus, because Venus Brown, shout out to Venus because I've known her for such a long time. My first record I ever produced was this girl Nikka Costa and Venus was her MD and I met her through that and then I met Printz Board and they all-
Printz Board, my guy.
Yeah. Venus is very tied into the Black Eyed Peas. He was the first person to play me, the Peas and all that stuff back in the beginning.
Yeah, man. Shout out to V.
And then Sa-Ra as well. I didn't realize the connection there. I mean, I remember that group when they first came out, when I first heard them when I moved to LA, that was some of the most creative fucking mind blowing shit. And I love the stuff you did with them on their record. Those couple songs that you had, I think they're "And if," and "Do Me Girl," whatever, those are amazing records on there.
Appreciate it, man. Shout out to Taz, Om'Mas, Shafiq. That was around on the time when, I don't know if it was before New York or right after New York, I don't even remember how I met them either, but that's also where my friendship with Thundercat started. That's also when my friendship with Kanye started. There's so many people that came through the Sa-Ra house, man. They used to have a house on the top of the hill at Silver Lake and we would always just go over there and vibe out. The whole house was just a studio. It's like how my studio room is with the drums and the rows and the whirly and all that kind of stuff. They had that in the living room and just every keyboard, every toy. And we would just make dope ass songs, man. And then the first time I went to London was with Timberlake. And the second time I went to London was on the Touch The Sky tour. So they definitely plugged me in with bro and all that.
What were you doing on that tour? Were they opening and then you were just with them making music or were you performing?
They were opening and I was performing on the set, probably playing keys, singing, maybe a little bass with Sa-Ra, and they were opening for Ye.
Yeah. I think people definitely who are in the know and especially out in LA are familiar with Sa-Ra, but it was the absolute coolest thing. Everybody was like, "Oh, you don't know Sa-Ra?" As if you didn't know, you were doing something wrong. And they really were so creative and still are, and were the portal, like you said, to Kanye. There always has to be somebody who's doing something so cool that they turn everybody else onto it, but they don't quite maybe get the same recognition or the commercial thing that everybody else does. I don't mean to say they haven't done well for themselves, but they really were that thing. They were the weirdos that taught everybody about a lot of shit and helped put a lot of people on.
Yeah, for sure. From music to fashion, a whole bunch of shit. And then after that, Taz, he had TI$A, which was a crazy brand. I remember when it first came out, he had those hats and Big Sean, YG, we had it on in the "Toot It & Boot It" video, the TI$A hats. TI$A hoodies and sweatshirts as well. So he definitely had a run. And Om'Mas, he's worked with everybody from Frank Ocean to fucking recently, who was ... I think when we did the Tyler, the Creator record, "WUSYANAME," that was at, what's Rick Rubin's studio called.
Oh Shangri-La.
That was at Shangri-La. And I feel like Om'Mas was there too. I'd just be running into the homies everywhere and everybody's still doing shit.
And what were you doing with Timberlake back then? You said you were on tour. That was the other time you went out to England. Were you playing with him?
Venus, Sam and Will had a company together, and me and Kory were signed to that company.
Okay. Because that was my very first tour in the UK. Even though I'm English, I kind of spent most of my life really growing up in America and then I had my first single, the single with Ghostface and Nate Dogg, called "Ooh Wee" that sort of popped off in England. It really didn't do too much.
Yeah. You had a song with Nate Dogg? That's fire, bro.
Yeah.
That's one person that I wish I could have the chance to have worked with for sure.
Yeah. I'd never been back to England except to visit my dad and my uncles once a year. And we have this song that's kind of blowing up and they're like, "All right, you're going to go open for Justin Timberlake for two weeks on the Justified tour," these fucking huge arenas. And I didn't even know what a tour manager was so I took my best friend from school, Daniel. I'm like, "Do you know how to drive a car on the left side of the road?" He's like, "Yeah." So we get to England and we drive up to the stage door of some huge arena in Manchester with two turntables, my buddy Rhymefest and I and I'm like, "Where do we set up?" We looked like such idiots.
You said Rhymefest?
Yeah. You know Rhymefest?
Hell yeah.
So Rhymefest was on my record. I needed an MC and he was great and we were making music together. I was like, "Come to England with me." So we opened up for Justin Timberlake. But I mean, literally the first show, we had no idea what we were doing. We were carrying turntables on stage in front of a packed ... The arena's already packed because they're teeny boppers. They get in at 5:00 PM. We're setting up like it's a house party. Anyway. But he was very cool. And obviously, that Justified era was a great time to be watching that show. It was "Senorita" and all that shit.
Yeah. Rhymefest, I've been a fan of him. But one time, Kanye had us at Bon Iver, his house, up in, I think it's Wisconsin or something like that. And Rhymefest was over there and we had a great time, man, just making music, cracking jokes and shit. But I fuck with that dude for sure.
Yeah. He's so smart. He found the record for "Jesus Walks" and he was the one that brought the thing and it was actually his record and it was originally two Rhymefest verses I think and Kanye's just like, "I know you're going to hate me, but I'm going to take this record back from you." And I mean, thank God he did because it's an incredible record.
One of the best records ever.
The first time I ever went to the Grammys was really as Rhymefest's date because he invited some girl who dropped out at the last minute. He was like, "You want to go to the Grammys because "Jesus Walks" is up for song of the year or some shit." And I was just like, "Cool. I'll go to the Grammys."
That's hard.
It's funny you say the thing about Nate Dogg because I know it's a very obvious comparison to make being on all the number of songs that you've been on in hooks and being from the West Coast and stuff. But I had never seen you really talk about it. Was he an influence on you or was he somebody whose music was important to you growing up?
Yeah, he made most of the bangers of my lifetime. You know what I mean? Definitely love everything Nate Dogg was doing, clearly, obviously. I feel like everybody did. I would say he's a heavy influence.
I thought about a quote when I was looking at your whole discog and everything. I remember one time we were about to go on stage at some halftime basketball game to perform the song that we had done together, this song "Ooh Wee," and he kind of looked at me just as we were about to go on stage and he's a little panicked, but obviously he never panicked because he was Nate Dogg, he was just always cool, but he was like, "What's the lyric to this one again?" He just had so many songs in his head, so many classics. He's about to go play some song with me that's definitely not explosive or an all time thing. So he literally couldn't ... It goes like, "when I step into the party, all the ladies want to know." So I told him the lyric and he was like, "Oh, that's right." And then he kind of looked at me and he was like, "Don't worry. I forget the Dre shit sometimes when I go out." He was saying don't worry. It's not because I'm subbing you.
I was about to say, if he's anything like me, man, fuck him. I'll forget hella shit, bro. It doesn't matter if it's paranoid bro, or not. If I haven't done it in a long time-
Yeah.
I'll need to practice in the car before I fucking go in the venue or whatever. And after seeing Snoop's show one time he had the teleprompters out there, I'm like, yo get me the fucking teleprompter.
Yeah.
At all my shows.
Yeah.
For sure.
The other thing that I thought that probably happened to you is I always think of the story with Pharrell and "Get Lucky" that he said, by the time Daft Punk played it for him, he had no recollection of ever writing it or making it because he's so prolific and it had been a while ago and he had written it as a freestyle off the top of the dome. And he was like, when I heard it, I thought it was great, but I had no recollection whatsoever of writing that song. I'm sure that you've probably turned on the radio or heard a song play and had to go, wait, how did I write that one? Or where did that happen? Has that happened to you?
Yeah, that's happened a few times. And then what's even crazier is sometimes my manager hit me and be like, yo, some artist, I've never heard of him, but some artist or sometimes it's a known artist and they'll have a feature from me. And I'm like, I didn't fucking do a feature with this person, but somehow, maybe I did a song with a producer or whatever and this producer got in with this artist and has my vocals. Sometimes I clear them, sometimes I don't.
Yeah.
But that shit's crazy.
Yeah. I'm not going to ask you this because people ask me and I'm like, why would I ever tell you when I'm doing interview? Is there anybody you wouldn't work with or this kind of thing, but what does a record have to do to you? Or what does an artist have to do to you to be on the hook? Does a song, does it just have to move you? Do you have to just hear it and you just know right away or it's just you like somebody, what they're about?
For me, the song just has to make me feel something. When I turn the shit on in the first 15 seconds, I have to feel it. And then the words will come. Sometimes it'll be an artist that is really fucking sick and I'll want to take my time though because they killed it so hard that I'll be like, oh, hold on, it's going to take me a couple days. You know what I'm saying?
Yeah.
But a lot of the times it's just, if it makes me feel something right then and there, then I'll do it. If it doesn't, then I'll just pass it up.
Judging by that, are you always beat first? You hear the music and it spurs you or will you just be driving along sometimes and a melody or a lyric idea will come to your head and then you got to rush to the studio and put some chords?
I feel like in the beginning, even how I listened to music as a kid, I was always beat first because I'll listen to some of these classic songs and I'll know the full melody, but I won't know the words because I was never listening to the words.
Yeah.
And then now I feel like I listen to words a lot more and I'm starting to see the importance of that.
As someone who started off on the drums, I do completely relate to Ty when he says he started off as a beat first type of artist. That is the hip hop way in some respect. And we say banger because it's shorthand for the beat, the drums banging, even if now banger just means a hit. But I also think Ty's under selling himself when he thinks he hasn't contributed some generational lyrics into the game. Even in his song titles, "Paranoid," "Loyal," they're iconic. They might not be, "You've Got a Friend," but they're some equivalent of that for this era. They're memorable, conceptual, catchy as hell. And I'm sure they've launched at least a few hundred thousand memes. It's also not surprising that Ty's love for the greats propels him, makes him want to continually up this game. There are countless musical programs at conservatories and universities for studying classical music.
But what do you do if you want to improve your chops as a contemporary R&B composer? Well, there's not a lot of courses for that, so you study the greats. You pick apart the chord progressions of Stevie Wonder and Patrice Rushen, and you try and understand what makes them so melodically and harmonically rich. And then you combine it with your own thing of course. Something new and from now that guarantees you're more than just a museum piece. It did always used to make me bristle when people call me the retro guy, because everybody wants to be of their own time. Myself included. I do love the musicality, the musicianship, and the sonics of some past eras, but I also want to be fucking banging out of the cars and the clubs and on the Spotify hits playlist. Ty's studying of the classics is in his music, but from the lyrics to just the way he is, he's unmistakably now.
I'm trying to be a better songwriter, so I'm listening to all the great songs, the greatest songs and that's how it is for me. It used to be beat in all production and all, how can you make the best sounds, but now I want to know what people are talking about and I want to talk about something.
Yeah. Is that carrying into what you're doing right now, the records that you're working on?
Yeah, for sure. Right now I just dropped that "Cheers to the Best Memories" with dvsn.
Yeah. That's great. By the way. I love that.
Thank you. I appreciate it. We were definitely going in just trying to be the best that we could be and make the best R&B records and give the people a real vibe and so now, after that, I'm doing that with all my other music as well. And just trying to say the craziest, tightest shit that means something.
Yeah. Because you talk about old school influences, Earth, Wind & Fire and stuff when we talk about the greatest songs, it always makes me want to ask you even more specifically, when you say the greatest songs, does that mean something as old school as Fats Domino and Burt Bacharach. Are you talking about Michael and Stevie or Sublime? Is it just anything that you consider a great classic song that's just going to be on the radio in 50 years from now?
Yeah. It's whatever classic song that's going to stand the test of time so we can go back to '50 shit, '60 shit, '70 shit, whatever. It's just the songs that are going to last. And I feel like when I was listening to shit just for the music, those weren't the songs that are going to last forever. I might know about them and they might be my jams. Those are incredible beats and that's incredible production. I'm falling in love with all these different producers, but the songs I feel like that last forever are those ones that had those words that connected to the people.
Yeah. And that's what in "Loyal" and "Paranoid," those are classic in a different way because they're how people speak today. It's not a Celine Dion record, but they're great concepts. I feel like you're probably already doing it more than you give yourself credit for because you seem like you're not fully up your own ass like that, but yeah.
Thanks man.
I think also because of the Stevie shit, you must have a Stevie Wonder story because I know Stevie. I don't really know him that well firsthand. He's played harmonica on one song from a record I did, but I know he's so in touch with hip-hop and new music and I've heard stories from Wale that Stevie will just pull up outside the House of Blues before the show and bring him in the car. You must have a Stevie story.
I saw Stevie play at my boy Nipsey's funeral. And that was one of the most beautiful moments ever in life.
Yeah.
But beyond that, my little sister and his daughter are best friends. And recently I saw Stevie at this studio that I use in north Hollywood because everybody came in, they're like, "yo Stevie's out there." I went outside and I didn't talk to him. I clammed up, but I don't know. He's one of the only people that I haven't got in the studio that I would super love to get in ASAP. Stevie and BTS.
Yeah. Stevie and BTS.
Yes.
I imagine Stevie, because I've seen some of the people that he's also dipped in the studio with in the past few years and there's people that's way less talented or on your level, so I'm sure it's something you could realize even more, but I know what you said about clamming up because when he played on my record, I didn't have any contact. I just sent him the instrumental and I played a little melody on the Moog of the melody that I imagined on the harmonica. And it took maybe a while, a couple months to come back. But I couldn't believe it when it came in my inbox, just that ding, mail thing and I looked over. It could have been spam, anything. It said "Stevie harp session." And it was one of the greatest moments in my life.
But anyway, I went to his show in Toronto a couple weeks later and I waited backstage because they were like, you can come back and you'll come and meet him. And just at the minute that he was probably about to come backstage, I just left because he's the one person I wouldn't know what to do or what to say. Maybe I'd be a little better with it now, but I couldn't. What could I say? I might burst out crying. There's somebody who's music has moved me so much and had such an influence and who's such a magical person. I couldn't do it. I clammed up as well.
Yeah. I just felt like I didn't want to get his space without being introduced. You know what I mean? And I just wanted it to be the right way.
Yeah.
Hopefully I get that chance soon.
You will. I'm just saying it. And BTS. Has BTS, has that happened or that's on the way?
That hasn't happened yet, but it's on the way I'm sure.
Yes. Okay. Just back to this FADER thing for a second and that moment, and like I said, the thing being the life of the party at that moment. It was before Free TC came out and I guess it must have been fun being the life of the party a little. I'm not asking you to spread a lot of salacious stories and stuff, but it seemed like at that moment that it was really popping off. Let's see. This looks like fun. If every night that's the show and the crowds are just going nuts. It looks like at that moment and still, but that was really everywhere you went. It was just people were so fucking lit. You had all the biggest songs of that year. Was that a fun time? Is that a dumb question?
Yeah, it's kind of dumb, but we definitely had a lot of fun. I definitely miss it. I'm sure the quarantine for everyone had to fuck everyone's lives up. Yeah, man. That was definitely a fun time. And I can't wait to get back on stage, man.
Yeah. Then Free TC comes a year later and suddenly I'm sure you knew that you had a lot to offer musically, but then suddenly everybody realizes, oh, this isn't just the guy that makes the big turn up records. This is a real album artist. And it was top of the list, New York Times, Rolling Stone and stuff. Did you feel like you had anything to prove on it or did you just know? Sometimes you just know, they're going to find out eventually and I'm just going to do the thing that I do and everyone's going to realize that I'm great.
I had been making music for a while, like I said, but it was my first opportunity to get a record out to the masses with a real situation. I had signed to Atlantic Records, which was a dream. I remember when I first found out that my deal was done, I ran from my apartment in Hollywood all the way to the top of the hill at the observatory in Griffith Park, just ran.
Wow, wow.
On foot.
Wow.
It was definitely a time, so grateful for it. And so much has happened since then. And there's more to come for sure.
Yeah. Well of course. Can we talk about your brother because he's such a big part of that record. And I was wondering if you had even more, not to prove in a way, but there was more riding on it because it just really is linked to your commitment to bringing awareness to his situation and just being like, this is his record. One of my favorite things is the thing on SoundCloud where you're telling him the track list for the first time. That shit is fucking beautiful to me.
Thanks man. Shout out to my bro. He's still in the situation. Through that record, I felt like we were able to get, first of all, the word out for his situation and plus we've met a whole bunch of people that I feel like have us in a better place to help him with this case.
Is there still some light at the end of the ... is it, I guess, because the last thing I saw was the doc that you made in 2016, where obviously you're talking about how his parole was denied then, but is there some light at the tunnel, there's some good things happening? I hope so.
There's always some light at the end of the tunnel, for sure. We're going to just keep on working on it so we could get it.
I love also, I mean, he's got such a great voice and I was thinking like, I'm sure with ProTools and studio trickery, there are ways. But I was like, how is he recording these parts from prison and they're ending up in the record. He's keeping perfect time and pitch and all this stuff. I was curious, how did he record his stuff down the phone or was he able to send you voice recordings and stuff?
It was just on the phone. Just regular phone conversation.
Wow.
And then from my engineers to D'Mile the producer. D'Mile is one of the greatest in the world. He was able to just put it together. Shout out to bro, shout out to D'Mile. Can't wait to get back in the studio. Bruno Mars took him away from me.
I know. I saw that. I saw that. He's doing pretty good with Bruno. He's a very talented producer. Is that how you pronounce it? D'Mile?
D'Mile, yeah.
Bruno, we need you to lend D'Mile back for a little bit.
Come on, bro.
Come on, Bruno. I read you say something that your brother then, because there was so much light around the record and this kind of stuff, that then he kind of got in trouble because there was so much about you bringing publicity to his case and him getting all this attention from the records, that he was placed in solitary or something from it. Is that what happened?
Yeah. He became a celebrity in the prison and had everybody hyped. So then, of course, I guess peoples got jealous and wanted to teach him a lesson.
Of course. But you were able to make music still after. He's still been able to make some of his own records. I take it that it's become a little bit easier for him or I hope it is.
I'm not sure. I'm not sure how it is. It's got to be stressful.
About that. When you're talking about the track list, even hearing some of the names that you mentioned just took me back. When you said a Battlecat, I just instantly thought, I was like, wow, I just forgot that "Ghetto Jam" by Domino is just fucking one of the greatest records. So, slapped on. I don't know. You were younger than I was then.
That was a major one in L.A. when I was a kid, that show.
Incredible.
Domino had DM me one time and we talked about linking but we just never linked. But I always love Domino, his voice, his music. Of course, Battlecat is one of my biggest inspirations. I've been working with Battlecat for years. Hell, yeah, man.
And then, also you talk about Patrice Rushen who's just one of my all time favorites. I think, I mean, it's not like she slept on because she's made "Forget Me Nots" and hits, but "Settle For My Love" and "Remind Me," those are some of the greatest R&B jams ever to me.
Patrice Rushen's one of my favorites as well.
Patrice Rushen was a young piano prodigy who in her teens made a few groovy, obscure, instrumental jazz funk albums on Fantasy Records., But she fully burst into pop consciousness with the old timer, Forget Me Nots, a song that will be played at parties, weddings, and in supermarkets for the rest of time. She had a number of great R&B records that performed respectably after that and went on to score Beverly Hills Cop. She's now a professor at USC, but her outsized influence on hip-hop and R&B is really immeasurable. Album cuts like "You Remind Me" and "Settle For My Love" have been sample by everyone from Biggie and Aaliyah to Mary J. Blige to Amarie and Slum Village. The underground disco classic "Haven't You Heard" is a club DJ favorite and gets remixed into a new house banger basically every few years.
There's something in her song, craft, musicianship, and sound of her records, which makes her so beloved by hip-hop artists and producers. It's deep, soulful, funky. I mean, please check out "You Remind Me." It's as much a predecessor to G-funk as anything by George Clinton. It's always fun when you meet another DJ producer or just a music lover and you start talking about someone like her. Someone who's slightly lesser known because it's like a secret club. Oh right, yeah, you got that too. It's also how we raise our game, studying these lesser known giants.
I had sampled one of her songs on my first album, Free TC. At first, when they tried to get the record cleared and she heard it, she wasn't going to clear it. I knew my dad was friends with her so I asked him to try to get her to clear it. He called her and she just asked me to make it clean. Change all the crazy shit. So I did it and then it came out. So, shout out to Patrice. Thanks for clearing that. She's a genius. She's a legend. I heard she a professor at USC now just teaching young people about music and shit so it's good.
It's crazy. Actually, I signed this artist King Princess. I have this label and she's done really well, but she was a freshman in the USC program. She was telling me when I first met her just before we signed her, she's like, "Yeah, my teacher is Patrice Rushen." I was like, "Oh my God, do you know who that is?" She knew that Patrice Rushen was somebody, but when King Princess got signed to us and then to Sony, and she was like, "I'm going to leave school." I remember thinking to myself like, "Oh no, Patrice Rushen is going to fucking hate me." Because Patrice Rushen was like, "I think it's a bad idea for you to leave school in the middle of your programming or learning." I was like, "Oh, no. Patrice Rushen who I've like looked up to my whole life. Now, I'm like dragging one of her students like out of the school thing or whatever." But yeah, she was going to do what she was going to do. We talked about it a little bit earlier to pronounce it, MihTy to Jeremih?
Yeah, MihTy.
I love it.
MihTy happened from working with Hitmaker. I would just go over there. Jeremih would always be over there. We would just make songs. We had one song together. Then, we have two songs. Then all of a sudden we have 40 songs together. Then, it was like, you know what? We might as well drop. So we put together that one really quick. It was just like, I go in the booth, he goes in the booth, and that accumulation of songs is being put out.
Especially for me because when I started DJing in the mid- 90s, it was Puffy, that whole era, Fat Boy, then Mary J stuff. I just have such a, as soon as I hear that, it's like a warm blanket. Then, you guys did that and obviously updated it. But that was just great. I imagine that sound originally, the first time when it came around, you were pretty young, but that was a big influence?
Yeah, for sure. I just love music and I feel like when I taught myself how to play bass and guitar and keys, I would just listen to radio or listen to whatever I could get my hands on and try to learn it. All of that stuff and all that time that I put in to all of that, I feel like it applies to the music I do now.
Also, I guess you work with so many other different producers, but you're such a great producer yourself. The first thing that you came really on the scene with "Toot It and Boot It." You produced it. Would you see yourself doing a whole record where you kind of produce-
The whole thing?
Well, yeah. Like, I guess, it was just like a self-contained thing where you just kind of like could take care of it. I mean, I don't know if that's a good thing or a bad thing. I just, is it something that you have any desire for?
Man, I would say I'll do this just like every other month, bro. Make a whole album, not drop, just for myself. But I'm super picky and super like, I don't know, man. Spontaneous, just like I'll probably drop one, one day for sure.
The last thing is I'd love to ask because I just, from reading all the interviews with you from 2014 on, you talk so beautifully about your daughter. It's almost like, I almost see like what she's into and how she's growing up from how old she is. In the beginning, she's coming to visit you at the house. Then, you talk about her starting to get into music, play a little keys. I was wondering what she's, where she's at now in her phase of music. Is she making music?
She's a basketball player now.
No way.
She's 16. She's driving. It's crazy, man, how fast life would just pass you buy. She's still killing it though with her grades, straight A student, haven't ever had any real issues with it. Praise God. Such a perfect daughter.
Are you a perfect dad? You sound like a good dad, but in the article you sound like you're just really like you just, you're there, which is good.
I would say I'm one pretty good dad, man. I'm learning every day. This is a new chapter for me, the 16 year old, but I'm learning every day and I'm focused and we're doing it.
I can't wait to get there. I mean you, inshallah, right?
Right.
Well dude, thank you so much for taking this time out to talk and it's great. I really hope that we do get to link at some point.
Yes, sir. Yes, sir. Let's do it.
I'll hit you before, maybe try and find you before I come out to L.A. next.
Yes. Let's lock in for sure, bro. I don't cap.
Okay, absolutely. All right. Stay peace. Thank you OG and Hook Lord, Ty Dolla $ign. That was a blast. Take me out with the fade.
The Prisoner Wine Company is an official sponsor of UNCOVERED. For a limited time, take 20% off & get Shipping Included on the star-studded Prisoner lineup by using code: UNCOVERED at theprisonerwinecompany.com/uncovered.
Offer valid on first time online orders only for U.S. residents of legal drinking age through 12/31/2021. Rebate requests from alcoholic beverage retailers, wholesalers, or anyone suspected of submitting fraudulent requests, will not be honored or returned. Limit 1 offer per household, name, or address. For more information, contact customerservice@theprisonerwinecompany.com. Other exclusions may apply. Please enjoy our wines responsibly.