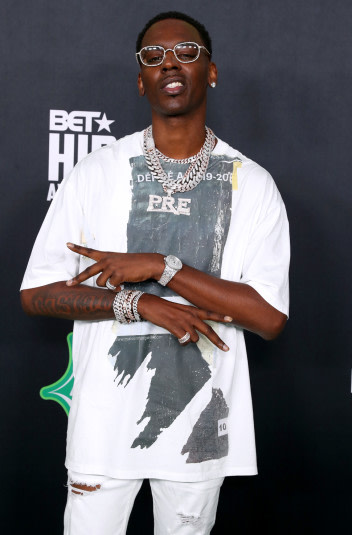 The rap world converged on Memphis Thursday morning to celebrate the life of local legend Young Dolph, who was tragically shot and killed last month at 36. Dolph's family and friends held a public memorial service for the late rapper at the FedEx Forum and live-streamed the event for those who couldn't make it to town. Dolph's legacy was also honored at Rolling Loud California last week.
The event began with video tributes from some of the biggest names in southern rap: Gucci Mane, 2 Chainz, T.I., and Juicy J all paid their respects, as did NFL icon Deion Sanders and his son Shadeur, who is currently QB1 at Jackson State University in Memphis (coached by his father).
Dolph's Paper Route Empire team showed up in full force to mourn their leader. Memphis public figures such as former mayor W.W. Herenton and Reverend Earl Fisher came and attested to Dolph's dedication to his community. And fans flocked from far and wide to join the collective outpouring of love for "Memphis rap's defiant heart."
Watch the celebration below, and donate to the Ida Mae Family Foundation, a community-based Memphis non-profit organization run by Dolph's relatives, here.