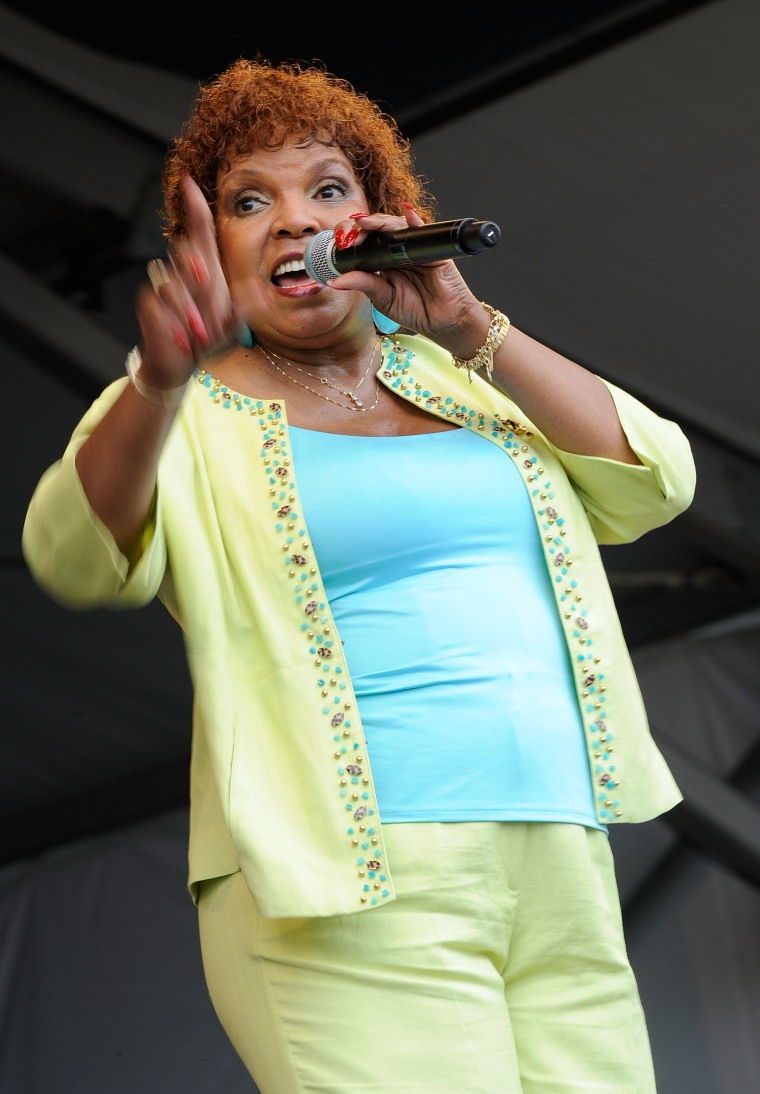 Rosa Lee Hawkins, the youngest founding member of the celebrated New Orleans girl group The Dixie Cups, died in Tampa, Florida on Tuesday, January 11 of internal bleeding caused by complications from surgery, The New York Times reports. She was 76.
Hawkins formed The Dixie Cups — originally the Meltones — with her sister Barabara Ann and their cousin, Joan Marie Johnson, in the early 1960s. They started playing local New Orleans shows in 1963 and were signed just a year later by Red Bird Records, a small New York label that released some of The Shangri-Las' most iconic records, as well an album of speeches by former Illinois governor and two-time Democratic presidential nominee Adlai Stevenson II.
The Dixie Cups' first single, "Chapel of Love" — originally written for The Ronettes — reached number one on the Billboard Hot 100 Charts, bumping The Beatles' "Love Me Do" down on the list. It went on to become the title track of the group's first and most famous album.
Chapel of Love also includes The Dixie Cups' rendition of the Mardi Gras Indian anthem "Iko Iko." They reportedly improvised their arrangement during what they thought was a short break in their trial session for Red Bird. (They'd been flown up to New York after impressing a scout who attended their high school talent show.)
"We were just playing around with it during a session using drumsticks on ashtrays," Barbara Hawkins recalled in a 2018 interview. "We didn't realize [Red Bird founders] Jerry [Leiber] and Mike [Stoller] had the tapes running."
Their cover would go on to become the most dominant version of the track, which was originally committed to wax by James "Sugar Boy" Crawford in 1953 as "Jock-a-mo."
"People Say," a defiant declaration of young love and Chapel of Love's closing track, was the band's second gold record. They'd go on to release two more LPs — Iko Iko (Red Bird) and Riding High (ABC/Paramount) — in 1965, then stop recording for the next 45 years before putting out their final full-length, Doing It Our Way, in 2011.
The Hawkins sisters continued to perform, but Johnson retired from the band in the '70s, unable to keep up the touring lifestyle after a sickle cell anemia diagnosis. She was replaced several times over the decades: first by Beverly Brown, next by Dale Mickle, and most recently by Althegra Neville. Johnson died of heart disease in 2016.
The Dixie Cups' recording career may have been brief, but their many years playing together —never losing the brightness of their voices, the crispness of their harmonies, or their infectious onstage enthusiasm — made their name synonymous with New Orleans music.
"When the audience smiled and applauded, it made her happy because she knew she put a smile on their faces, if only for that time," Barbara Ann Hawkins said to The Times of her younger sister. Rosa Lee Hawkins is also survived by another sister, Shirley, as well as a son, Eric Blanc, and two grandchildren.