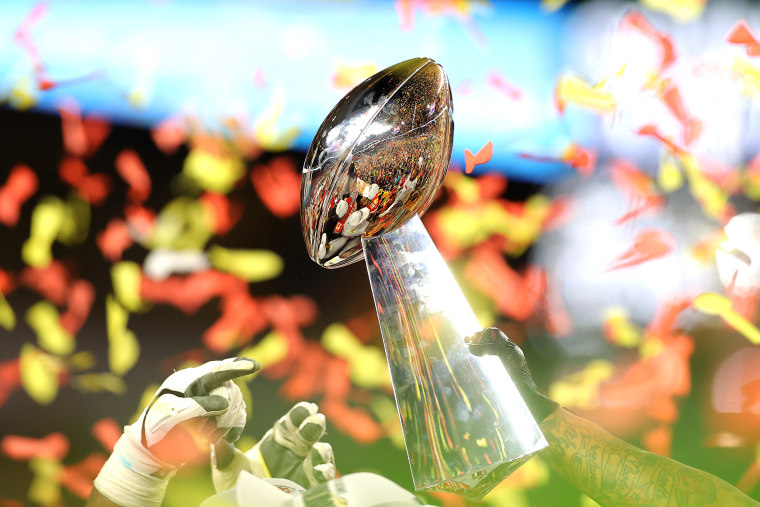 Dancer and activist Taja Riley is encouraging professional dancers to assert their value after allegations emerged last week that the Pepsi Super Bowl LVI Halftime Show made a casting call for "volunteer" dancers.
Riley's post, shared on January 19, prompted a fierce response from the dance community. It includes screenshots of what appears to be a casting email from Bloc Agency — which represents this year's halftime show coordinator, Fatima Robinson — indicating dancers who sign up will not be paid and will be required to rehearse for 72 hours over nine days, with no transportation provided to or from Los Angeles' SoFi Stadium. The email specifies that all rehearsals are mandatory and that missing any rehearsal time would bar the dancers from participating in the show. It also stresses that all information surrounding the show must be kept confidential.
In addition to the casting email, Riley's post features screenshots of a group DM from a Bloc client claiming to be a group leader for the volunteer performers. The sender said they'd been asked to pass along a call from a casting manager asking for "predominantly African American movers."
In an interview with The FADER, Riley said she took issue with the heavy requirements for unpaid workers. "If you're being asked to do any type of choreography, it's now past volunteer work," she said, "hence, you should be paid."
The Super Bowl famously does not pay its marquee artists, a move they justify by pointing to the amount of exposure these acts receive by performing. (96 million viewers tuned in to watch the Weeknd's performance last year.) But while this year's headliners — Dr. Dre, Kendrick Lamar, Eminem, Snoop Dogg, and Mary J. Blige — potentially stand to gain millions of new fans from playing the event, the halftime show's backup dancers will largely remain anonymous.
"This is one of the biggest African American representations at a Super Bowl performance that we've ever had," Riley told The FADER. "We're at a place with activism and equality where we're supposed to support Black-owned businesses — and I think of myself and these dancers as Black-owned businesses — where this shouldn't be happening, especially at the most profitable event in the world."
The Super Bowl received roughly $545 million in ad revenue alone last year, despite the fact that the championship game was the lowest-rated since 2007. And while the NFL's total revenue dropped 25 percent in 2020–2021 from the previous season, partly because of the decrease in ticket sales due to COVID-19, the league still managed to haul in $12 billion.
Riley has danced in two Super Bowl halftime shows as a paid performer but has heard from professionals who have volunteered in years past to "get their foot in the door." One such artist is Kahdre Walker, a Florida-based dancer and choreographer who was part of the Weeknd's 2021 halftime show field cast. Walker told The FADER he was contacted by a friend who suggested he audition for the role before being cast, but that on the first day of rehearsals, he realized many of the volunteers weren't trained dancers and hadn't tried out.
"This was the first red flag," Walker said. "I believe that was one of the ways the event staff protected themselves, because then they could say, 'Everybody here is not a professional, so that's why it's happening this way. That's why you're not getting paid.'"
Walker estimates he worked five to seven seven-hour days (3–10 p.m.) over the course of the two weeks leading up to Super Bowl Sunday and was asked to travel to the rehearsal locations — first to a Yankees training camp facility and then to Raymond James Stadium itself — on off days to receive a COVID test. Transportation was not provided.
He described long hours standing in line and learning choreography in addition to hours of downtime spent waiting in the cold. The professionals in the group knew what they were getting into, but the amateurs — like one volunteer he met who had taken leave from his day job at Enterprise to work the event — struggled to keep up with the requirements, and many dropped out. He guesses that the number of volunteers started near 300 but was closer to 200 by the day of the show. And while Walker made it clear no one was asked to quit their job to volunteer at the show, he said some performers did end up getting fired for taking two weeks off of work.
"The conversation started to happen: 'Why are we not getting paid?'" Walker remembered. "We started a group chat, and a lot of people said they weren't going to keep doing it. But this was my first big gig — a huge event on TV I was able to put on my resume — so I couldn't just walk away. The industry knows they can manipulate dancers. They gave us strategic words to keep us from raising an eyebrow."
One such perceived maneuver was revealed on the first day the group rehearsed on location, when it became clear that the "choir" the staff had mentioned would be performing on stage was actually another group of professional, paid dancers, some of them big names from New York and L.A.
"As soon as that happened, they started calling that group the 'riser cast,'" Walker said. "That's when we found out they were getting not only paid but flown there with hotels, food, everything included. It made no sense. They were dancing in the hall of mirrors with [the Weeknd], but when they got down to the field, they were doing the same thing as all of us."
Representatives of Bloc Agency, Fatima Robinson, and the Pepsi Super Bowl LVI Halftime show did not respond to The FADER's multiple requests for comment. But speaking to the Los Angeles Times, Robinson claimed this year's field cast members' only role would be "to fill up the space and bring energy to the performers who are performing on the stage that we designed," stressing that no choreography would be required. And casting manager Kristen Terry told the Times that the 72 hours of rehearsal time is strictly to make sure the volunteers "feel comfortable" with their roles and with the show's layout.
Riley claims Robinson blocked her on Instagram after Wednesday's post. But on Thursday, Robinson posted a promotional video for the halftime show with a caption that reads as an indirect response to the allegations. "I'm so happy to be hiring 115 paid dancers for the Super Bowl this year…..the most ever hired," she wrote. "I started out dancing for free, then as a extra on the movie 'Boys In The Hood' and have worked with these incredible artist individually throughout my career. This Super Bowl Halftime Show is about to be Amazing!!!!!"
Going live on Instagram last night, Riley emphasized that the statute of limitations for claims regarding last year's halftime performance expires this Thursday, January 28, and directed dancers who wanted to file union complaints for their unpaid labor last year to reach out to SAG-AFTRA representative Janée Lynch, who can be contacted via email at janee.lynch@sagaftra.org.