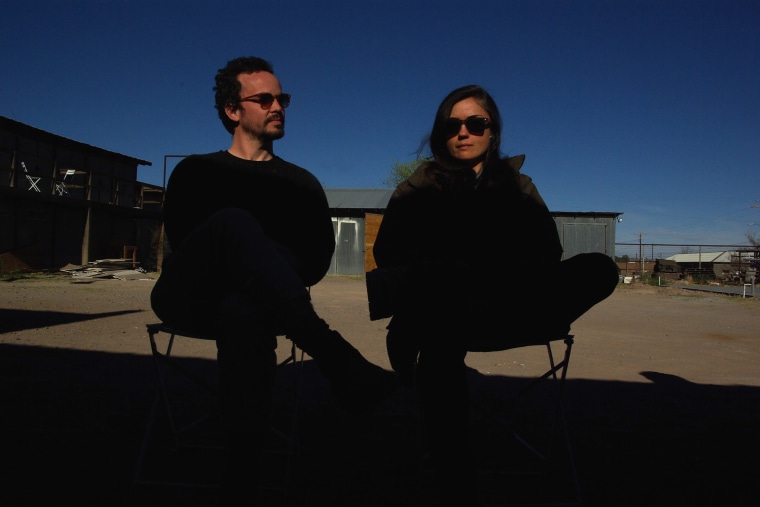 Liz Harris returned her experimental ambient project Grouper last year with the wonderful Shade. She debuted a new sonic clarity as striking as bleached driftwood with her inimitable solitude as penetrating as ever. The project couldn't have arrived at a better time – the pandemic's resurgence had a fitting soundtrack – but more new music from Harris is always a special occasion. Raum, her project with Root Strata label founder Jefre-Cantu Ledesma, is back today with a new project called Daughter.
Raum shared an extensive and beautiful statement about the album. Unlike the vast majority of press releases, it's very much worth reading in full:
Daughter is a record that took great patience to make. It captures a strange time spent in the desert, later added to, edited and finally made sense of after we lost the friend we'd been there with. There are fragments of beginnings and a deep sense of loss.
A requiem, a lullaby, goodbye.
Most of the material was generated in Marfa at a residency we did with Paul Clipson in 2016. We both felt confident that someday the shape of our hours of recordings would reveal itself but at the time it felt impossible to revisit. A lot happened that week. The desert was an anxious landscape, and each of us were in our own fevered headspaces. Jefre was about to have a daughter. His last time to record and perform before becoming a father. Liz was having terrible stress and relationship issues.
Our rooms were in a haunted soldiers rec hall. Late at night we heard music playing softly in the room we were recording in. Blue static sparks shot across the room at night.
We met several times to work on finishing these recordings over the years, but a big piece of the record only made sense after sitting with the loss of Paul. The recordings took on a special resonance. They are a document of the last time the three of us were in the same physical place. His film projector sound is embedded there. The sound of our long walks in the desert scrub. Sounds of birds screaming in the mornings. Heat, calm, companionship, and grief; all moving very slowly— across years, across a remembered landscape.
—
This record is for Paul.
Jefre and Liz wish to thank Ballroom Marfa and Marfa Myths for making our residency possible.
Below, you can find a superb video for "Sunlight Crying" directed by Dicky Bahto that perfectly captures the texture of memory. It's a refreshingly authentic channeling of the past in an era when directors will slap a Super 8 filter over their footage and call it a day. Watch that below, followed by a Bandcamp stream of Daughter.