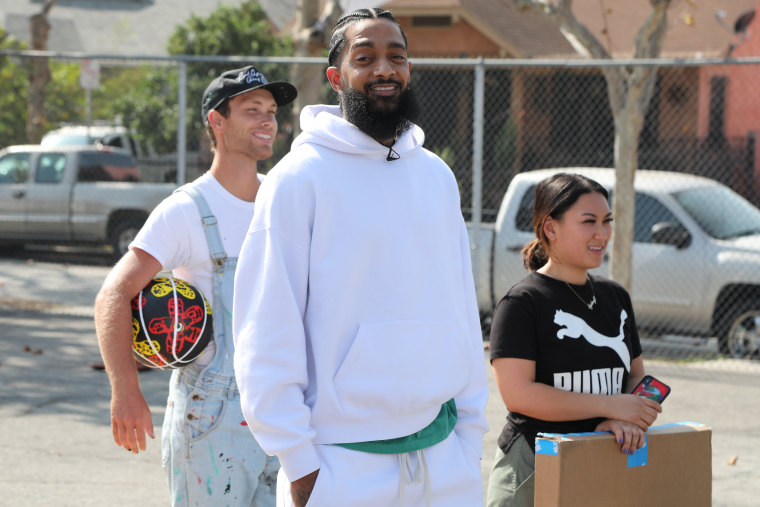 The family of late Los Angeles rap legend Nipsey Hussle has announced plans to reopen his popular Marathon clothing store in a new location. "This second location is a dream that Nipsey always had, and it's important that his kids are able to see his plans fulfilled," Nipsey's brother and business partner, Samiel Asghedom, told The Guardian.
The Asghedom brothers hosted the grand opening for the original Marathon in June 2017. The store was on Crenshaw Boulevard and Slauson Avenue, the same corner where they used to sell T-shirts and CDs as kids. They were constantly harassed by police, even after they moved the operation indoors and went legit as Slauson Tees in 2006. Marathon seemed to be the final iteration of Nipsey's long-time hustle, until he was murdered at the shop in March 2019.
The remodeling of "The Marathon Clothing store No 2" is already underway at a commercial space in L.A.'s Melrose Arts District. And while the iconic Crenshaw and Slauson spot may never reopen as a clothing store, Nipsey's family has other plans for the corner. Asghedom said he hopes to build a youth center, reopen Steve's Barber Shop to give kids free haircuts, and dedicate a public memorial to his brother.
In his Guardian interview, Asghedom also shut down rumors that some of Nipsey's unreleased songs would be sold as NFTs, or as a follow-up album to 2018's Victory Lap. Instead, he said, the family hopes to share the previously unheard music in a soundtrack for a documentary on Nipsey's life.
The FADER has reached out to a representative of the Nipsey Hussle estate for more information on the future of the rapper's unreleased tracks.