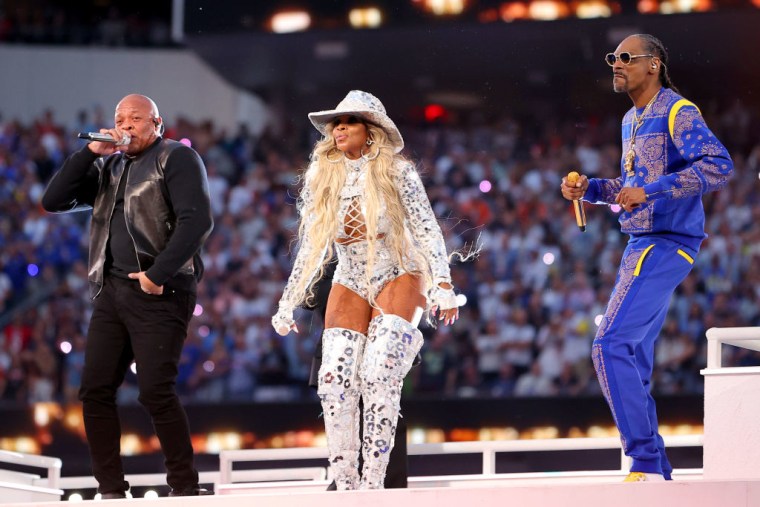 Dr. Dre was joined by Snoop Dogg, Kendrick Lamar, Eminem, and Mary J. Blige during the 2022 Super Bowl Halftime Show. You can watch the whole set here and check out highlights below. The all-star line-up delivered a greatest hits set at the SoFi Stadium in Inglewood, California during the game between the Cincinnati Bengals and eventual winners Los Angeles Rams.
incredible halftime show at the @NFL #SuperBowl ,what a blue explosion and what a yellow night, but some are not prepared for this! pic.twitter.com/yfLl2hmA07

— @JEAN CARLO GARCÍA (@JEANCAR70352943) February 14, 2022
Dre and Snoop opened the 15-minute set, produced by Jay-Z's Roc Nation, with "The Next Episode" and Tupac's "California Love." The first guest of the night then joined the party when 50 Cent, recreating his upside down pose from the music video, performed "In Da Club." Soon after 50's cameo Marty J. Blige performed her hits "Family Affair" and "No More Drama."
mary j. blige performing 'family affair' and 'no more drama' at the super bowl halftime show 🔥 #SuperBowl
pic.twitter.com/6hwfsJNoSi

— 2000s (@PopCulture2000s) February 14, 2022
Kendrick Lamar's segment of the performane comprised "m.A.A.d city." and "Alright" while Eminem received arguably the biggest crowd reaction of the evening when the opening riff of his "Lose Yourself" rang around the stadium. Anderson .Paak, one of the many Dr. Dre proteges on stage, played drums for Eminem, who ended his time on stage by kneeling in a move seemingly in solidarity with Colin Kaepernick. The show came to a close with Snoop and Dre coming together once more for "Still D.R.E."
Kendrick Lamar's full performance at the #SuperBowl halftime show pic.twitter.com/QQte9OpzOm

— don't bore us 🎧 (@DontBoreUs) February 14, 2022