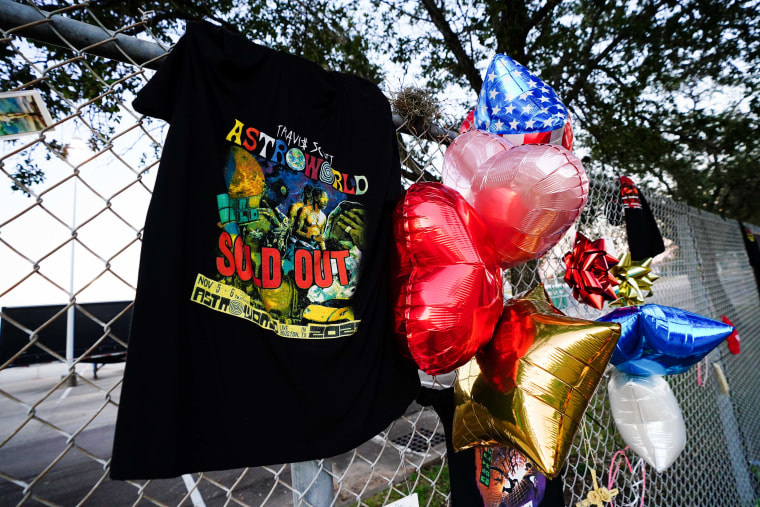 Travis Scott has been accused in court of violating a gag order preventing him from discussing the Astroworld 2021 tragedy, the Associated Press reports. Bob Hilliard, an attorney representing some of the families of those injured and killed at the festival, made the accusation in court on Monday.
Earlier this month, Scott announced Project HEAL, a philanthropic initiative that promises investment in "a tech-driven device" to boost safety at large events. "My team and I created Project HEAL to take much needed action towards supporting real solutions that make all events the safest spaces they can possibly be," Scott wrote on Instagram soon after Project HEAL's announcement. "I will always honor the victims of the Astroworld tragedy who remain in my heart forever."
On Monday, Hilliard told State District Judge Kristen Hawkins that Scott's statement violated her gag order preventing attorneys or their clients from discussing the case in public in order to prevent potential jurors from being influenced. An attorney representing Scott named Stephen Brody rejected that claim, responding in court by pointing to Scott's history of working with charities. He added, "to suggest somehow that speaking about those charitable initiatives... runs afoul of the publicity order... is certainly not something that would withstand scrutiny."
Scott and Live Nation, the promoter behind Astroworld, are facing billions in potential damages in the Astroworld lawsuit, which was combined from hundreds of separate lawsuits into one earlier this year. 10 people were killed by compression asphyxia and hundreds were injured at the event after a crowd surge caused mass panic and injuries both serious and fatal.
The FADER has reached out to Bob Hilliard and Travis Scott's representatives for more information.