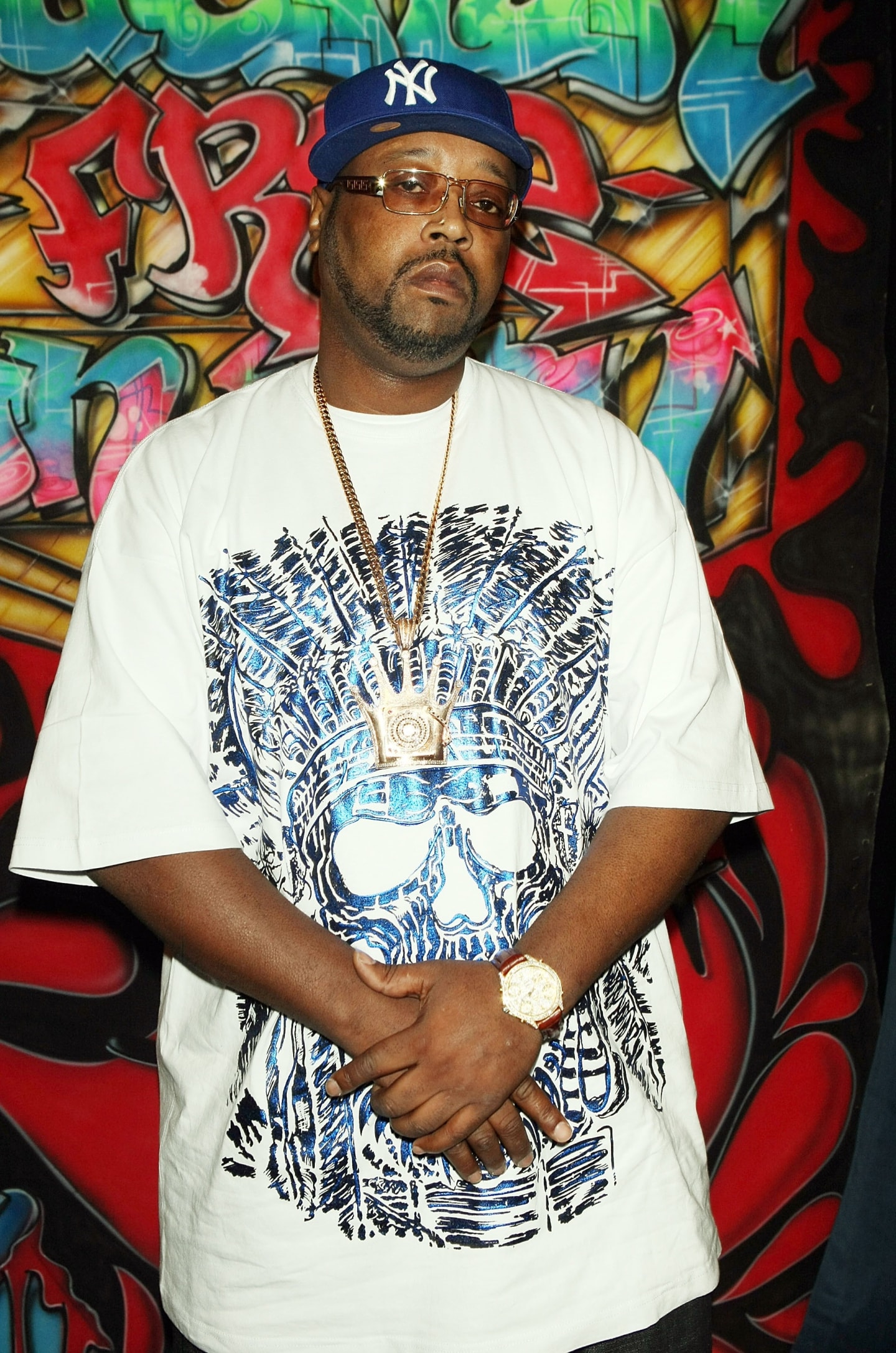 In an industry that overwhelmingly prizes youth and novelty over experience, Keith Grayson, best known as DJ Kay Slay, was a rare beacon of continuity across hip-hop's many eras. Though his early beginnings as a graffiti artist, his run as a mixtape innovator, and his position as kingmaker during some of New York hip-hop's most competitive years may seem like wildly disparate epochs at a glance, the self-proclaimed Drama King embodied hip-hop's competitive spirit and no-holds-barred attitude in every role he took on. That's certainly why news of his untimely passing due to complications from COVID-19 hit such a wide variety of artists and fans so hard: only Kay Slay could speak on New York's pre-Run DMC old school and post-Biggie peak with equal authority.
Born on August 14, 1966, and claiming Harlem's East River Projects, Kay Slay first found fame as a graffiti artist featured in Tony Silver and Henry Chalfant's Sundance Grand Jury Prize-winning documentary Style Wars. Then known as Dez/Dezzy Dez, he boasted about tagging since 1978 under various names before becoming "the king of the 3 train and the 1 train." Listening to his words featured in the film today, it's hard to picture this soft-spoken teenager testifying to the power of subway art becoming the booming gravelly-voiced DJ who'd commentate rap beef years later. Even a quick glance at his pieces, however, makes the confidence he'd later deploy behind the decks completely apparent: his bold, criss-crossing lines and brash use of color grab your attention just as easily as his mixtape adlibs would over a decade later. He'd never abandon graffiti either, later helping set up The Graffiti Hall of Fame in the courtyard of his old high school off of 106th Street in Harlem.

Slay personified hip-hop's passion for competition even at that early stage — a passion that would go a long way towards cementing him as the streets' favorite DJ. Whereas hip-hop's early years often get romanticized as a time of youthful innocence later corrupted by industry machinations, Kay Slay stood as a testament to the falsehood of such criticism. Instead, he highlighted how it was hip-hop's competitive killer instinct, developed during the toughest days of the Ed Koch era, that forged a generation of record industry titans, from Nas to Cam'ron to 50 Cent.
This road to greatness wasn't an easy one. Hip-hop's first generation showed remarkable creativity and initiative in the face of precious few opportunities and innumerable systemic barriers, and it was a stint in prison for possession that inspired Kay Slay to take DJing seriously. Though he'd marveled at local originators like Grandmaster Flash and Grandwizard Theodore as a kid, soon picking up DJing as a hobby, the early '90s saw New York DJs become certified superstars in their own right; Slay saw an opportunity to make a living by contributing to the New York culture that had raised him.
Then released on actual cassettes, hip-hop mixtapes mostly served as promotional items displaying a DJ's skills behind the decks. There were key figures like Ron G, who specialized in "blends" that merged R&B vocals to rap beats, and DJ Mister Cee focusing on best-of releases collecting the hottest street singles by names like Biggie and Mobb Deep.
Kay Slay took this fledgling hustle and ran with it, joining contemporaries like Funkmaster Flex and DJ Clue in making exclusive freestyles the chief draw of their product. With a rock-solid pedigree in Harlem and the trust of up-and-coming neighborhood rhymers like Killa Cam and Murda Ma$e, Kay Slay rose through the ranks, making a name for himself as an uncompromising voice of the streets delivering nothing but the rawest, most aggressive rap cuts from across the five boroughs. At a time when hip-hop was rapidly evolving from subculture to pop culture, this dedication to hardcore sounds earned him a Thursday night mix show on Hot 97, then the center of gravity for all of hip-hop, without forcing him to compromise his hard-earned clout.
By the mid-aughts, Kay Slay wasn't just hip-hop's realest DJ, he was a kingmaker in his own right. He helmed his own tapes, now with worldwide reach thanks to the internet, and ushered in the mixtape towards the artist-centric format that would make stars of 50 Cent and Lil Wayne. Of particular note, Kay Slay hosted Diplomats Volume 1, the debut release by fellow Harlemite Cam'Ron's Dipset crew. Ostensibly meant to hype up Cam's Come Home With Me album, which also featured Kay Slay on the intro, it's no exaggeration to say that an entire lineage of hip-hop began here, as Cam'ron graduated from talented journeyman to New York City rap icon while also introducing future chart presences Juelz Santana and Jim Jones. And while Cam had perfected his flow, found the right beats, and greatly benefited from a move to the then-scorching hot Roc-A-Fella Records, there's no denying that Kay Slay's co-sign and reach proved invaluable in spreading the Dipset brand beyond their native Harlem, opening the door to a slew of rappers who'd bypass major label concerns to take their music straight to the streets.
It's this authenticity and connection to what hardcore listeners wanted that earned Kay Slay wider notice, particularly as he proved himself to be a fair arbitrator of rap beef in an era overflooding with rhyme wars. Whether JAY-Z vs. Nas, 50 Cent vs. Ja Rule, or Eminem vs. Benzino, listeners could count on Slay to not only supply the exclusive diss tracks they craved, but also to deliver them uncut and unfiltered at a time when most were still cagey about encouraging beef following the murders of 2Pac and Biggie. And when the lyrical bloodsport died down, Kay Slay kept adapting — his two Columbia-released Streetsweeper albums featured everyone from R&B vet Aaron Hall to West Coast and Down South icons MC Ren and Three 6 Mafia, with plenty of N.Y.C. mixtape veterans to spare. Considering the filler on most albums from the turn of the millennium, they've aged like fine wine, serving as time capsules from an era where rap was less self-conscious and more linear, where the hardest rhymes over the hottest beats fueled a seemingly infinite number of barbershop debates. Everyone had their favorites off these albums, but I'm particularly fond of "Face Off," a blistering collaboration between Houston godfather Scarface and Wu-Tang's Ghostface Killah, both at the peak of their powers.
Even as the mixtape game slowed down due to hypocritical RIAA enforcement, internet-fueled shifts in music consumption, and a generational change in tastes, Kay Slay remained a beloved and evergreen voice in hip-hop, always promoting a strand of rap music that was born in the streets and dedicated to lyrical excellence. Notably, over the past two years, he attracted significant attention for "Rollin 50 Deep" and "Rollin 110 Deep," album-length tracks overflowing with emcees new and old delivering a hot 16 for the love of the culture, both on record and for the tracks' star-studded videos. In light of Kay Slay's untimely passing, it's hard not to see these releases as full-circle moments: competitive, battle-ready displays of uncut hip-hop, twisting an existing mode of distribution to their own stylistic and formal ends. Whether bombing subway cars, co-signing artists via mixtapes, debating rhyme wars or radio, or flexing his Rolodex on YouTube, Kay Slay stood for street-born innovation and excellence. Generations of rap artists and fans are lucky he shared his gifts with the world