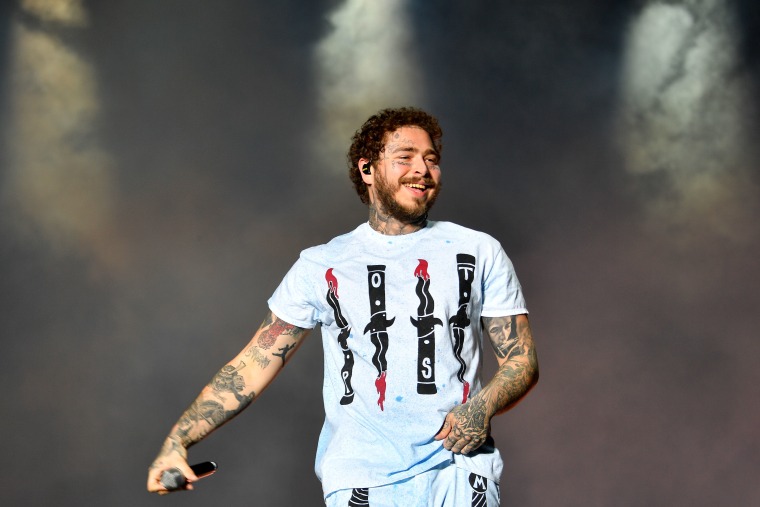 Post Malone is getting us prepped for his new album twelve carat toothache.
On Saturday, April 23, the rapper hopped on Instagram Live to share snippets of a few new tracks with some big-name collaborators.
"I would love to play this entire record and I just want to say hey to everybody that's hanging out," Post said. "Honestly, I've been working so fucking hard and I would love to play y'all a couple more records if y'all got time. We've got a lot of cool stuff going on."
Among the tracks he played were "Cooped Up" with Roddy Ricch and a track called "Happy," featuring none other than Doja Cat, who Post said he was "so blessed and honored to have worked with."
The star then went on to share a song with The Kid LAROI dubbed "Wasting Angels," which he called "a celebration of life and a human spirit."
"At the end of the day, life is fucking crazy and it's a beautiful, beautiful gift that we've all been given," he said, which was a sentiment mirrored by the lyrics.
However, in contrast to "Wasting Angels'" uplifting message was "A Love/Hate Letter To Alcohol," a far more somber collaboration with Fleet Foxes frontman Robin Pecknold about Post's "struggle with alcohol." He then went on to say that he hoped the song "touches somebody out here," before praising Pecknold as a vocalist and an "epic fucking guy."

Eventually though, Post said that his teaser was "getting [him] in trouble right now" and wrapped things up with a clip from "Wrapped Under Your Finger," a song where he appears to go solo.
Back in January, Post confirmed the "imminent" release of twelve carat toothache, his fourth studio album following 2019's Hollywood's Bleeding. At the time, manager Dre London claimed Republic Records was responsible for the 14-track project's delayed release.