Bobby Shmurda isn't looking back
Freshly independent, the Brooklyn rapper discusses his new daily routine and taking his music career into his own hands on the latest episode of The FADER Interview.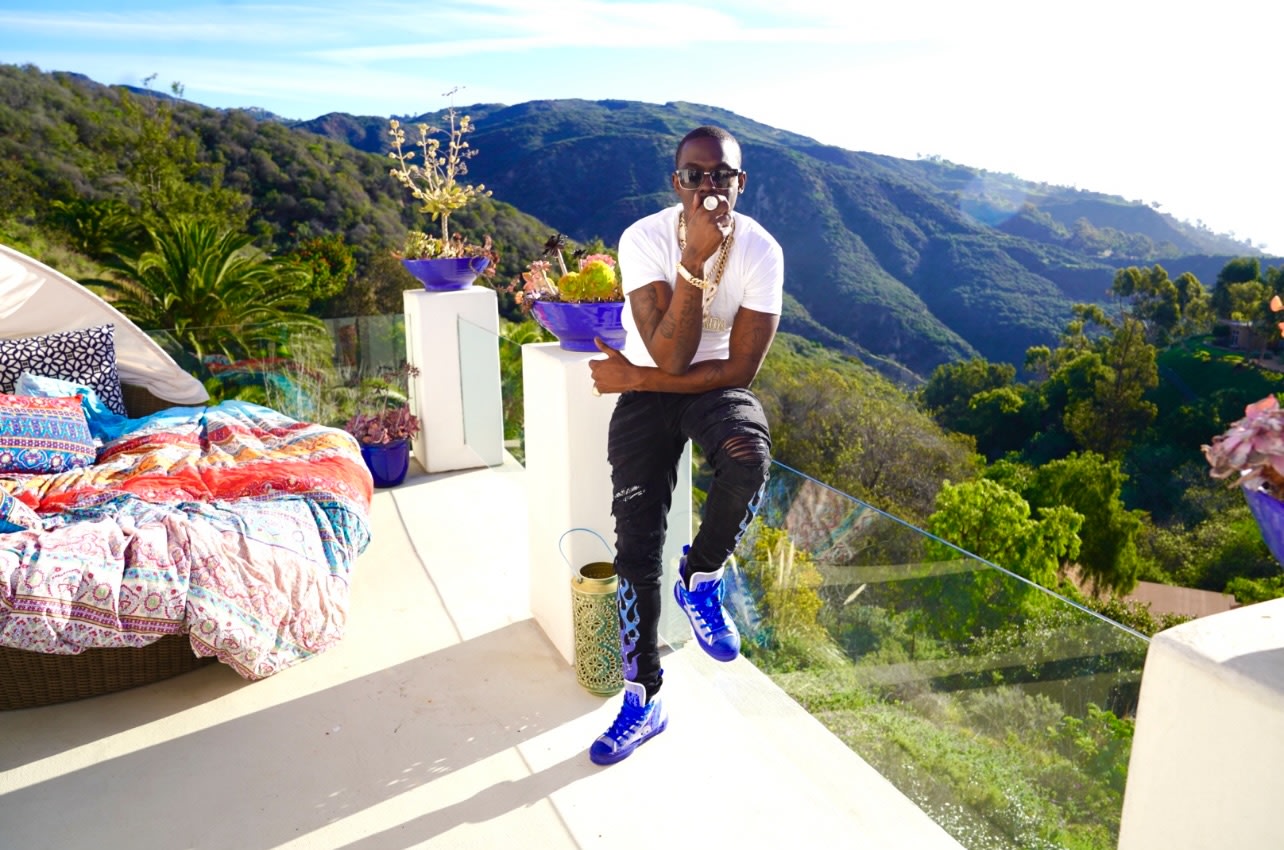 Last December, Bobby Shmurda posted a note to Instagram explaining that he didn't have control over his music and that his label was to blame for delaying the release of songs he'd been sitting on. "I ain't been in charge of my music since I was 19 years old and I jus [sic] turned 27 and honestly idk when shit dropping so don't ask me shit go ask them mf's since they wanna control everything!!!!!!!" the Brooklyn rapper said. The post has since been deleted. At the time, he was signed to Epic Records and managed by Roc Nation.
Shmurda had been released from prison in February 2021 and dropped a few songs in the second half of the year, but he'd grown increasingly frustrated with the label. Two weeks before the one-year anniversary of his release, Shmurda took to Instagram to ask that he be let go from his contract with Epic in another since-deleted post. "I still feel like I'm in prison," he wrote. At the end of March, that wish was granted, and he was released from the label that signed him in 2014.
A few days after the release of "They Don't Know," Shmurda's first single since parting ways with Epic, The FADER's Brandon Callender spoke to him about his newfound independence as an artist, adjusting to the ever-changing music industry since coming home, and what to expect from him this year.
This Q&A is taken from the latest episode of The FADER Interview. To hear this week's show in full, and to access the podcast's archive, click here.
The FADER: How you doing today, Bobby?
Bobby Shmurda: I had a pleasant morning. I had a poppin', productive night, so I woke up happy today. Every day out of jail is just another day smiling, blessed. Waking up, period, is blessed.
What does your daily routine look like now?
The whole shit's unorthodox. some days I might wake up, workout. Some days I might wake up and get worked out. You know what I'm saying? Them bitches be trippin' [laughs].
You got out of jail a year and some change ago. How are you feeling about that? How's life been for you since then?
Well, shit, who am I to complain with all this ice on me, with all these chains on me? I've seen a lot of motherfuckers change on me, but who am I to complain with all these chains on me? [Laughs] Real shit, though, I feel like I went through a lot of shit that just they don't know, and I've gotta talk about it. A lot of traumatization, PTSD. I was just trying to maintain a happy mind state in a corrupted environment. The pandemic had the whole world corrupted. I was going through a whole bunch of shit with my career. I can't talk about it, but you know how that shit is. So now that I'm free and not attached to nothing but parole, I feel like a fresh breath every time I wake up.
When a lot of rappers get out of jail nowadays, everyone's expecting a "first day out freestyle" type thing. But instead you waited a little while to drop some music. I thought that was interesting because everyone is normally trying to strike while the iron's hot.
I can't talk on it too much. I'll just say when I came home, my career was not in my hands. My career's in my hands [now], so everything you hear is from me. I get the last say; I get the what's good; I get the what's poppin. If I don't like the mix, I ain't jacking the mix. We goin' out natural. I'm dropping two more songs this month. I'm dropping up to five before I drop the album. Now I'm free, I can do whenever I want [with] my timing. I can't talk because of the NDA. Most I can say is if I had my career in my hands, there would've been a "first day out." They Don't Know" would've been the first day out.

Could you give us a hint about what kind of music you've got on the way?
The two songs we've got dropping this month are called "Gettin' It Back" and "Badmon." "Gettin' It Back" is an explosive, club, wild out, summer, sunny day, you feel good. "Gettin' It Back" gives you that energy. Anything that threw you off track, you got back on track. It's a revenge song. It's like motherfucker was trying to play you. You end up getting some money, getting back up. And then we got "Badmon," some reggaeton pop shit… for the hoes. For the females, I mean. You know I love the females.
Last year, you said you were trying to learn how to produce and get more hands on. How's that been going?
I made a beat. I got a big artist on it. When you hear this beat... I'm saving it for the album because the shit is so crazy.
The music industry has changed a lot since 2014. What kind of changes did you have to adjust to when you got home?
Social media was taking over when I first came into the game. People were getting signed off of Instagram for going viral. When I was in jail, I used to read a lot, and I [saw] how it was taking over the whole rap game. Like before, if you heard [I was] being blackballed, you probably [wouldn't] even be talking to my Black ass right now. But because of social media, I still get the connections. You still get to directly connect with your fans. You can just grab your phone and upload. You ain't gotta go through 500 people like in 2005 and be like, "Yo, I wanna post." I can go straight to my fans now.
It's interesting you talk about how social media was poppin' off when you first started, because that's how you got hot. People were making memes of "Hot N*gga."
That's the youth. That's like your brother or your cousin or me. That's what I love about that shit. We get to be ourselves. Nobody can tell us nothing. All they going to do is keep reporting us.
I was wondering how you feel about the state of New York drill right now, because it has definitely changed a lot. You've got all the sample drill stuff, the UK influence—
Well, I don't do drill music, but I feel like the king of New York drill is Kay Flock. I'm in a different category, but I do rate them. They put on. I feel like it was there because there was no face of New York [that] the drill scene took over in New York while we was gone.
What you categorize yourself then, since you say that you don't—
Shmurda music. You can't put me in a category with nobody. You know why I say that? You ain't going to find no nigga like me. I give you a million dollars if you tell me a nigga like me. Who else you know in the game gangsta — There's a lot of gangstas in the game — but who else you know gangsta with swag? Who else you know gangsta that's gon' make you laugh?
Have you been paying attention to anything that's been going on in New York with Eric Adams talking to Fivio and B-Lovee about ways they can approach solutions to the problems that come with drill music?
I haven't been paying attention. But I feel like music can't increase murder rates. People watch movies. You can't nominate fucking Al Pacino… They shootin' up everybody in the movie. It's entertainment. But once a rapper do it and make money off of it, we're influencing motherfuckers. That's bullshit. You don't hear them talking about [shutting] down action movies. I don't listen to biases. Once I hear biases, I'm like, "Get the fuck out my face."
What are some of your plans to move as an independent artist this year?
I just can't wait for people to hear this album. I've got so much more plans, but I'm so focused on this album right now. I just want this shit to come out and people to hear that shit… and understand the meaning when I say [the album title] Ready To Live.
Why'd you choose that to be the album's title?
When you hear it, you're gonna feel it. I'm talking about the past, present, and future on the album. The past is gonna sound crazy, but a motherfucker fighting to get out. The present is going to sound like a motherfucker got out, fighting to stay out. And the future is going to be a motherfucker reaping his rewards for staying up.
How would you define success for you right now?
Success is me talking to you right now. Coming from where I come from, that's success. Anything I'm doing positive any given day is success to me, because of the life I came from. If I wasn't talking to you right now — [if] I wasn't a rapper — I'd have been selling bricks somewhere and scamming. I'm blessed every day. I wake up and I see my FaceTime, I see a white guy talking about some money. That's success. I used to wake up all day with my phone ringing all the time, since I was a kid. But it'd be 50, 60 crackheads — 30, 40 gang bangers. But now it's different.
I was wondering if you could talk about how your new song, "They Don't Know," came together. You have all the viral dances in there that come off TikTok and Twitter in the video. How'd you link up with them?
It's premeditated murder, bloody murder. I went to California, and I'm in the stu, and I'm kickin' it with my engineer. And the beat came on, and I heard that boom, boom, boom, boom, boom. I said, "Put this shit on." I went in there and I ain't come out for like two hours. I was in there high as shit. When I get in them zones, I get in the next realm. Anytime I'm in the studio, I sit in the booth for like 20 minutes, get into the next realm, then go stupid for like 30 minutes, 40 minutes.
Do you like mainly write your songs or do you just go in and freestyle?
I go in, I sit with the beat playing in my head, and I smoke. And then I just talk my truth without no cut on it. You've gotta get to that point where you're in the studio and you don't give a fuck about nothing. You let anything go. You can't snitch, but you know, "Fuck it, ah ah. Yeah, I did it."
This is your fifth song that's dropped since you came out. How do you feel about all the music you've put out so far? Do you feel like all of it's been representative?
This is my first song independent. I'd like talk about the independence.
Do you feel like it really represents where you're at now?
I feel like this represents me because I'm in control, I'm behind it. It ain't 400 motherfuckers behind it, so it's different. You know what I'm saying? It's like a whole different hand. That gave me a whole different extra energy to give to my fans. It gave me like a whole gorilla, Super Saiyan power station.
Throughout this whole interview, you've really been focused on this whole idea of being able to do something yourself.
You know why? If your mind says that you want to put this out by the fourth, your mind's gonna work harder. You're gonna come up with shit that you ain't even know you could come up with. You're gonna sound different. But if you know you've gotta go through a hundred motherfuckers to do some shit, then it's like, "Ah, shit, it isn't even worth it." I tell artists, you always want to keep your mind free, because that's what [brought] you here. Whatever [brought] you there, don't let motherfuckers take that away from you or try to rescope it, put their little stamp [on it], put their palms in the cement: "We should drop this first, or that first, and this mix — turn this down." Fuck wrong with you, bitch? I'm from the trap. I know what motherfuckers like. I'm from the crack streets.