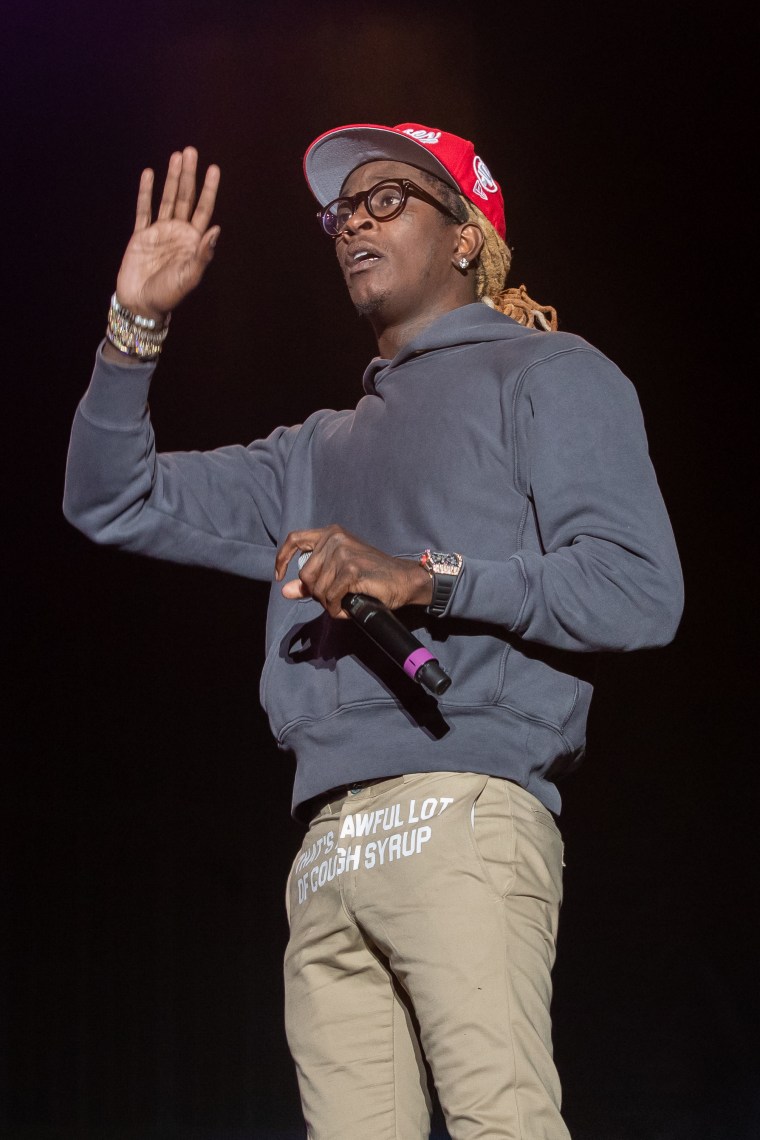 Young Thug has been virtually silent since his May arrest on charges of conspiracy to violate the Racketeer Influenced and Corrupt Organizations (RICO) Act and participation in criminal street gang activity. He's also been charged with seven additional felonies stemming from drugs and firearms found during a search of his Atlanta home the night of his arrest. Since then, he's been incarcerated in Fulton County Jail, denied bond twice by judges in the county's magistrate and superior courts. He's let his attorney Brian Steel do all the talking this past month. But Sunday night, he sent an audio message to fans at the Hot 97 Hot Jam in New Jersey's MetLife Stadium, thanking them for their support and urging them to sign Kevin Liles' and Julie Greenwald's Protect Black Art petition.
"[Thank you] to all my friends and my family for coming out and supporting us," he said, his voice playing over a Zoom screenshot from his most recent bail hearing. "Your support during this time means a lot to us. You know, this isn't about just me or YSL. I always use my music as a form of artistic expression, and I see now that Black artists and rappers don't have that freedom. Everybody please sign the Protect Black Art petition and keep praying for us. I love you all."
Watch a low-fidelity video of the statement, first posted to Twitter by HipHop DX, below.
The case against Young Thug is part of a larger RICO indictment of 28 alleged members of Thug's crew, Young Slime Life (adjacent to but not to be confused with his record labor, Young Stoner Life), which the state of Georgia has dubbed a criminal street gang. Also charged in the indictment are YSL-signed rappers Gunna, Yak Gotti, Lil Duke, and Unfoonk. Though Thug is charged with only two of the 56 counts listed in the indictment, he's named in 35 "overt acts in furtherance of the conspiracy" within the initial RICO count. 10 of these "acts" refer directly to song lyrics.
The Protect Black Art petition, co-written by 300 Entertainment CEO Kevin Liles and Atlantic Records COO Julie Greenwald, seeks to limit the use of rap lyrics as legal evidence of criminal wrongdoing — a longstanding, highly prejudicial prosecutorial strategy. It's a cause that has gained traction nationwide and recently won a battle in New York, where S.7527/A.8681 (the Rap Music On Trial bill) was approved by the state senate and awaits a state assembly vote. If passed into law, the bill will limit the use of lyrics in the courtroom as character evidence by requiring prosecutors to prove they are directly relevant to the commission of a specific crime before they can be shown to a jury.