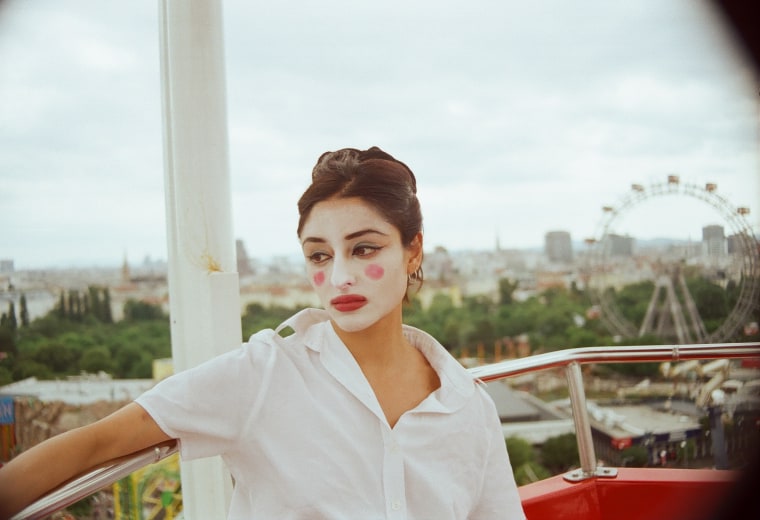 Sofie Royer is a Vienna-based artist repurposing vintage soft-rock sounds into her own distinct vision that's both timely and timeless. It's still easy to get lost in her underrated debut Cult Survivor, a project of prodigiously drawn smooth pop that got overwhelmed by the volume of that tumultuous, frayed summer. On September 23, Royer will return with her sophomore effort Harlequin, out via Stones Throw. Today, The FADER is premiering its lead single "Feelin Bad Forsyth Street."
The melancholy Royer taps in the song isn't some intangible thing. Still, her voice, bilious and grey as a rain cloud, holds little hope for resolution. "Feelin bad on Forsyth Street," she sings at the song's opening, "and I already know it has nothing to do with me." As adept as Royer is at tapping into the classics – a little George Harrison guitar here, a little Randy Newman piano there – she is an unmistakable talent at making songs that are hers from feelings that are shared with everyone else.
In the song's video, Royer plays a waitress in a New York City diner. And yes, she's having a day. Watch below:
Here's Royer's statement on the new song:
"It's New York I've lost my appetite I've messed up again, messed up big time and I don't know how I've ended up in this state again but all I know is buckle up chin up tough it out because it's me against me against the rest of the world baby."
"'Feeling Bad Forsyth Street' is that classic Rico Ratso Midnight Cowboy down and out in New York written as a note to myself in the future I guess because who knew a year later I'd really be looking down at my scuffed saddle shoes feeling that type of way."
This fall, Royer will tour Europe and the United Kingdom opening shows for Toro y Moi. Find those dates below.
Sofie Royer tour dates
July 27 - Marie Antionette - Berlin, DE
July 29 - Watten Schlick Festival - Varel, DE
October 4 - Le Trabendo - Paris, FR*
October 5 - Melkweg - Amsterdam, NL*
October 6 - Metropol - Berlin, DE*
October 7 - Tama - Poznań, PL*
October 8 - Praga Centrum - Warsaw, PL*
October 10 - Kantine - Cologne, DE*
October 11 - CHALK - Brighton, UK*
October 12 - St John at Hackney Church - London, UK*
October 13 - New Century Hall - Manchester, UK*
October 14 - Academy - Dublin, IE*
*support for Toro Y Moi