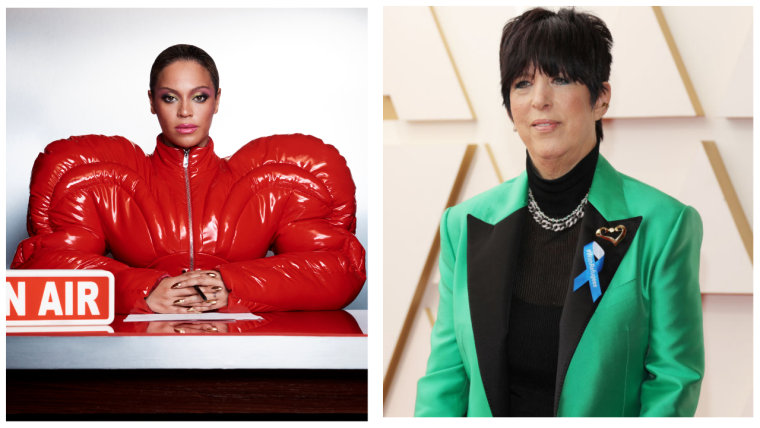 There are a few core rules to remember when engaging online and pretty near the top of the list is to never, ever do anything to anger Beyoncé's passionate Beyhive fanbase.
Songwriter and perma-Oscar nominee Diane Warren learned this the hard way on Monday when she posted a simple question: "How can there be 24 writers on a song?" The query is open-ended enough to give Warren plausible deniability but the timing here is key. Tweeting that out mere days after Beyoncé dropped Renaissance is essenitally a Bat-signal for the hive to assemble and defend their queen. Clearly, they deduced, Warren was tweeting about Bey's "Alien Superstar" and its 24 credited writers (including Jay-Z, Mike Dean, Honey Dijon, and Right Said Fred).
How can there be 24 writers on a song?🙄

— Diane Warren (@Diane_Warren) August 1, 2022
This isn't meant as shade, I'm just curious

— Diane Warren (@Diane_Warren) August 1, 2022
Many fans were quick to point out that the list of credits runs that long because it includes many artists who are sampled on the song, which makes use of the 2008 song "Moonraker" by Foremost Poets, and the 1973 speech "Black Theater" by Barbara Ann Teer. The-Dream, himself a credited writer across Renaissance, pointed out the historical context of sampling, too.
You mean how's does our (Black) culture have so many writers, well it started because we couldn't afford certain things starting out,so we started sampling and it became an Artform, a major part of the Black Culture (hip hop) in America.Had that era not happen who knows. U good?

— MUSIC ICON THE-DREAM (@TheKingDream) August 1, 2022
Warren acknowledged the explanations sent her way and soon brought an end to the conversation. Lesson learned, the Beyhive remain undefeated.
Ok, I meant no disrespect to @Beyonce, who I've worked with and admire. I'm sorry for the misunderstanding

— Diane Warren (@Diane_Warren) August 1, 2022