dreamcastmoe is making music to live to
The D.C-based musician experiments with dance, soul, funk, and more in his one-of-a-kind sound.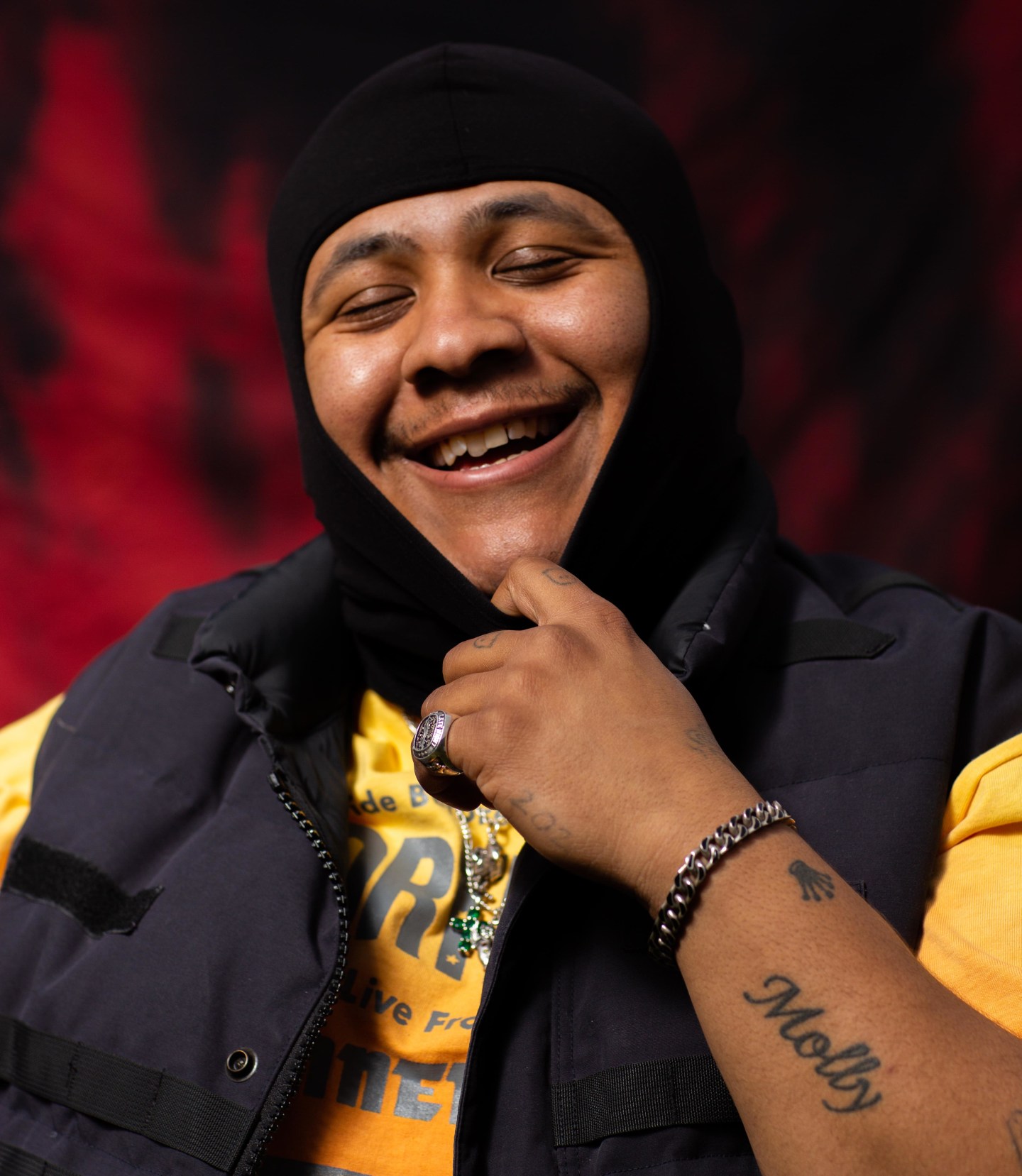 dreamcastmoe has a theory that food and music are just alike. "Some shit hits you different, man," he says over Zoom in early August. "It's going to hit somebody's body a little different than the last person." That theory starts to make sense when you ask him what songs have resonated with him. The Washington D.C. native won't hesitate to reveal his favorites, but he won't do it without telling you vividly detailed stories about why they spoke to him.
One of the songs is "Giving Up" by Donny Hathaway, one of his musical heroes, which he found solace while going through a breakup and grieving his grandfather. ("It was only crazy because my ex's aunt was the one who told me. She was like, 'Yeah nigga, you better go listen to some Donny Hathaway.'") There's also Drake's "Ratchet Happy Birthday," which reminds him of a loving aunt that passed away ("He probably ain't even write that joint. I'm sick.") To him, music is a blanket meant to "wrap a person's heart." There's a comfort to be found in the familiar emotions a song can evoke.
Before he was born, his mother worked at Tracks, a famed gay nightclub in D.C. that closed in 1999, and his father was into go-go. Their love of music and nightlife led to a young dreamcastmoe (born Davon Bryant) to take a liking to it all. He started off as a drummer—congas and djembe, specifically—before moving to produce house tracks in his teenage years. He'd begin releasing music in the late 2010s as dreamcast (the "moe" came later), eventually catching the attention of Andrew Morgan, who runs the D.C.-based funk label People's Potential Unlimited. Through them, he'd release "Liquid Deep," a hypnotic track with a simmering funk bassline, as a two-track 7" in 2017. "Summer Love," its smoky slow-burning B-Side, calls to mind Marvin Gaye with its bended-knee romanticism and submerged sound.
At the end of July, dreamcastmoe released Sound Is Like Water Part 1, his first for Ghostly International sub-label Spectral Sound. Across five tracks, he explores love, life's endless grind, and self-medicated escapism in different forms (the full album, Sound Is Like Water, is out on November 4, with its new single "Much More" out today.) Opener "El Dorado" comes off as a crashing wave of sound, "RU Ready" is gentler, like the lifting of a summer morning's mist. It's a small, but nonetheless expansive package of the funky grooves and dance-adjacent music he's become known for.
Now 30 years old, his goal as he moves into a new decade of his life is to reach a wider audience than he has before. Dreamcastmoe feels that he's reached "the heads," but he wants to pull in a new group of open-minded listeners into his world of milky watercolors. When I ask if he ever feels like he's in search of a hit, he says that he isn't the kind of person whose goal is to "dig for a hit" — he feels that he already has them. Though he acknowledges that once you break through one glass ceiling as an artist, there'll be always another right after that you'll have to work to break through. Immediately after, he swerves hard left: "But a nigga do want a hit!" he says with a heartwarming laugh. During our conversation, he would pop the tension that bubbled up from candid moments like that a few times. It's like he's reminding himself to keep things as easygoing and light-footed as his music.
What was your headspace coming into Sound Is Like Water?
Last couple projects I've been transitioning. I was like, "Yo, what do I do now? I haven't really been able to move around in a few years." I spent 25 through 28 basically gone. Literally every chance I had to go somewhere, I was gone. I went to Africa for the first time and ended up going three or four times after that, really getting a chance to bear witness to the different parts of the world that I would want to be in. Then COVID hit and I was very still.
That taught me a lot, and Sound is Like Water is to me a true representation of the different patterns that water takes. When I describe water, it's not just describing me as a person. Sound is like Water is really descriptive of how I've been able to move in and out of different life changes.
I think to come in with such a crash of sound with "El Dorado" ... Someone told me that was their least favorite song because it was too abrasive, it was too heavy. Nigga, that's life. Life slaps the shit out of you. You're just not even really ready for it. I had to really think about that and it took me a while to understand that it's okay for me to explain these things in my own way.
Moving into this new decade of your life, what are some dreams or goals or whatever that you have?
The dream for me artistically is to really reach that next level of the audience. [The] music heads are the ones who lift me up and I appreciate that, but I really think the music is now ready to touch people who aren't music nerds. That realm of people who just are down to listen to some new music and [are] not necessarily digging for it. I really want people to have some new experiences within sound.

I really want people to have some new experiences within sound.
How do you think that you're going to try to hit these new audiences? For you is a try to make a hit thing, or is this a, "Oh, now I got to show these people this in real life" and do a crazy show.
To keep it real with you, man, I've never been the type of person where my whole goal is to dig for a hit. I feel like I have hits already. In my head, you know what I'm saying? But then again they'll look at you crazy for believing in yourself.
I'm a person of just self-belief. I feel like "El Dorado" is a hit, lowkey, in its own way, but it's not the radio hit per se. I think if people really dig through and have a chance to listen to some of the music, it'll be a hit in their life.
To get back to your question, what do I want to do? I wanted to just break barriers, man. I want my music to just be there for people. I've said this before, but it's human music. It's music to be able to get us through some of these tough times that are coming. It's for us to be able to push through.
I definitely feel tha-
But a nigga do want a hit! [laughs] At the end of the day, yeah, it's not about the clout or the fame that comes with it. I want to take care of my family. I want one hit to be able to buy my mama a house. You know what I'm saying?
The humor in your music, to me it comes out real PFunk-y. It's like George Clinton in a way. On "L Foot, Right" you say "Baked beans got a nigga in the mood," and then it just goes off into a groove.
Yo, that's literally it. I'm a big kid, you know what I'm saying? That shit is important to me, for people to understand where I'm coming from. I didn't even write that down. That was just more so in the moment, but Parliament, bro, is such a great connection. George Clinton, you know what I'm saying, just who they are. It was very free on stage. That shit means a lot to me because it's freedom. It's [the] true definition of artistic freedom. Me being able to say what I want in a song and be who I want, that shit is what really matters the most to me, man.

In a recent interview, I saw you talking about how when you're performing live, you're freestyling a lot more. Do you ever think of this as a whole jam session, funk band type thing?
That's really what I grew up with and performing with. We used to do open mics in DC, and I would go to this club called Flash. It would be about 80 people in the bottom floor of the club with a stage and PA system. We would just rock out. That's where I honed in on playing with a band, having a full band behind me, and just cranking out.
If I had a preference, in the future, I would love to bring a band back. It's just crazy expensive to travel with a band. Especially if you're not making $20,000 a gig. I'm nowhere near that, so it's tough to bring six people with a $1,500 budget.
The logistics of touring are insane. I remember seeing Noname, this was for the Room 25 tour. She had a band and l back-up singers on the side. That's some for the love shit.
Literally for the love man, but it was such an important project that I understand why she did that.
I think about this one quote from Quincy Jones a lot, "God walks out of the room when you're thinking about money." You can't always make this stuff with money as the main intention.
100%. I think I felt like that until I started to clash heads with some of my bandmates. They would be like, "Nigga I got kids," you know what I'm saying? I got tired of feeling like I was hurting some of the close people around me. I've had a lot of close friends who are musicians go back to working a nine to five job, because the music not really paying like that.
You brought up Noname. Years ago, I was in London, in 2018 I believe, and she happened to be just in the back of the venue. A friend of mine, Chloe, was like, "Yo, I got somebody I want you to meet." I'm like, "Oh cool." I didn't even know who the young lady was. We talked for over an hour. One of the best conversations I've had with somebody I did not know from Adam and Eve, and it happened to be Noname.
[She was] just somebody who wanted to know about what my city was actually like. She was on the road, she had this big ass band, [so] it speaks to who she is. That interaction definitely inspired me musically because shorty just in the back coolin', and that's sort of how I be feeling I am. I love to just be around and not have to be in the spotlight.
It was love, man. I felt, in that moment, I was like, "Man, this is what artistry is supposed to be." Shorty from Chicago, right, and in a completely different country, in London randomly just chilling in the back of a gig and cool enough to actually have a conversation with somebody. [She's] just incredibly bright and a bright spirit. That's what I look forward to: being, and to continue the tradition in this music man, is to be that for somebody else, continue to spark that.