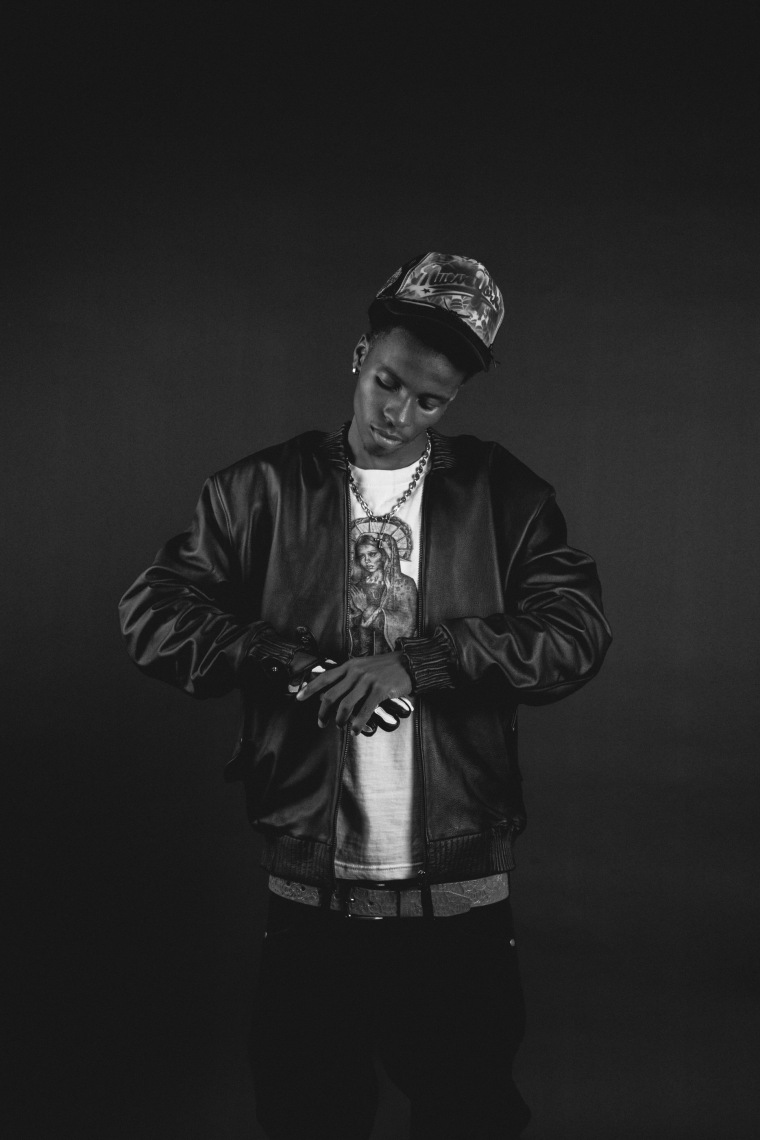 The FADER's "Songs You Need" are the tracks we can't stop playing. Check back every day for new music and follow along on our Spotify playlist.
"If I didn't have to show my face to anybody, I never would. I would just let it talk through the music," Kelz tells me. The East New York artist, who maintains that he's 300 years old, prefers to keep things mysterious. To him, a major part of that is releasing music at his own pace and allowing it to naturally find people. Earlier this year Kelz released "Sinner," an airy, from-the-heart account of growing up in a rough environment, that's slowly captured an audience and appeared on OVO Sound Radio. In just over two minutes, he builds out a chilling world with his lyrics that flash from scene to scene. It's like flipping through a photobook. Kelz's restrained vocals call to mind singers like The Weeknd, who he says inspired some of his cadences and phrasing, and Brent Faiyaz whose delicate voices can feel as if they're liable to drift away with the breeze. Premiering on The FADER today is Kelz's follow-up single, "Why," and its music video which was shot and directed by Zion Lewis and Crea.
Kelz doesn't let his guard down on "Why." He's wary of opportunistic people and hoping his faith keeps him safe. "I put that cross up on my chest I could hear Jesus talkin'," he exhales. Kelz sounds terribly stressed on here. He's an elusive writer that provides just enough to see what he's seeing, but not enough to fully paint the picture. The song's cloudy beat, produced JLLY and Luke Swirsky, builds up a drop that never truly comes. It's two-and-a-half minutes of pure unresolved tension. Kelz's down-tempo, moody tales are adding a new perspective to New York's frenzied scene. He's a breath of fresh air.
Below, read a Q&A with Kelz about his new song "Why," his influences, and why he likes to write without music.
How does it feel coming off of "Sinner?"
I didn't imagine being in the space I am right now off of that song. But coming off of it, I feel real good about it. I feel like a lot of people expected me to follow up with something of that essence. I knew right after "Sinner," everything had to be top of the line. I couldn't put up some new shit.
Who are some of your musical influences?
When it comes to music I'm a big fan of Michael Jackson. Of course a lot of R&B dudes, but Michael Jackson really set that bar for me. A little dash of Lauryn Hill, Musiq Soulchild. For the most part, like the swag and the mystique and the superstardom vibe, I really got from Michael. I'm trying to build towards that longevity.
When I first heard "Sinner," it was kind of unexpected. Watching the video, I was like, "oh this is about to be some drill shit." But then you started singing and I was like "oh, this is like Brent Faiyaz or Mustafa."
Yo, it's crazy that I just found out about Mustafa cause a lot of dudes were saying that on Twitter and I didn't even know who that was, so I searched his shit up.
The first song I heard from [Brent] was off the Fuck the World album. I think it was "Lost Kids Get Money." And I was like, "What the fuck is he saying?" I didn't know what he was doing. I took a listen to the album. I'm like, "Oh, this is cool." Like he's singing, he's hitting like runs and like real shit that a singer would do but just in a different perspective. He wasn't surrounding shit around like love and like heartbreaks. It was like real-life shit. That aspect of it, I took parts of.
You said that you don't really like writing to music. Is that a choice?
I just feel like when it comes to searching for beats and shit, it gets really stressful sometimes. It's like, "Damn, I've been searching all day for beats bro." And niggas done sent me like 300 dropboxes worth of beats and I can't find shit. So I'd rather just sit down and write. I've been going out a lot. I've been taking breaks. Whatever I see, I jot down. It doesn't even have to be in song form, whether it's a sentence or some shit, I just write it. And then once I hear a beat, then I could apply it to it. But for the most part, I just write without the music. It's way better that way
Could you tell me a little bit about writing and recording "Why"?
"Sinner" was a tribute to my neighborhood. Just talking [about] the shit that's ongoing in the neighborhood. So "Why" was just the perfect follow-up. I recorded "Why" lowkey in like 30 minutes. Everything is a feeling. That day I was just in the hood on some shit with the homies and I just wrote the shit. Everything I was talking about in real life. So like that shit was just like, "Okay, I'm in the hood. I envisioned it this way, this way, and that. I experienced this, that, and the third."