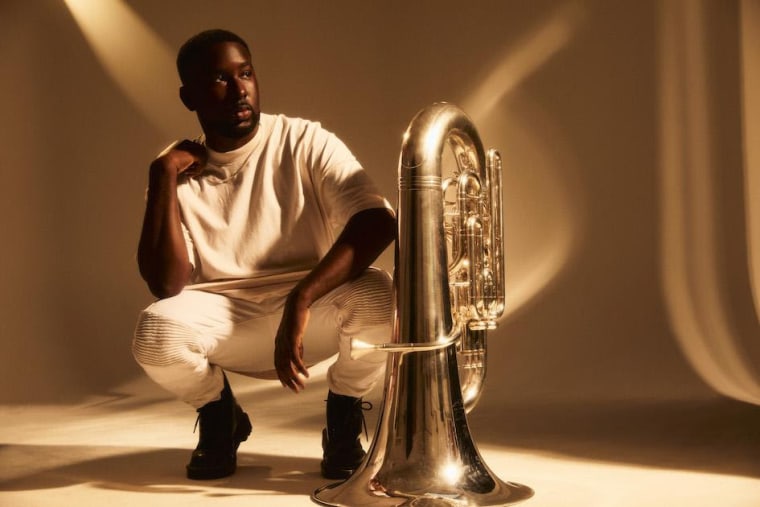 The FADER's "Songs You Need" are the tracks we can't stop playing. Check back every day for new music and follow along on our Spotify playlist.
Theon Cross is taking his tuba to places no tuba has ever been before. Best known for his dynamic role within the explosive London four-piece Sons of Kemet, Cross is also a solo artist. He's released an EP (2015's Aspirations) and two full-length albums — 2019's Fyah and last year's Intra-I, always keeping the deep tones of his untraditional lead instrument front and center. Today, he's shared a new seven inch single, "Wings," along with a B-side instrumental cover of Aswad's British reggae classic "Back To Africa."
"Wings" is a no-frills cut full of the laser-focused energy that makes Cross so captivating on stage. It starts out simply, the labor of each run of notes amplified by the trace of a deep breath before it. Hand-struck drums enter the scene, building slowly toward the next phase of the five-and-a-half minute track, where Cross begins to harmonize over himself, elevating his instrument to heights it rarely sees, either in pitch or creativity.
"Conceptually, the song speaks of the metaphorical wings needed to take flight and embrace new changes and directions in life," Cross explains in a statement accompanying the single. "It captures a feeling of freedom and symbolizes a sense of progressive movement which feels significant as I move into a new chapter in my career."
Check out the visualizers for "Wings" and "Back To Africa," and view Theon Cross' upcoming tour dates, below.
Theon Cross tour dates
October 13 - London, UK - Church Of Sound (w/ Bex Burch & Leafcutter John)
October 20 - Chicago,IL - Sleeping Village
October 22 - Brooklyn, NY - BRIC Jazzfest
October 23 - San Francisco, CA - The Independent*
October 25 - Seattle, WA - Earshot Jazz Fest*
October 26 - Portland, OR - Jack London Revue
October 29 - Phoenix, AZ - MIM*
October 30 - Los Angeles, CA - The Lodge Room*
* supporting Makaya McCraven