Algiers announce new album, share "Irreversible Damage" with Zack De La Rocha
The Rage Against the Machine singer is one of 12 featured guests on the forthcoming record.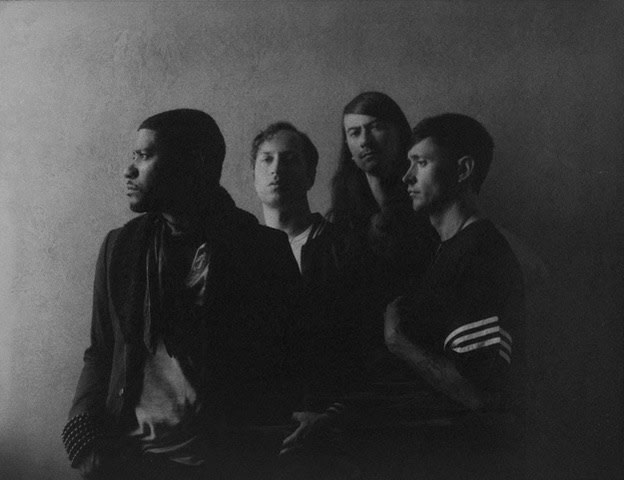 Lost month, we added Algiers' "Bite Back" (featuring billy woods and Backxwash) to our rolling Songs You Need In Your Life playlist. They've now returned with a new track titled "Irreversible Damage," featuring Rage Against The Machine's Zack De La Rocha. It comes with the announcement of the Atlanta band's fourth full-length, Shook, which will feature both of these songs and arrive February 24 via Matador.
"Irreversible Damage" is a tumultuous, aggressive jam that clocks in at just under five minutes and packs every moment of that chock full of sound. Like most Algiers tracks, it's emphatically political but never panders, drawing a hard line against oppressive forces without resorting to facile sloganeering. "This a relapse / What it be god / No rehab for my jihad / A rapture in a grief storm / Time on my neck an' it be gone," shouts De La Rocha (who has a bit of experience with radical songwriting himself) in his explosive verse.
The song crescendoes to a bursting point and spews forth in its final minute — its propulsive drum beat, dueling guitars, and tidal waves of synth overflowing in all directions. "The end of that song is the sound of joy," Algiers frontman Franklin James Fisher says of the new track. "That's what hope sounds like in 2022 when everything's falling apart."
De La Rocha, woods, and Backxwash are just three of the 12 features listed across SHOOK's 17 tracks. Big Rube (Dungeon Family), Samuel T. Herring (Future Islands), Jae Matthews (Boy Harsher), LaToya Kent (Mourning [A] BLKstar), DeForrest Brown Jr. (Speaker Music), Mark Cisneros (Hammered Hulls), Nadah El Shazly, Patrick Shiroishi, and Lee Bains III will also appear on the album.
Watch the official visualizer for "Irreversible Damage," check out SHOOK's tracklist and album art, and view the dates of Algiers' winter 2023 European tour below.
Shook tracklist
1. Everybody Shatter (ft. Big Rube)
2. Irreversible Damage
3. 73%
4. Cleanse Your Guilt Here
5. As It Resounds (ft. Big Rube)
6. Bite Back (ft. billy woods & Backxwash)
7. Out of Style Tragedy (ft. Mark Cisneros)
8. Comment #2
9. A Good Man
10. I Can't Stand It! (ft. Samuel T. Herring & Jae Matthews)
11. All You See Is
12. Green Iris
13. Born (ft. LaToya Kent)
14. Cold World (ft. Nadah El Shazly)
15. Something Wrong
16. An Echophonic Soul (ft. DeForrest Brown Jr. & Patrick Shiroishi)
17. Momentary (ft. Lee Bains III)
Shook cover art
Algiers winter 2023 European tour
February 9 - Dublin, IE - Workman's
February 15 - Brussels, BE - Botanique Rotonde
February 16 - Winterthur, CH Salzhaus
February 17 - Ravenna, IT - Bronson
February 18 - Pordenone, IT - Capitol
February 20 - Ljubljana, SI - Kino Šiška
February 21 - Vienna, AT - Flex
February 22 - Linz, AT - Posthof
February 24 - Prague, CZ - Lucerna Music Bar
February 25 - Warsaw, PL - Niebo
March 1 - Dresden, DE - Beatpol
March 2 - Berlin - Hole44
March 3 - Bielefeld - Forum
March 4 - Schorndorf, DE - Manufaktur
March 5 - Cologne, DE - Club Volta
March 7 - Paris, FR - Petit Bain
March 8 - London, UK - The Dome