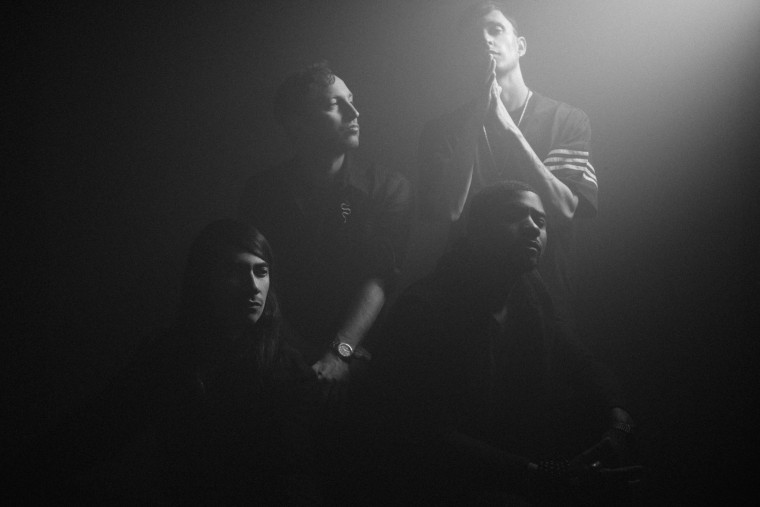 The FADER's "Songs You Need" are the tracks we can't stop playing. Check back every day for new music and follow along on our Spotify playlist.
Algiers remain one of an elite few bands writing songs that are political, polemical, and good all at once. Led by the fiery vocals of Franklin James Fisher, the four Atlanta multi-instrumentalists have been forging their own hallowed space in the protest music pantheon for the past decade.
For their new track "Bite Back," the punk fusionists recruited underground hip-hop scene leaders billy woods and Backxwash, each of whom brings their own outsider perspective to the cut. Moving together in spasmodic synchronicity, the ad hoc sextet has created an urgent piece of music that doubles as a sobering survey of the crumbling American empire and — as Backxwash aptly refers to it in a statement accompanying the release — a "soundtrack to revolutionary struggle."
The lyrical onslaught begins as a lament: "They say they moved out, but they still around / And they move even stronger now," Fisher talk-raps early on, potentially referring to any number of enemies of the cause, over an ominous electronic beat born from his mind meld with fellow Algiers members Ryan Mahan, Lee Tesche, and Matt Tong. His rapped passages — short, sporadic spillages delivered with a high-speed flow that barely rises above a whisper — dot the song's first half, snaking between his soulful singing and a song-stealing woods verse. (From his opening line — "One hand wash the other, they both wash the face / Centrifugal force and inertia keep everything in its place" — woods effortlessly captures the spirit of the track.)
The band takes a brief instrumental intermission before Fisher returns with a howl to introduce the track's titular refrain: "Bite back the hand that feeds you if it's poison." From there, the song rises from the depths of despair and cynicism, proposing a radical response to systemic oppression. This vibe shifts calls for a takeover from Backxwash, who delivers the line "Home is where the heart is / I'm blowing it up regardless" with an extra dose of venom. The nearly unbearable tension that holds the song's disparate pieces together never finds a release, as it cuts off abruptly just before the six minute mark. Like the revolutionary project at large, it's not quite finished.
Watch Murat Gökmen's darkly rendered visual treatment for "Bite Back" below.