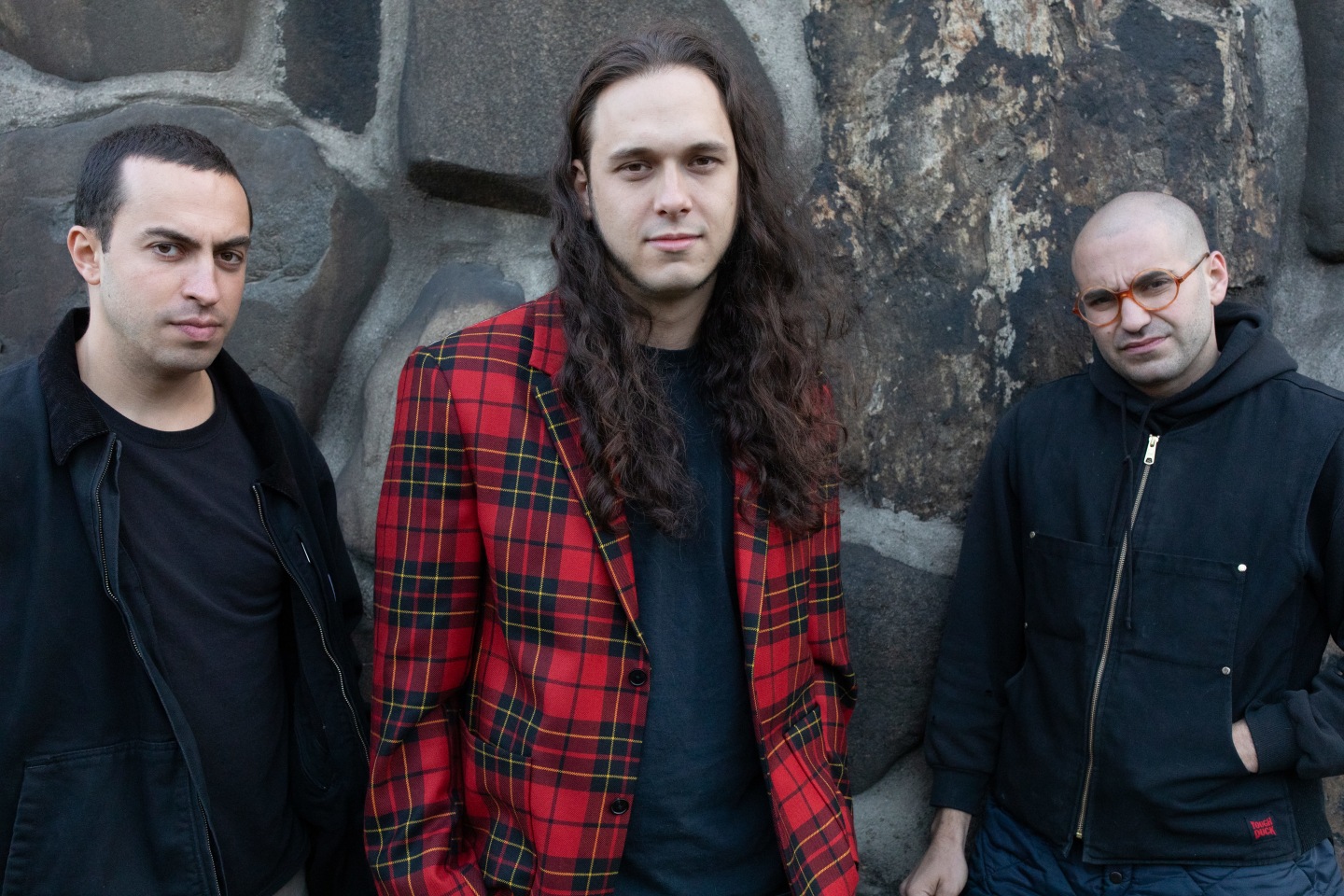 Show Me The Body would be easy to write off as a novelty act — a hardcore punk band prominently featuring the banjo — if they weren't so good at what they do, or so passionate about it. Though they met at a Manhattan prep school, Julian Cashwan Pratt and Harlan Steed's prodigious talent, magnetic intensity, and masterful command of the mosh pit have won over headbangers across the western world.
As with many quickly rising bands known for legendary live shows, the pandemic stopped SMTB dead in their tracks after the release of their 2019 sophomore album, Dog Whistle — but only for a moment. They returned in 2021 with a new EP, Survive, and a new drummer, Jackie Jackieboy. Shortly thereafter, the reinvigorated trio got to work on Trouble The Water, their most radical, uncompromising project to date.
The new record, out today, is a treatise against complacency, and one that practices what it preaches: Across 12 tracks, the band never lingers on one style too long. Instead, they show off their impressive range, moving from the type of sweaty rec center anthems we've come to know and love to slower, more considered calls to action. The message remains the same, however: The revolution is coming, and it will not be a peaceful one, but in the end, love will defeat hate.
Earlier this week, Pratt and Steed took time out of their busy touring schedule to break Trouble The Water down for The FADER, track by track.
1. Loose Talk
Julian Cashwan Pratt: "Loose Talk" concerns our mindset: our mindset about this project, our mindset about our band, and our mindset about our crew. We move with militancy and love. Our goal is to spread love, but in order to do anything well you must take it seriously and work very hard. Plus, we are not hippies, if you know what I mean.
2. Food From Plate
JCP: "Food From Plate" is more of a literal call to action. It's about the powers that be that hope to destroy the things that we love and the things we call home. It's about recognizing the power of youth, the power of numbers, and the power of well aimed violence. It is also probably the only song that refers to the pandemic in any way: "I like the city when it's empty." This city going back in time a little bit is a good thing. Everyone is scared New York has become less livable and more violent. That is OK with us.
3. Radiator
Harlan Steed: We were experimenting with techniques we used on Dog Whistle, using synthesizers juxtaposed with live drums. And we were incredibly proud to be able to collaborate with Will Calhoun (the drummer of Living Colour), who performed a timbales solo on this song.
4. We Came To Play
HS: Possibly the most Show Me the Body song to date. We always push ourselves to see if we can develop our sound further than our last project. This song has both SMTB's heavier moments and experimental electronic ideas perfectly blended together. We are very pleased with how it turned out.
5. War Not Beef
HS: We were incredibly excited to work with Arthur Rizk, who produced this record. He is known for his mixing skills, which usually result in some seriously brutal and heavy sounds. This song had many iterations, but, tonality wise, it was perfected by Arthur.
6. Out of Place
JCP: "Out of Place" is about existential weight and the reality that closes around us. It is for the 21st-century Bartleby.

7. Boils Up
JCP: "Boils Up" concerns two things, one being the moment of coming to a head — whether that be within oneself, within a city, or within a culture, "Everything suppressed boils up." The second topic concerns the digital future, specifically anarcho-digital bank robbery, inspired by a non-binary hacker who hacked offshore bank accounts and donated the money to leftist armed militants all over the world. They then wrote a manifesto on how to copy their work.
8. Buck 50
JCP: "Buck 50" is about trying to change the future. People think that the future is full of possibilities but it is not. You have to create possibilities for yourself and for those around you every day. Otherwise your future is fucked.
9. Demeanor
JCP: "Demeanor" is about feeling something new. In our world of pleasures, video games, food, sex, and drugs, new feelings must be sought out. If we do not seek out new tactics and experiences to take up the hours of our lives, we will be forever stuck with the bullshit pleasures which pad the cell of our current reality.

10. Using It
HS: We wrote many songs for this record, and this was one we wanted on it to remind people of where our sound comes from. "Using it" and "Buck 50" were definitely nods to our first album, "Body war" ("Tight SWAT" / "Worth One"). Without this song, the record felt like it was missing that classic SMTB sound.
11. WW4
HS: "WW4" was a song we began writing for Dog Whistle that took many forms and iterations before we settled on what it is now. Show Me The Body is known for juxtaposing sounds and voices, and we really wanted to take on the challenge of writing a song that wasn't our usual dynamic and instrumentation. This song energetically has elements from our songs "Metallic Taste" and Arcanum, mixed with K9 and "Honesty Hour."
12. Trouble The Water
JCP: If you do not move your hands you get arthritis. If you do not move your body you get sick. If you do not move your mind you become stupid. This song is about complication — not only issues, but the choice to complicate. Moses turned the River Nile to blood, uniting the working peoples who lived up and down it to revolt and become free against Pharaoh. This is the story of every revolution, whether it be personal, societal or natural. Something must happen; alchemy has to take place. Nothing worth doing is easy.