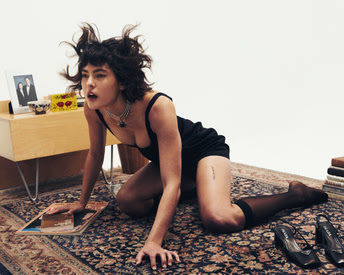 Miya Folick has shared her first new song of 2023 along with the announcement of her sophomore LP. "Get Out of My House" is the lead single from Roach, her first full-length follow-up to 2018's Premonitions. (She dropped 2007, a six-track EP, this past September.) The forthcoming record is due out May 26 on Nettwerk. In advance of its release, she'll hit the road for a three-week North American tour in support of Aly & AJ, kicking off March 30 in Oakland.
"Get Out of My House" is, true to its title, a firm demand for a former romantic partner to leave and never come back — and, by extension, an anthem for independence and the removal of deadbeat boyfriends the world across. "I love being on my own without you / Taking off my clothes without you," Folick sings triumphantly over a driving instrumental almost edgy enough to soundtrack a barroom brawl. "Thought I needed your glow / Needed you to be whole / But I'm better alone, woo!"
Watch Noah Kentis' visualizer for the new song, check out Roach's tracklist, and view Folick's upcoming tour dates below.
Roach tracklist
1. Oh God
2. Bad Thing
3. Get Out Of My House
4. Nothing To See
5. Drugs or People
6. Mommy
7. 2007
8. Cockroach
9. Tetherball
10. Cartoon Clouds
11. So Clear
12. Ordinary
13. Shortstop
Miya Folick spring 2023 tour dates w/ Aly & AJ
March 30 - Oakland, CA - Fox Theatre
April 1 - Portland, OR - Crystal Ballroom
April 2 - Seattle, WA - Paramount Theatre
April 4 - Denver, CO - The Fillmore
April 6 - Minneapolis, MN - The Fillmore
April 7 - Madison, WI - The Orpheum Theater
April 8 - Chicago, IL - The Riviera Theatre
April 10 - Nashville, TN - Ryman Auditorium
April 11 - Atlanta, GA - Tabernacle
April 12 - Orlando, FL - House of Blues
April 14 - Raleigh, NC - The Ritz
April 15 - Silver Spring, MD - The Fillmore
April 16 - Philadelphia, PA - The Fillmore
April 19 - Toronto, ON - History
April 21 - Boston, MA - MGM Music Hall
April 22 - New York, NY - Hammerstein Ballroom