Song You Need: Fatima Al Qadiri and Gumar's lunar lament
"Mojik (Your Waves)" is the lead single from the two Kuwaiti singers' newly announced joint EP.
The FADER's "Songs You Need" are the tracks we can't stop playing. Check back every day for new music and follow along on our Spotify playlist.
Fatima Al Qadiri has announced a joint four-track EP with Kuwaiti vocalist Gumar. Named after its featured artist — and an Arabic word for "moon" — Gumar is due out March 10 via Hyperdub, the label that's released all three of her previous studio LP's, including 2021's Medeival Femme.
Al Qadiri, the daughter of a Kuwaiti diplomat and an internationally acclaimed artist, has spent her recording career making bold experiments in sound based in tradition. The new tape will follow suit, inspired by the lamentation singing she and Gumar both grew up with. This specific type of music may be regional, but the moon has tragic romantic connotations in every society, and it's easy to empathize with the longing in Gumar's voice on the tape's lead single, "Mojik (Your Waves)," as he ruminates on unrequited love, backed by Al Qadiri's sublime synth strings. They crash around him like the tides, swelling and ebbing away as his wounded melody echoes across their surface.
Listen to the new song and view Gumar's cover art and tracklist below.
Gumar cover art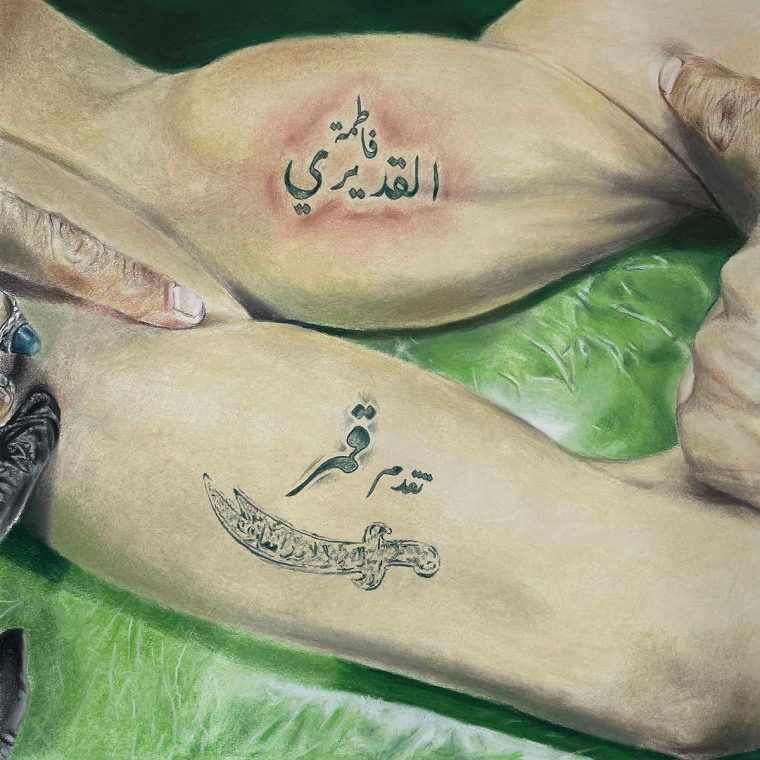 Gumar tracklist
1. Gumar (Moon) Intro
2. Fidetik (I Lay Down My Life)
3. Mojik (Your Waves)
4. Meriem