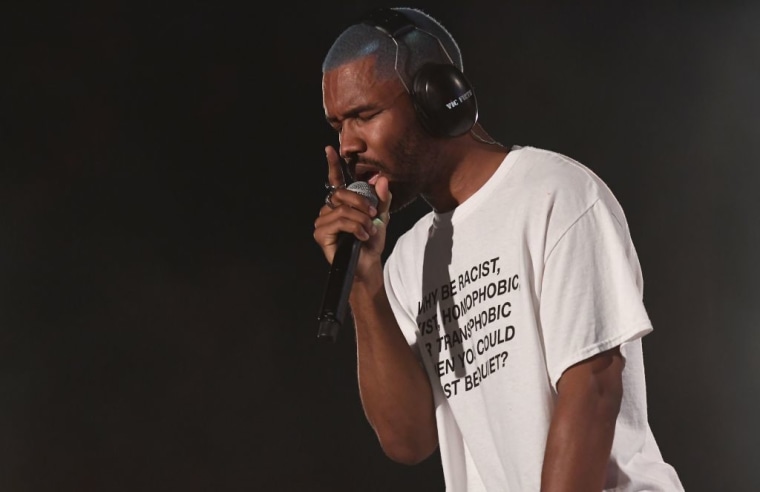 Frank Ocean closed the first weekend of Coachella 2023 on Sunday, April 16, with the elusive artist taking to the stage for the first time in over five years. Scroll down to see clips from the performance now.
Wearing a blue sports jacket with the hood pulled up to partly obscure his face, Ocean opened with "Novacane," his 2011 debut single in which he sings about meeting a girl at Coachella. The stripped-back, rock-style version of the song set the tone for the set with many other songs, including "Bad Religion," "Chanel," and "White Ferrari," being played in a reworked fashion.
new arrangement of white ferrari live at coachella pic.twitter.com/3xEdAhS6Me

— Frank Ocean Daily (@TeamFrankDaily) April 17, 2023
As reported by the New York Times and Pitchfork, after "White Ferrari," Ocean spoke to the crowd and clarified that he would not be debuting any new music in his set. Ocean's most recent album Blonde was released in 2016. "It's been so long. Everybody I've talked to has said how long it's been, so long, so long... but I have missed you," he said. "I want to talk about why I'm here, because it's not because of the new album. Not that there's not a new album, but there's not right now. It's not right now."
He went on to discuss his personal connection to the festival and the death of his brother younger Ryan, who died in a car crash in 2020.
"These last couple years my life changed so much. My brother and I, we came to this festival a lot. I feel like I was dragged here so much of the time. I hated the dust; I always dealt with a respiratory infection." Ocean spoke of watching Rae Sremmurd perform alongside his brother, adding: "I know he would've been so excited to be here with all of us. I wanted to say thank you for the support and the ears and the love for all this time. I'm gonna get back to the songs."
The second half of the set featured what Ocean described as a "rave mix" from DJ Crystalmess, a regular on his Blonded radio show. The mix included remixed versions of Ocean songs alongside snippets of Underworld's "Born Slippy" and Ice Spice's "Actin a Smoochie." In addition to his own songs "Godspeed," "WIseman," "Self Control," "Nikes," and "Nights," Ocean also performed covers of Willie Nelson's "Night Life" and the Isley Brothers' "(At Your Best) You Are Love."
According to reports, Ocean arrived on stage some time after his 10:05 p.m. PST stage time, which led to him being unable to finish his set before the midnight Coachella curfew. The set ended after "(At Your Best) You Are Love" with Ocean saying "Guys I'm being told it's curfew, so that's the end of the show,"
Fans at home were also left frustrated after YouTube announced that the set would not be streamed live, marking a noted difference from the festival's other headliners BLACKPINK and Bad Bunny.
On Monday, neither YouTube nor Coachella responded to a request for comment on why Sunday night's headline set wasn't streamed. The second weekend of Coachella will take place on April 21-23.

Frank Ocean Coachella 2023 setlist:
Novacane
Come on World, You Can't Go!
Crack Rock
Bad Religion
White Ferrari
Pink + White
Solo
Chanel
Rave mix with DJ Crystalmess
Godspeed
Wiseman
Night Life
Self Control
Nikes
Nights
(At Your Best) You Are Love