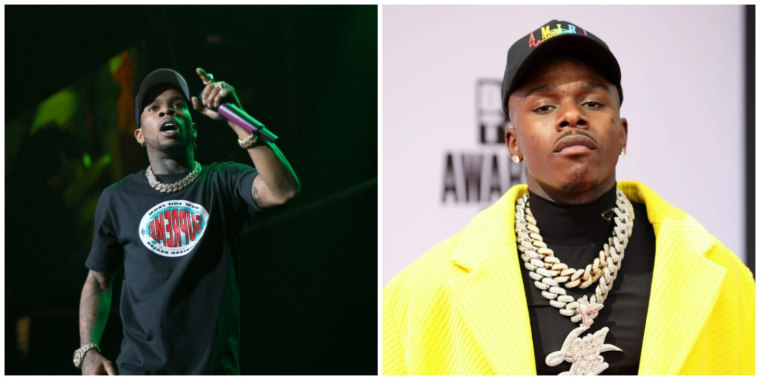 Tory Lanez and DaBaby attempted to stage rush Megan Thee Stallion during her performance at Rolling Loud Miami in 2021, according to a sentencing memorandum obtained by journalist Meghann Cuniff. Lanez was found guilty of three felony counts in the shooting of Megan Thee Stallion after a party in 2020; prosecutors are asking for a 13-year sentence in the memorandum, obtained on Wednesday (June 7).
In the document, prosecutors point to Lanez's behavior while out on bail for the shooting to argue for a sentence of over a decade in prison. Lanez showed up at Rolling Loud Miami despite being instructed not to be within 100 yards of Megan, and allegedly conspired with DaBaby, who was performing after Megan, to storm Megan's performance uninvited. Lanez was later a surprise guest during DaBaby's performance at Rolling Loud.
According to prosecutors, Megan "was incredibly fearful upon discovering the defendant was at the venue" and in violation of the protective order. The memorandum does not detail what Lanez and DaBaby planned to do once onstage. Read the relevant section below:
"During the victim's performance, the defendant went through security clearance and entered the green room. These areas were within 100 yards of the stage where the victim was performing, in violation of the protective order. It was also brought to the victim's attention that the defendant and DaBaby attempted to rush the stage during her performance. In no way was the victim previously aware of nor did she consent to the defendant's presence at the venue when she would be performing. The victim was incredibly fearful upon discovering the defendant was at the venue and within the prohibited 100 yards. … Days later, upon being asked online, 'Don't you have a gag order?', the defendant responded via his Twitter account, 'I'm starting to not give a fuck.'"
The memorandum also includes Lanez's alleged altercation with August Alsina in September 2022. Alsina claimed that Lanez jumped him after he refused to shake Lanez's hand; DaBaby denied that the incident took place. The memo describes the attack as "unprovoked."
Prosecutors also cite Lanez's "campaign of misinformation" in their request for a 13-year sentence, pointing to online remarks as well as song lyrics they say build a case to deny Lanez probation. "The defendant's lack of remorse is insidious, leaving this Court no assurances that the defendant will not repeat this type of behavior in the future," they write.
Lanez's legal team moved to disqualify Judge David Herriford, who presided over his trial and denied a request for a retrial. According to Cuniff's reporting, that motion was denied on June 8.
The FADER has reached out to representatives for Megan Thee Stallion and DaBaby for comment.