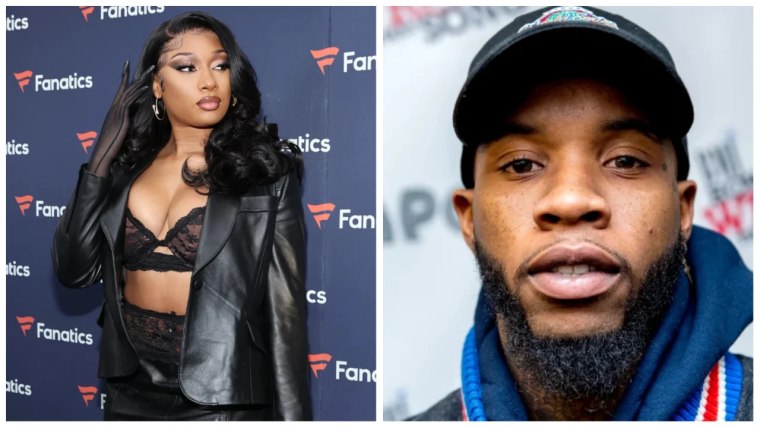 Tory Lanez, the Canadian rapper born Daystar Peterson, has been convicted of shooting Megan Thee Stallion, the New York Times reports. He faces 20 years in prison after a jury found him guilty of assault with a semiautomatic handgun, carrying a loaded, unregistered firearm in a vehicle, and discharging a firearm with gross negligence.
The conviction marks the end of a case that began in the summer of 2020. Megan Thee Stallion revealed in August of that year that she had been recovering after she was shot following a party in Los Angeles. Later, she identified Lanez as her shooter, and he was charged with two felonies (the third was added this month), pleading not guilty to all of them.
The trial began this month. The prosecution maintained that Lanez had shot Megan after an argument, while Lanez's defense attorneys implied that Megan was shot by Kelsey Harris, her former friend. Prosecutors were able to play an 80-minute interview in which Harris directly implicated Tory Lanez in the shooting; also entered into evidence were texts sent to Megan's bodyguard identifying Lanez as the shooter.
Throughout the case, gossip bloggers, tabloids, and internet personalities have cast aspersions on Megan's testimony. When she took the stand, Megan addressed how "women aren't believed when they speak out" and said that the trauma and fallout from the shooting had left her with suicidal ideations.
"This situation has only been worse for me and it has only made him more famous," she said. "Because I was shot, I've been turned into some kind of villain, and he's the victim. This has messed up my whole life … This whole situation in the industry is like a big boy's club … I'm telling on one of y'all friends, now you're all about to hate me."
A representative of Megan Thee Stallion gave The FADER the following statement from Megan's attorney when reached for comment following today's conviction: "The jury got it right. I am thankful there is justice for Meg." The FADER has also reached out to representatives of Tory Lanez and to Los Angeles Deputy District Attorney Kathy Ta, who prosecuted the case.