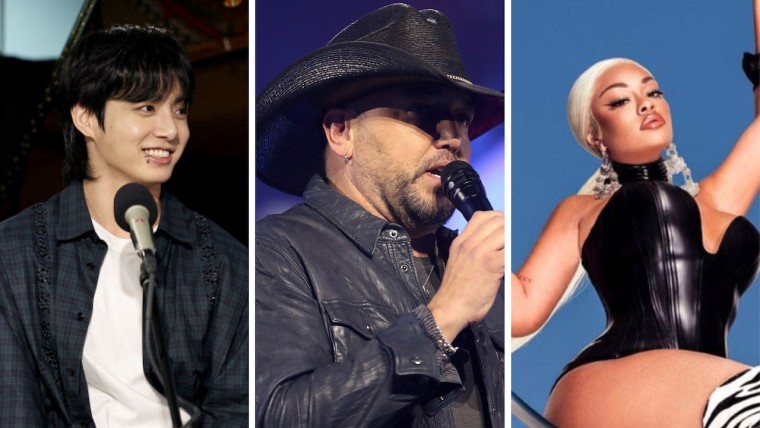 BTS member Jung Kook's new single "Seven" with Latto has reached number 1 on the Billboard Hot 100, despite a groundswell of conservative support behind a controversial track by Jason Aldean.
Earlier this month, the country singer released a music video for his latest song, "Try That In A Small Town," which received backlash for inciting violence. The lyrics condemn big city residents who participate in things like "cussing out a cop" and "stomping on the flag," among others. "Around here, we take care of our own / You cross that line, it won't take long / For you to find out, I recommend you don't," he sings.
The visual is shot in front of the Maury County Courthouse in Columbia, Tennessee, which is known for the 1927 mob lynching of Henry Choate, an 18-year-old Black man. The clip also shows news footage that includes violent crimes and riots. Sheryl Crow tweeted, "There's nothing small-town or American about promoting violence," while Margo Price called Aldean a "clown".
Days later, Country Music Television took the video out of its rotation, prompting right-wing pundits to call for their audiences to stream the song until it topped the charts. "CMT pulled this video for being too 'controversial.' Let's get this video to number one on the charts. Great job, @Jason_Aldean," popular far-right commentator Steven Crowder tweeted. And Lauren Boebert, a Republican Colorado congresswoman and "guns rights" activist called on her consituents song to give CMT "the Bud Light treatment." Rolling Stonereports that 95 percent of the song's sales have occurred in the last week alone, after the song got fewer than 1,000 sales per week prior to the music video's release.
BTS and Jung Kook fan accounts resolved to bring "Seven" to the top of the charts last week, aiming to help it outsell "Try That In A Small Town." They were successful: The Jung Kook and Latto track debuted at number one, with Aldean's cut just behind it. Stream "Seven" below.