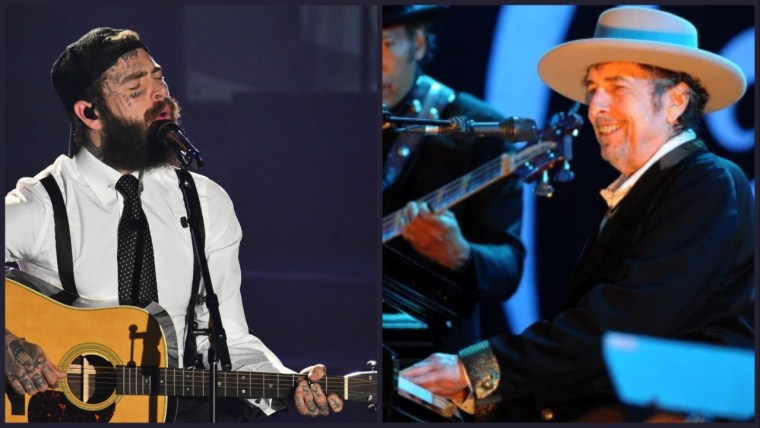 Post Malone has been a passionate Bob Dylan fan since long before the whirlwind of success of his (Malone's) debut single, "White Iverson," in 2015. As new Post acolytes combed the internet for evidence of Malone's beginnings, they came across a competently performed, completely straightforward, heartfelt rendition of Dylan's "Don't Think Twice, It's All Right" that the rapper/singer uploaded to YouTube in 2013. More recently, fans noticed the appearance of a tattoo of Bob Dylan's face (playing the harmonica) tattooed on Malone's left bicep.
Last year, Malone claimed he'd struck up an unlikely texting friendship with the reclusive, octogenarian legend as his own star had continued to rise, boasting that Dylan had actually reached out to him first ("he kind of slid into my DMs," Malone told Jimmy Fallon on an episode of The Tonight Show promoting his fourth album, Twelve Carat Toothache).
According to a new report from Rolling Stone, Post and Bob's alleged communications were very nearly consummated in a bona fide musical collaboration. The concept was brought to Dylan and Malone by a Woodstock, New York-based producer named Michael Cash, who, inspired by 2014's Lost on the River: The New Basement Tapes (for which Elvis Costello, Marcus Mumford, and others set previously unreleased Dylan lyrics to music), envisioned a similar suite of unrealized tunes brought to life by hip-hop artists such as Malone, Kendrick Lamar, J. Cole, and Drake ("Bob loves Drake," he noted).
With both artists amenable, Cash told Rolling Stone that Dylan sent Malone the lyrics to an unsung track titled "Be Not Deceived," a piece that dealt with "a loss of innocence… [and] what people are going through — disfranchised, kind of leaderless masses of children with no parent or guardian or shepherd or anything. It talked about going out and making your own way." Cash also described the writing to RS as "honestly… poetry" and said that when he read them to Malone over the phone, "Post was literally in tears."
Per Cash, Malone came out to his studio — "a super fucking bed and breakfast for rock stars" — to record "Be Not Deceived," but only got about halfway through (more like 40 percent, he estimates). "We got the stenciling done, he got some colors in, but he definitely wasn't finished," Cash told RS. "It needed flair. It needed more layers. It wasn't a complete piece of music, but it was definitely a song. It had a beginning, a middle, and an end. There was a bridge, there was a chorus. It just needed to be finished."
After that initial session, Cash said he was unable to wrangle Malone to return to his studio, and Dylan's people got impatient, eventually retracting the lyrics. Without going into detail about the circumstances surrounding the track's dissolution, Cash described the episode as a fever dream. "[It's like] we all died in the pandemic," he lamented. "This isn't real. Because it just started off as, honestly, sitting around and saying something, and it was a good idea, and it just didn't turn out to be one of those ideas that actually."
Post Malone declined Rolling Stone's request for comment. The FADER has also reached out to a representative of Malone for clarification.