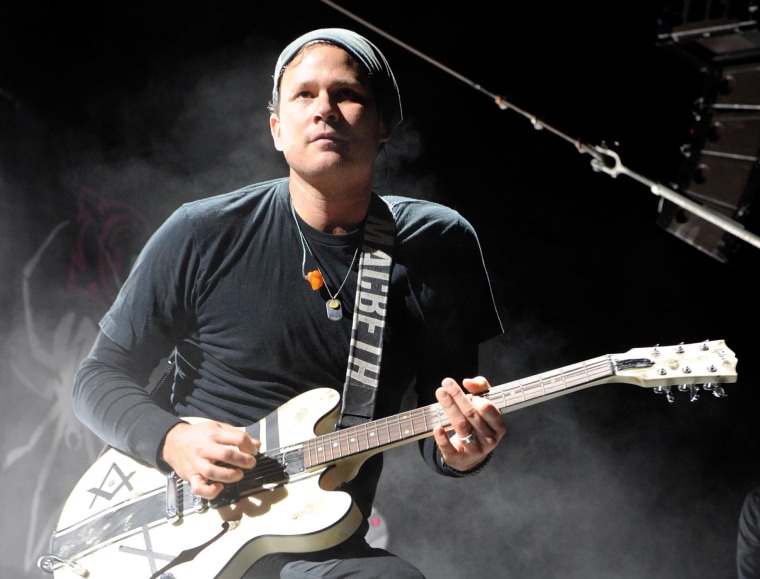 The Tom DeLonge-directed alien movie we've all been manifesting in our minds since middle school — all of us of a certain age and disposition, at least — has finally become a reality. According to IMDB, the film is due out December 5 and follows "teenager Dallas Edwards and his derelict friends on a quest for the meaning behind a series of mysterious, paranormal events in Southern California."
Jack Samson will star as Dallas, with Curb Your Enthusiasm's Richard Kind playing the conspiracist who helps the kids discover the answers they're looking for, despite the best efforts of the government agents. That much, at least, can be gathered by watching Monsters of California's new trailer below. The clip also features what sounds like a Hanz Zimmer remix of "Aliens Exist," a 1999 hit by Tom's hugely successful pop-punk band, Blink-182.
While monsters, mysteries, and paranormal events aren't necessarily extraterrestrial in origin, DeLonge's almost always are. Tom left Blink in 2015 on a quest to become "one of the world's leading UFO experts," as Kelsey McKinney wrote somewhat hyperbolically in a 2018 FADER profile.
Not that hyperbolically, though. In September 2019, The United States Navy confirmed that footage published by Tom's To The Stars Academy did, in fact, contain "phenomena" that is considered "unidentified." (NASA now uses unidentified aerial phenomena (UAP) to describe what used to be called unidentified flying objects (UFOs).) A month later, the U.S. Army one-upped the Navy by allocating $750,000 to Tom's academy to help fund their research.
Monsters of California isn't Tom's first foray into sci-fi. His graphic novel Strange Times was picked up for a TV adaptation by TBS in 2018, though it remains unreleased to date. Tom rejoined Blink in 2023 for a reunion tour — which included an accidental headline performance at Coachella — and a new album due out later this year.
The forthcoming film's announcement comes conveniently on the same day as the release of NASA's first-ever official report on UAP, followed by a press briefing in which the organization's administrator, Bill Nelson, confirmed his belief in extraterrestrial life.