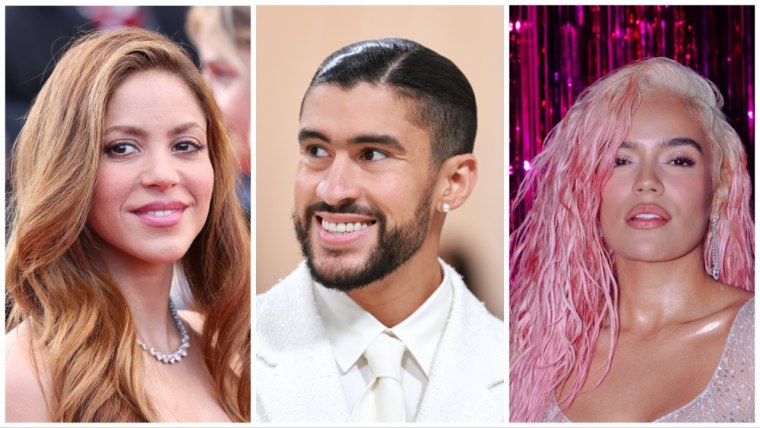 The Latin Grammys have announced their 2023 nominees. Mexican-American songwriter and producer Edgar Barrera leads the pack with 13 nominations, followed by four Colombian artists — Shakira, Karol G, Camilo, and the composer Kevyn Mauricio Cruz (aka Keityn) — with seven each.
Argentine producer Bizarrap — who's carved a niche making one-off beats for and hosting established superstars (including Shakira) and ascendant ones (such as Peso Pluma) in his BZRP Music Sessions — is nominated for six Latin Grammys, Producer of the Year among them (he'll face off with Barrera and others for that award). And Bad Bunny is one of six artists tied behind Bizarrap with six nominations a piece.
Notably, while Peso Pluma is nominated twice for "Ella Baila Sola" — a joint track with Eslabon Armado that became the first-ever "regional Mexican" song to top the Billboard Hot 100 chart — he isn't nominated for Best New Artist. Nor are Grupo Frontera, a Mexican-American band who've brought the corridos tumbados sound to some of the biggest crossover hits of the year. (They're also nominated twice, though, for Bad Bunny's "un X100to," which lists Barrera as a co-writer).
The ceremony for the 24th Latin Grammy Awards will take place in Sevilla, Spain on November 16. Scroll down for the full list of nominees.
Album of the year
La Cu4rta Hoja, Pablo Alborán
A Ciegas, Paula Arenas
De Adentro Pa Afuera, Camilo
Décimo Cuarto, Andrés Cepeda
Vida Cotidiana, Juanes
Mañana Será Bonito, Karol G
De Todas Las Flores, Natalia Lafourcade
Play, Ricky Martin
EADDA9223, Fito Paez
Escalona Nunca Se Había Grabado Así, Carlos Vives
Record of the year
"No Es Que Te Extrañe," Christina Aguilera
"Carretera y Manta," Pablo Alborán
"Déjame Llorarte," Paula Arenas Featuring Jesús Navarro
"Shakira: Bzrp Music Sessions, Vol. 53," Bizarrap Featuring Shakira
"Si Tú Me Quieres," Fonseca & Juan Luis Guerra
"Mientras Me Curo Del Cora," Karol G
"De Todas Las Flores," Natalia Lafourcade
"Ojos Marrones," Lasso
"La Fórmula," Maluma & Marc Anthony
"Despechá," Rosalía
"Correcaminos," Alejandro Sanz Featuring Danny Ocean
Song of the year
"Acróstico," Kevyn Mauricio Cruz Moreno, L.E.X.U.Z, Luis Fernando Ochoa & Shakira, songwriters (Shakira)
"Amigos," Pablo Alborán & Maria Becerra, songwriters (Pablo Alborán Featuring Maria Becerra)
"De Todas Las Flores," Natalia Lafourcade, songwriter (Natalia Lafourcade)
"Ella Baila Sola," Pedro Julian Tovar Oceguera, songwriter (Eslabon Armado, Peso Pluma)
"NASA," Edgar Barrera, Camilo & Alejandro Sanz, songwriters (Camilo & Alejandro Sanz)
"Ojos Marrones," Luis Jiménez, Lasso & Agustín Zubillaga, songwriters (Lasso)
"Shakira: Bzrp Music Sessions, Vol. 53," Santiago Alvarado, Bizarrap, Kevyn Mauricio Cruz & Shakira, songwriters (Bizarrap Featuring Shakira)
"Si Tú Me Quieres," Fonseca, Yadam González & Yoel Henríquez, songwriters (Fonseca & Juan Luis Guerra)
"TQG," Kevyn Mauricio Cruz, Karol G, Ovy On The Drums & Shakira, songwriters (Karol G Featuring Shakira)
"un X100to," Bad Bunny, Edgar Barrera, Marco Daniel Borrero & Andres Jael Correa Rios, songwriters (Grupo Frontera Featuring Bad Bunny)
Best new artist
Borja
Conexión Divina
Ana Del Castillo
Natascha Falcão
Gale
Paola Guanche
Joaquina
Leon Leiden
Maréh
Timø
Songwriter of the Year
Edgar Barrera
Kevyn Mauricio Cruz
Felipe González Abad
Manuel Lorente Freire
Horacio Palencia
Elena Rose
Producer of the year
Edgar Barrera
Bizarrap
Eduardo Cabra
Nico Cotton
Julio Reyes Copello
Marcos Sánchez
Best pop vocal album
La Cu4arta Hoja, Pablo Alborán
Beautiful Humans Vol. 1, Alemor
De Adentro Pa Afuera, Camilo
La Neta, Pedro Capó
Tu Historia, Julieta Venegas
Best traditional pop vocal album
A Ciegas, Paula Arenas
Que Me Duela, Camilú
Corazón y Flecha, Manuel Carrasco
Décimo Cuarto, Andrés Cepeda
Placeres y Pecados, Vanesa Martín
Best pop song
"5:24," Edgar Barrera & Camilo, songwriters (Camilo)
"Bailo Pa Ti," Natalia Hernández Morales, Monsieur Periné, Santiago Prieto Sarabia, Julio Reyes Copello & Mitchie Rivera, songwriters (Monsieur Periné)
"Contigo," Pablo Alborán, Mauricio Rengifo, Andrés Torres & Sebastián Yatra, songwriters (Sebastián Yatra Featuring Pablo Alborán)
"Déjame Llorarte," Paula Arenas & Manuel Ramos, songwriters (Paula Arenas & Jesús Navarro)
"Shakira: Bzrp Music Sessions, Vol. 53," Santiago Alvarado, Bizarrap, Kevyn Mauricio Cruz Moreno & Shakira, songwriters (Bizarrap Featuring Shakira)
Best urban/fusion performance
"La Jumpa," Arcángel Featuring Bad Bunny
"Ojalá," Maria Becerra
"Quevedo: Bzrp Music Sessions, Vol. 52," Bizarrap Featuring Quevedo
"TQG," Karol G Featuring Shakira
"Yandel 150," Yandel & Feid
Best reggaeton performance
"Automático," Maria Becerra
"La Receta," Tego Calderón
"Feliz Cumpleaños Ferxxo," Feid
"Gatúbela," Karol G Featuring Maldy
"Hey Mor," Ozuna & Feid
Best urban music album
Xtassy, Akapellah
Saturno, Rauw Alejandro
3Men2 Kbrn, Eladio Carrión
Feliz Cumpleaños Ferxxo Te Pirateamos El Álbum, Feid
Mañana Será Bonito, Karol G
Alma, Nicki Nicole
Best rap/hip-hop song
"Autodidacta," Mauro De Tommaso & Nohelys Jimenez, songwriters (J Noa)
"Coco Chanel," Bad Bunny & Eladio Carrión, songwriters (Eladio Carrión Featuring Bad Bunny)
"Dispara ***," Santiago Alvarado, Milo J, Nicki Nicole & Santiago Ruiz, songwriters (Nicki Nicole Featuring Milo J)
"Le Pido A Dios," Martin Chris E, Feid & Esteban Higuita Estrada, songwriters (Feid Featuring Dj Premier)
"Pá Ganá," Akapellah, songwriter (Akapellah)
"Pregúntale A Tu Papá Por Mí," Vico C, songwriter (Vico C)
Best urban song
"Automático," Maria Becerra, songwriter (Maria Becerra)
"La Jumpa," Bad Bunny & Austin Santos, songwriters (Arcángel Featuring Bad Bunny)
"Mi Mejor Canción," Nelson Onell Diaz, Farruko, Gocho, Franklin Jovani Martinez & Eric Perez Rovira, songwriters (Gocho Featuring Farruko)
"Quevedo: Bzrp Music Sessions, Vol. 52," Santiago Alvarado, Bizarrap & Quevedo, songwriters (Bizarrap Featuring Quevedo)
"TQG," Kevyn Mauricio Cruz, Karol G, Ovy On The Drums & Shakira, songwriters (Karol G Featuring Shakira)
"Yandel 150," Jowan, Andrés David Restrepo, Joan Manuel Ubinas Jiménez & Yandel, songwriters (Yandel & Feid)
Best rock album
Íntimo Extremo – 30 Años, A.N.I.M.A.L
Cowboys De La A3, Arde Bogotá
De La Tierra III, De La Tierra
Dopelganga, Eruca Sativa
Sólo D' Lira, Molotov
Best rock song
"Depredadores," Andrés Giménez & Andreas Kisser, songwriters (De La Tierra)
"El Piso Es Lava," Todo Aparenta Normal, songwriter (Todo Aparenta Normal Featuring An Espil & Evlay)
"Gris," Juanes, songwriter (Juanes)
"Leche De Tigre," Juan Galeano, songwriter (Diamante Eléctrico Featuring Adrián Quesada)
"Los Perros," Arde Bogotá, songwriters (Arde Bogotá)
Best pop/rock album
El Diablo En El Cuerpo, Alex Anwandter
Trinchera Avanzada, Babasónicos
El Hombrecito Del Mar, León Gieco
Vida Cotidiana, Juanes
Tripolar, Usted Señalemelo
Despídeme De Todxs, Juan Pablo Vega
Best pop/rock song
"Alaska," Bunbury, songwriter (Bunbury)
"Amantes," León Larregui, songwriter (León Larregui)
"Caminar Sola," Alex Anwandter & Julieta Venegas, songwriters (Julieta Venegas)
"¿Dónde Se Llora Cuando Se Llora?," Francisca Valenzuela & Francisco Victoria, songwriters (Francisca Valenzuela)
"Ojos Marrones," Luis Jiménez, Lasso & Agustín Zubillaga, songwriters (Lasso)
"Señorita Revolución," Bruses & Ali Stone, songwriters (Bruses)
Best alternative music album
Martínez, Cabra
Nacarile, iLe
Bolero Apocalíptico, Monsieur Periné
Mesa Dulce, Dante Spinetta
Reputa, Zahara
Best alternative song
"Aleros/Pompeii," Sebastian Ayala, Daniel Briceño, Henry D ́Arthenay, Rodolfo Pagliuca & Hector Tosta, songwriters (La Vida Boheme)
"ANASTASIA," Cami & Jonathan Julca, songwriters (Cami)
"Cicatriz Radiante," El David Aguilar, songwriter (El David Aguilar)
"El Lado Oscuro Del Corazón," Dante Spinetta, songwriter (Dante Spinetta)
"Traguito," Ismael Cancel, iLe & Mon Laferte, songwriters (iLe & Mon Laferte)
Best salsa album
Catarsis, Daniela Darcourt
Voy A Ti, Luis Figueroa
Cambios, Willy García
Niche Sinfónico, Grupo Niche y Orquesta Sinfónica Nacional de Colombia
Tierra y Libertad, Plena79 Salsa Orchestra Featuring Alain Pérez y Jeremy Bosch
Debut y Segunda Tanda (Deluxe), Gilberto Santa Rosa
Best cumbia/vallenato album
Leandro Díaz Special Edition, Silvestre Dangond
El Favor De Dios, Ana Del Castillo
Cumbia Del Corazón, Los Ángeles Azules
Hombre Absurdo, Gregorio Uribe
Escalona Nunca Se Había Grabado Así, Carlos Vives
Best merengue/bachata album
Cuatro26, Manny Cruz
Road Trip, Manny Manuel
Trópico, Vol. 2, Pavel Núñez
Fórmula, Vol. 3, Romeo Santos
A Mi Manera, Sergio Vargas
Best traditional tropical album
Tierra, Songs By Cuban Women, Estrella Acosta
Y Sigo Pa'lante, El Septeto Santiaguero
Tour Sinfónico En Vivo Auditorio Nacional, La Sonora Santanera
Danzoneando (En Vivo Desde Matanzas), Orquesta Failde
Vida, Omara Portuondo
En Tiempo De Son… Homenaje A Las Canciones De: Jorge Luis Piloto, Septeto Acarey De Reynier Pérez
Best contemporary tropical album
Contigo, Mike Bahía
5:10 am, Luis Fernando Borjas
Intruso, Silvestre Dangond
24/7, Gusi
Otro Color, Ilegales
Best tropical song
"Ambulancia," Édgar Barrera, Camila Cabello, Camilo & Juan Morelli, songwriters (Camilo & Camila Cabello)
"Día De Luz [80 Aniversario]," Pablo Milanés, songwriter (Pablo Milanés Featuring Juanes)
"El Merengue," Edgar Barrera, Nico Cotton, Gale, Marshmello, Miguel Andres Martinez Perea, Juan Diego Medina Vélez, Julián Turizo Zapata & Manuel Turizo, songwriters (Marshmello & Manuel Turizo)
"La Fórmula," Marc Anthony, Edgar Barrera, René David Cano Ríos, Sergio George, Kevin Mauricio Jiménez Londoño, Bryan Snaider Lezcano Chaverra, Maluma & Justin Rafael Quiles, songwriters (Maluma & Marc Anthony)
"Que Me Quedes Tú," Techy Fatule, songwriter (Techy Fatule)
"Si Tú Me Quieres," Fonseca, Yadam González & Yoel Henríquez, songwriters (Fonseca & Juan Luis Guerra)
Best singer-songwriter album
Nueve, Santiago Cruz
Los Mejores Años, Joaquina
De Todas Las Flores, Natalia Lafourcade
Tierra De Promesas, Maréh
El Equilibrista, Juan Carlos Pérez Soto
Best singer-songwriter song
"De Todas Las Flores," Natalia Lafourcade, songwriter (Natalia Lafourcade)
"La Raíz," Valeria Castro, songwriter (Valeria Castro)
"1.200 Kilómetros," Santiago Cruz, songwriter (Santiago Cruz)
"Si Me Matan," Silvana Estrada, songwriter (Silvana Estrada)
"Tu Historia, La Mía y La Verdad," Juan Carlos Pérez Soto, songwriter (Juan Carlos Pérez Soto)
Best ranchero/mariachi album
Se Canta Con El Corazón (Deluxe), Majo Aguilar
Bordado A Mano, Ana Bárbara
Sólo Muere Si Se Olvida, Adriel Favela
Herederos, Mariachi Herencia De México
Forajido EP2, Christian Nodal
Best banda album
De Hoy En Adelante, Que Te Vaya Bien, Julión Álvarez y Su Norteño Banda
Hecho En México… Mágico, Banda El Recodo De Cruz Lizárraga
Punto y Aparte, Banda MS de Sergio Lizárraga
Una Copa Por Cada Reina (Deluxe), Nathan Galante
1500 Pedas, La Adictiva
Prefiero Estar Contigo (Deluxe), La Arrolladora Banda El Limón De René Camacho
Best Tejano album
Sin Fin, Gary Hobbs
El Patrón, Jay Perez
Súper Héroes De Blanco, Proyecto Insomnio
Para Empezar A Amar, Juan Treviño
Ganas, Vilax
Best Norteño album
Aclarando La Mente, Joss Favela
Family & Friends, La Abuela Irma Silva
Fuera De Serie, La Energía Norteña
Colmillo De Leche, Carin León
Hay Niveles (Deluxe), Los Rieleros Del Norte
Best regional song
"Aclarando La Mente," Joss Favela, songwriter (Joss Favela)
"Alaska," Edgar Barrera & Camilo, songwriters (Camilo & Grupo Firme)
"Ella Baila Sola," Pedro Julian Tovar Oceguera, songwriter (Eslabon Armado & Peso Pluma)
"La Siguiente," Edgar Barrera, Kany García, Richi López & Christian Nodal, songwriters (Kany García Featuring Christian Nodal)
"un X100to," Bad Bunny, Edgar Barrera, Andrés Jael Correa Rios & Mag, songwriters (Grupo Frontera Featuring Bad Bunny)
Best instrumental album
Tres, Renesito Avich
Choro Negro, Cristovão Bastos e Mauro Senise
Brooklyn-Cumaná, Jorge Glem y Sam Reider
The Chick Corea Symphony Tribute. Ritmo, Adda Simfònica, Josep Vicent & Emilio Solla
Made In Miami, Camilo Valencia & Richard Bravo
Romance Al Campesino Porteño, Miguel Zenón, José A. Zayas Cabán, Ryan Smith & Casey Rafn
Best folk album
Epifanías, Susana Baca
Aguajes De Mar y Manglar, Cantares Del Pacífico
Camino Al Sol, Vicente García
Mamá Cumbé, Tato Marenco
El Trébol Agorero, Homenaje A Luis Antonio Calvo, Quinteto Leopoldo Federico
Ayvu, Tierra Adentro
Best tango album
Retrato Del Aire, Pablo Jaurena
Operation Tango, Quinteto Astor Piazzolla
Reencuentro, Susana Rinaldi & Osvaldo Piro
Ahora, Romo-Agri-Messiez Tango Trio
Argentinxs, Tanghetto
Best flamenco album
Pura Sangre, Israel Fernández
Por La Tangente, Diego Guerrero
Quejíos De Un Maleante, Omar Montes
Camino, Niña Pastori
Prohibido El Toque, Juanfe Pérez
Best Latin jazz/jazz Album
Unánime, Roxana Amed
Flying Chicken, Hamilton De Holanda Featuring Thiago Rabello & Salomão Soares
Bembé, Iván "Melon" Lewis & The Cuban Swing Express
Semblanzas, William Maestre Big Band
I Missed You Too!, Chucho Valdés & Paquito D'Rivera (with Reunion Sextet)
Best Christian album (Spanish language)
Fuego & Poder (Live), Barak
Vida, Alex Campos
El Vallenato Se Hizo En El Cielo, Gilberto Daza & Sergio Luis Rodríguez
Hazme Caminar, Jesús Israel
El Cielo Aún Espera, Jesús Adrian Romero
Lo Que Vemos, Marcos Vidal
Best Portuguese language Christian album
30 Anos – Vol 1, Aline Barros
Novo Tempo, Casa Worship
Único, Fernandinho
Preto No Branco Vertical, Preto No Branco
Nós, Eli Soares
Best Portuguese language contemporary pop album
Bryan Behr Ao Vivo Em São Paulo, Bryan Behr
Em Nome da Estrela, Xênia França
Hodari, Hodari
Quintal, Melim
As Palavras, Vol. 1 & 2, Rubel
Best Portuguese language rock or alternative album
Não Me Espere Na Estação, Lô Borges
Jardineiros, Planet Hemp
Meu Esquema, Rachel Reis
Habilidades Extraordinárias, Tulipa Ruiz
Olho Furta-Cor, Titás
Best Portuguese language urban performance
"Da Favela Pro Asfalto," Àttøøxxá & Carlinhos Brown
"Aviso De Amigo," GIULIA BE
"Fé," Iza
"Distopia," Planet Hemp Featuring Criolo
"Good Vibe," Filipe Ret, Dallass, Caio Luccas
Best Samba/Pagode album
Negra Ópera, Martinho Da Vila
Resenha Do Mumu, Mumuzinho
Desse Jeito, Maria Rita
Sambasá, Roberta Sá
Meu Nome É Thiago André (Ao Vivo), Thiaguinho
Best MPB (Musica Popular Brasileira) album
Mil Coisas Invisíveis, Tim Bernardes
Vem Doce, Vanessa da Mata
D, Djavan
Serotonina, João Donato
Daramô, Tiago Iorc
Best Sertaneja music album
Ao Vivo no Radio City Music Hall Nova Iorque, Chitãozinho & Xororó
Daniel 40 Anos Celebra João Paulo & Daniel, Daniel
É Simples Assim (Ao Vivo), Jorge & Mateus
Decretos Reais, Marília Mendonça
Raiz, Lauana Prado
Best Portuguese language roots album
TecnoShow, Gaby Amarantos
Portuguesa, Carminho
Raiz, João Gomes
Elba Ramalho No Maior São João Do Mundo, Elba Ramalho
Do Amanha Nada Sei, Almir Sater
Erva Doce, Gabriel Sater
Best Portuguese language song
"Algoritmo Íntimo," Arnaldo Antunes, Criolo, Gabrieu, Keviin & Marcia Xavier, songwriters (Criolo, Ney Matogrosso)
"Do Acaso," Ronaldo Bastos & Chico César, songwriters (Alice Caymmi Featuring Chico César)
"Num Mundo De Paz," Djavan, songwriter (Djavan)
"Que Tal um Samba?", Chico Buarque, songwriter (Chico Buarque Featuring Hamilton de Holanda)
"Tudo O Que A Fé Pode Tocar," Tiago Iorc & Duda Rodrigues, songwriters (Tiago Iorc)
Best Latin children's album
Aventuras, Flor Bromley
Vamos Al Zoo, Danilo & Chapis
Cantando Juntos, Gaby Moreno & Zona Neon
Colcha De Retazos, María Mulata
¿Y Si Pido Que Me Cuentes?, Veleta Roja
Best classical album
Afro-Cuban Dances, Kristhyan Benitez; Jon Feidner, album producer
Albéniz & Granados Piano Works, Luis López; Luis López, conductor; Fernando Ortí Salvador, album producer
Cantata Negra, Marvin Camacho & UCR Coral; Didier Mora, conductor; Marvin Camacho Villegas & Jorge Castro Ruiz, album producers
Estirpe, Pacho Flores; Carlos Miguel Prieto, conductor; Ingo Petry, album producer (Orquesta Sinfónica De Minería)
Huáscar Barradas Four Elements Immersive Symphony For Orchestra And Chorus, Simón Bolívar Symphony Orchestra; Ollantay Velasquez, conductor; Huascar Barradas, Maria Cardemas, Eugenio Carreño & Eduardo Martinez Planas, album producers
Best classical contemporary composition
"Aroma A Distancia (Live from Paliesius, Lithuania)," Gonzalo Grau, composer (Brooklyn Rider)
"Concerto Venezolano," Paquito D'Rivera, composer (Pacho Flores Featuring Paquito D'Rivera)
"Double Concerto for Clarinet and Bandoneon, III. Aboriginal," JP Jofre, composer (JP Jofre and Seunghee Lee)
"Lucha Libre!," Juan Pablo Contreras, composer (Juan Pablo Contreras)
"Suite de los Buenos Aires para Piano y Flauta," Claudia Montero, composer (Natalia González Figueroa and Tanja Esther Von Arx)
Best engineered album
Canto A La Imaginación, Érico Moreira, engineer; Érico Moreira, mixer; Felipe Tichauer, mastering engineer (Marina Tuset)
Daramô, Bruno Giorgi, mixer; Randy Merril, mastering engineer (Tiago Iorc)
Depois Do Fim, Túlio Airold, Victor Amaral & Pedro Peixoto, engineers; João Milliet & Pedro Peixoto, mixers; Fili Filizzola, mastering engineer (Lagum)
Octet And Originals, Roger Freret, engineer; Marcelo Saboia, mixer; Andre Dias, mastering engineer (Antonio Adolfo)
Quietude, Rodrigo de Castro Lopes, engineer; Pete Karam, mixer; Paul Blakemore, mastering engineer (Eliane Elias)
Solar, Thiago Baggio, engineer; Thiago Monteiro, mixer; Thiago Monteiro, mastering engineer (Vanessa Moreno)
Best arrangement
"Waltz Of The Flowers," Joe McCarthy & Vince Norman, arrangers (Joe McCarthy's New York Afro Bop Alliance Big Band)
"Com Que Voz," John Beasley & Maria Mendes, arrangers (Maria Mendes Featuring Metropole Orkest & John Beasley)
"Songo Bop," Rafael Valencia, arranger (Camilo Valencia, Richard Bravo Featuring Milton Salcedo)
Crónicas Latinoamericanas," Daniel Freiberg, arranger (Varios Artistas)
"Spain," Emilio Solla, arranger (Varios Artistas)
Best recording package
Atipanakuy (Deluxe), Gustavo Ramirez, art director (Kayfex)
Hotel Miranda!, Alejandro Ros, art director (Miranda!)
Nocturna, Alejandro Ros, art director (Javiera Mena)
Placeres y Pecados, Pedro Chico, art director (Vanesa Martín)
Trinchera Avanzada, Alejandro Ros, art director (Babasónicos)
Best short-form music video
"Podcast/Pedra Memória", Kayode; Gabriel Avelar & Beto Galloni, video directors; Hugo Castelo Branco, Bruna Fernandes, André Cozman Ganut, Kozmos, Paladino, Regis Ramos & Yalla Rec, video producers
"Fixação", Luthuly Featuring Nave; Pedro Fiorillo & Jesus Mendes, video directors; Alcino Algarrao, Alcino Araujo, Ricardo Estevam, Paulo Miguez & Pamela Taby, video producers
"Estás Buenísimo", Nathy Peluso; Félix Bollaín & Rogelio González, video directors; María Rubio, video producer
"No Quiero Ser Un Cantante", Sen Senra; Torso, video director; Cap Dept, video producer
"Descartable", Wos; Tomas Curland & Rafael Nir, video directors; Mariano Jaureguiberry, Abril Neistadt, Rafael Nir & Diego Ríos, video producers
Best long-form music video
Camilo: El Primer Tour De Mi Vida, Camilo; Camilo & Camilo Ríos, video directors; Mauricio Ríos, video producer
Donde Machi – Album Completo, Dawer X Damper; Ivan Vernaza, video director; Alejandro Velasco Ochoa, video producer
Fanm Zetwal, Una Historia De Vida Y Milagros, Fanm Zetwal; Claudia Hernández Romero, video director; Francisco Núñez, video producer
Universo K23, Kenia Os; Flakka, video director; Compostela Films & Art, video producer
Patria Y Vida: The Power Of Music, Varios Artistas; Beatriz Luengo, video director; Michael Fux, Beatriz Luengo, Gloria Rubin & Yotuel, video producers