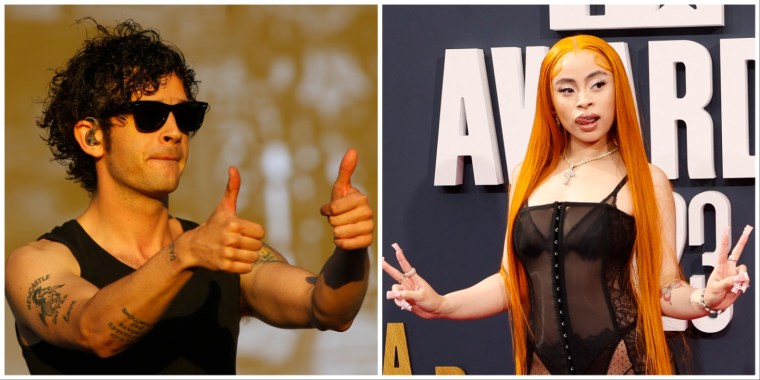 Back in February, The 1975's Matty Healy guested on an episode of The Adam Friedland Show and laughed as the hosts made racially charged jokes about Ice Spice. He was already in hot water for making an alleged Nazi salute while performing "Love It If We Made It" during a lyric referencing Kanye West and Donald Trump, but this moment in the podcast began a snowball of criticism that hasn't really stopped. Healy publically apologized to Ice Spice once during a concert, and in a new interview with Variety, Ice said that Healy also recently reached out privately.
Ice Spice began by acknowledging that she had listened to the podcast comments herself. It doesn't seem like it's really her sense of humor: "When I had heard that little podcast or whatever, I was so confused. Because I heard 'chubby Chinese lady' or some shit like that, and I'm like, 'Huh? What does that even mean?' First of all, I'm thick. What do you mean Chinese? What?"
She insisted that she "didn't really care" about the comments, then mentioned that she crossed paths with Matty Healy at a recent Jean Paul Gaultier party. "He was like, 'Hey, you OK?' and I'm like, 'Of course.' He apologized to me a bunch of times. We're good." Perhaps that interaction emboldened Healy to use a clip of the podcast appearance in a recent promo video for The 1975's upcoming tour of North America, a round of shows which could be their last before the band take an "indefinite hiatus" from performing live.
Lest you think that this means the pop music internet will begin to forgive Healy any time soon, rest assured, they probably won't. Healy was roundly criticized for an onstage same-sex kiss at the Good Vibes festival in Malaysia in defiance of the country's anti-LGBT laws that led to the entire festival's cancelation; Future Sounds Asia, the festival's organizer, has ordered the band to pay $2.5 million or face legal action.