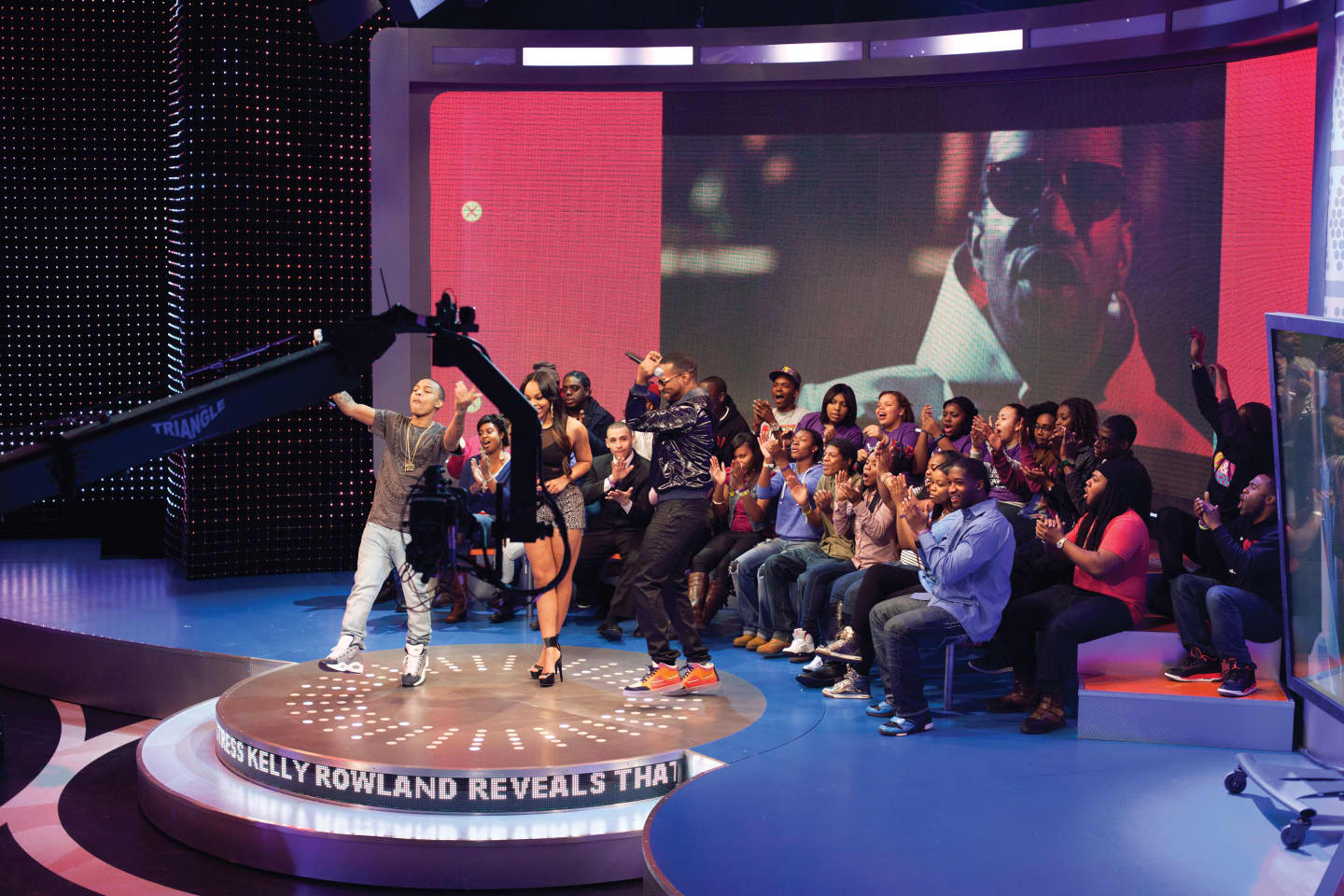 Juicy J: Still Trippin
Juicy J is rap's most hedonistic elder statesman.
From the magazine: ISSUE 85: April/May 2013
On a chilly, unlovable day in early March, Juicy J is on the west side of Manhattan, shopping for champagne. He's celebrating. Just down the street is BET, where he's scheduled to appear as a guest on 106 & Park for the first time in seven years—the math is easy, since seven years is about how long it's been since Juicy J won an Academy Award. Back then, he and his old group, Three 6 Mafia, were coming off a national hit, 2005's "Stay Fly," and a Best Original Song Oscar for "It's Hard Out Here For a Pimp," their contribution to the soundtrack of Hustle & Flow. Ahead of them was a brief but memorable Hollywood career: a reality TV show called Adventures in Hollyhood, the obligatory cameo on Entourage, studio sessions with Paris Hilton.
Seven years ago was before Three 6 Mafia got shelved by their record label, Sony. It was before Juicy J and his partner in the group, DJ Paul, let Three 6 Mafia die a slow and still-irresolute death. "If they cut a $10 million, $20 million check," says Juicy J, there will be another record; otherwise there probably won't. DJ Paul is in Memphis now, the city where both men are from, selling Award Winner DJ Paul-branded BBQ spice rub and seasoning ("Truly the best rub you will ever rub on your meat"). And Juicy J, who had long gotten used to the idea that he would never again be required to make the kind of promotional rounds that land you on 106 & Park, is back in New York City at the age of 39, alone.
That's why he's in a liquor store, stocking up. Or one reason, anyway. The other reason is that he announced on Twitter that he'd do this, stop by a liquor store on the way to 106 & Park, and in his reborn incarnation as rap's most joyously uncompromising hedonist, he needs to keep his word. You say no to drugs/ Juicy J can't, goes the chorus of "Juicy J Can't," from 2011's Blue Dream & Lean, one of a string of bombastic mixtapes that have brought the rapper back to national prominence. Juicy J pulls a bottle of Dom Pérignon Champagne off the shelf, then a second one, and carries them over to the counter. "You take American Express?" he asks the kid at the register. The kid says they do, scrutinizing the rapper in front of him, who looks—with his sunglasses, close features and spread-apart eyes—like nothing so much as an ebullient, soon-to-be-intoxicated velociraptor.
"You an artist?" the kid asks.
"Naw, I'm a basketball player," says Juicy J. "Actually, I'm running for mayor. I'm running for senator. I'm running for mayor and senator at the same time." He gathers the Dom Pérignon, heads for the door. "It's Christmas, man!"
Around the corner, a crowd has gathered outside the 106 & Park studios, a mob of 16-year-old girls in big puffy coats. French Montana is on the show today. So is the actor and singer Terrence Howard, whom Juicy J hasn't seen in years, maybe since the 2006 Oscars, when Howard was nominated for playing Djay, the lead in Hustle & Flow. "This is the cat right here that gave me Djay's voice," Howard will say later, when the two men reunite backstage.
Sitting in a van outside, Juicy J can't stop talking. He's nervous, hasn't done this in a while. "Rest in peace, but did Michael Jackson ever do 106 & Park?" he asks. "What about Prince?"
No, but Obama did, someone says.
"Well, he motherfucking had to," Juicy J says.
Finally, a BET functionary comes down. Juicy J walks past the mob of kids waiting to get inside, hoisting a bottle of champagne in each hand. "What up!" he says to the crowd, which erupts in a reflexive cheer. As the door closes behind him, one teenage girl turns to another, perplexed. "Who's that?"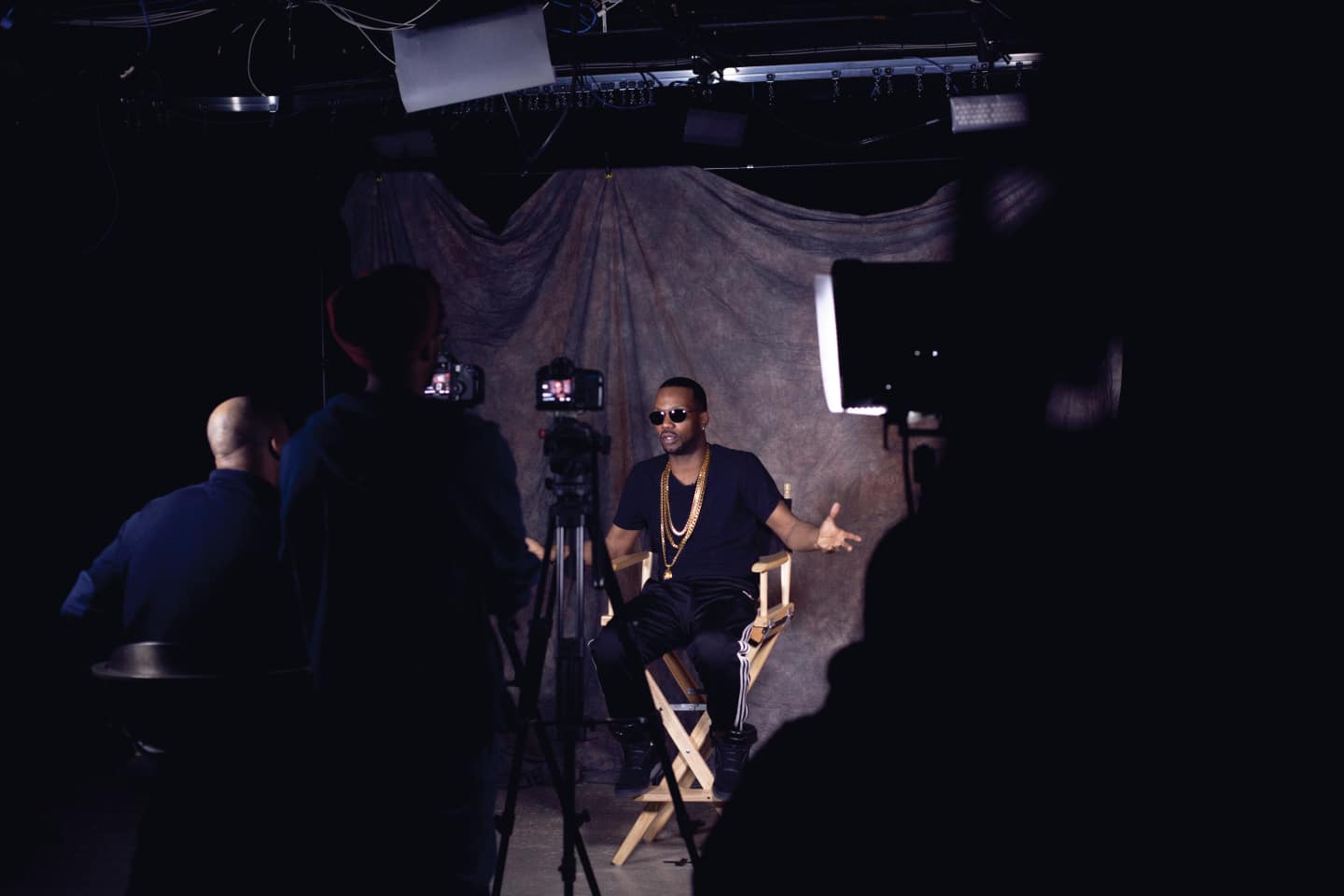 Juicy J moved out to Los Angeles after Hustle & Flow, though he still keeps a house in Memphis. "I get my creativity from my hometown," he says. "But out here is business." He lives in Beverly Hills, where journalists and other unwelcome appendages of the industry are forbidden. So instead, he meets me at the Hollywood headquarters of Wiz Khalifa's Taylor Gang Records, where, since 2011, Juicy J has been a partner, A&R rep and artist.
It's a week and a half after his appearance on 106 & Park, which went well. The show's hosts played "Bandz a Make Her Dance"—the gold-certified strip club anthem produced by Mike Will Made It that convinced Sony to release Juicy J's solo album, Stay Trippy, due sometime in the next few months—and premiered the video for "Show Out," the rapper's bruising new song with Young Jeezy and Big Sean. They asked him about his Academy Award, because everyone asks him about his Academy Award. Juicy J answers this question dozens of times a day and never gets tired of doing so. "Everybody say it but that's cool," he says. "How many rappers you know that win Academy Awards?"
With the Oscar came a national profile and, not long after, enough money to retire on. "The opportunities—things were just coming so fast," says Juicy J. He and DJ Paul did a stint as producers, with Ashton Kutcher, of Adventures in Hollyhood, the discomfiting 2007 MTV reality show that depicted the rappers and their friends running wild in a Bel Air mansion. On one episode, Juicy J goes on a date with a woman he mistakenly calls "Kristin Calamari." Longtime fans of Three 6 Mafia, a group that for more than a decade had maintained a deliriously aggressive reputation, were aghast. Juicy J is aware of the backlash, though not particularly concerned with it. "Anybody would've done the same thing I've done," he says. "They put the millions in your face, what are you gonna do? Say no?"
It was a weird time. Juicy J went to Hollywood parties. He tried to get himself cast in movies. Meanwhile, Three 6 Mafia, a group that in its chaotic prime attracted dozens of close affiliates, shrank to just Juicy J and DJ Paul, and then to no one at all. They released one more album, 2008's Last 2 Walk, and then fell out with Sony over the future of the group. "Sony wanted us to do pop music," Juicy J says. "I didn't want to be a pop group." It was an improbable request to begin with. Three 6 Mafia's first national hit, "Tear Da Club Up '97," reportedly started so many club brawls that the group was banned from venues across the South. A decade later, they'd be rapping about Satan, chopping people up and smoking "Bin Laden weed." No one knew better than the two members of Three 6 Mafia, who had worked steadily for more than a decade without much recognition, how unlikely they were to achieve sustained mainstream success. So Juicy J returned to Memphis. "I took my Rolls Royce and just rode it through the neighborhood, like I used to do when I first started doing music," Juicy says. He went to some strip clubs, got the old feeling back, started over again.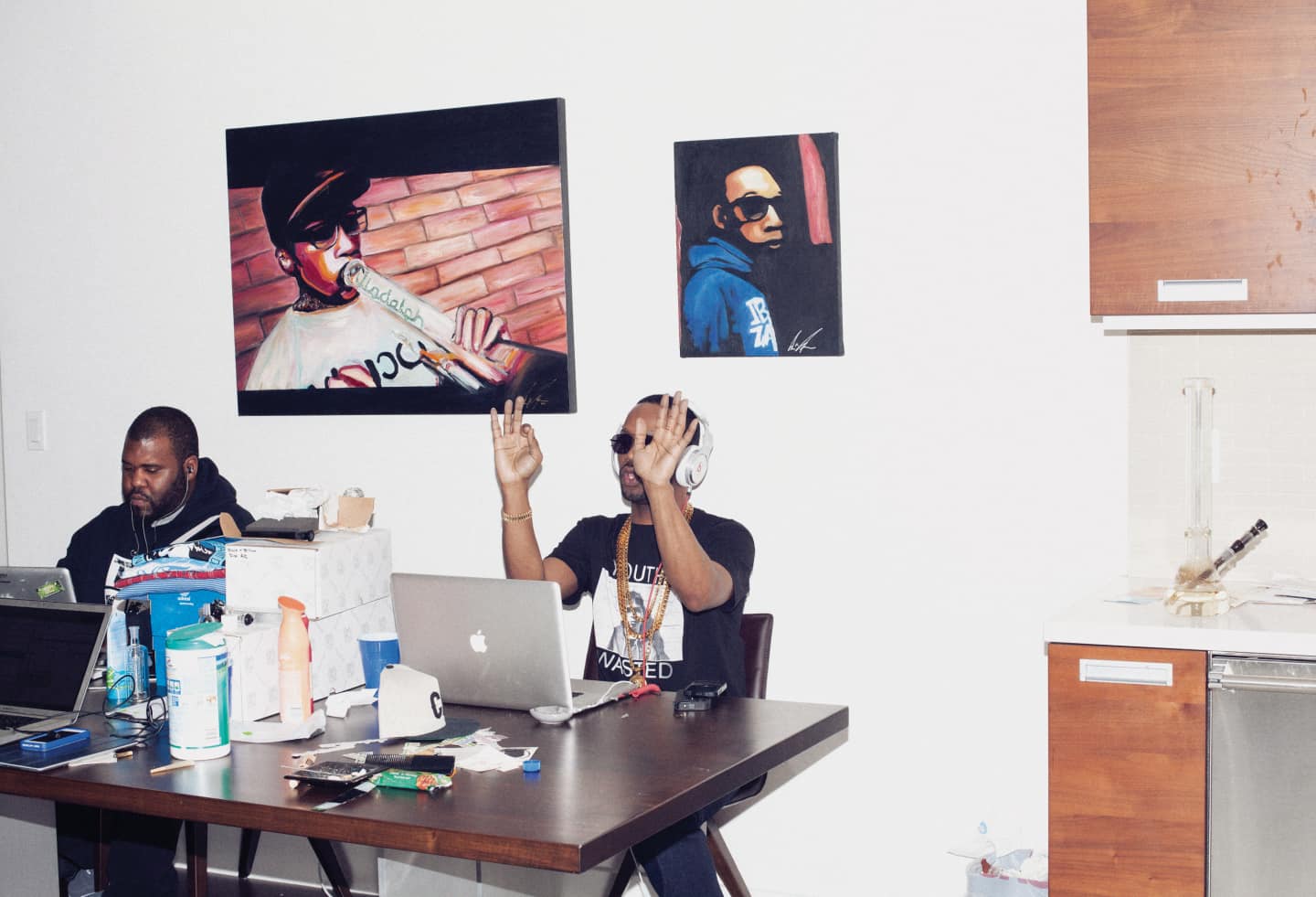 Taylor Gang Records, housed in a split-level apartment in a new building just off Hollywood Boulevard, has white leather couches, stray mossy piles of marijuana and, high on the living room wall, an oil painting of Amber Rose in matching bra and underwear, making a come-hither gesture. Upstairs is a recording studio, with a vocal booth and a control room overseen by a giant pot plant and the words "HIGH LIFE." Juicy J is sprawled out on a sofa, smoking a blunt. Young Chop, the 19-year-old phenom producer, has just sent over a folder full of beats.
"Can you play one of those?" Juicy J yells up to studio's engineer, Drew, a shaggy white kid in a ski cap and Toms. "I'm high and I'm in a vibe."
Drew starts cueing beats—the first is light and ethereal, the second so similar it sounds as if the first track had merely started over. Juicy J nods politely at both. The third beat is different: it's got thudding percussion, a spooky melody line, faint chanting, a buried sample of a distant scream. It sounds like something that could've come from an old horror movie soundtrack—or, just as easily, an old Three 6 Mafia album.
Juicy J has this experience a lot these days: hearing the remnants of Three 6 Mafia in music made by people who weren't even alive when the group began. In the mid-'90s, when he and DJ Paul were starting out, their Southern Gothic sound— with shouted choruses, deliberate pacing and foreboding percussion—was a distant outlier from rap's mainstream. Now, artists like Rick Ross, Waka Flocka Flame and Chief Keef use a similar template to produce hit after hit. "All the music that's out now sounds like Three 6 Mafia," Juicy J says. "That's why it's not hard for me to do this." Younger producers like Virginia's Lex Luger, who helped spark Juicy J's comeback when he collaborated with the older rapper on two Rubba Band Business mixtapes, routinely tell Juicy J that they grew up listening to his music.
"Is the microphone hooked up?" Juicy J asks Drew. Drew says yes, the microphone is hooked up.
Juicy J turns to me. "Watch a guy who's been doing this for 20 years," he says. He heads upstairs to the vocal booth and begins hammering out a chorus and two verses. The new song—blunt, economical and improbably catchy—is done in under an hour.
Wiz Khalifa arrives at the studio shortly thereafter, wearing drop-crotch leggings covered in prints of space stations and interstellar war. He rolls a joint, spoons up some orange sherbert from a box in the freezer, rides a miniature skateboard around the apartment for a while. Then it's his turn to record. Drew cues up more Young Chop beats. Khalifa settles on one of the celestial-sounding tracks Juicy J passed over earlier in the afternoon, enters the booth and begins wordlessly vocalizing, like an animal in pain.
Downstairs, Juicy J tells me that it was '70s rock group Sha Na Na that made him want to be a musician. He would watch them on TV in the two-bedroom North Memphis house he shared with six people, including his dad, a preacher; his mom, who worked as a librarian and substitute teacher; and his brother, who would eventually have a rap career too, as Project Pat. Sha Na Na made Juicy J want to be a drummer, but he couldn't afford drums. So instead, he taught himself to DJ on a Fisher Price turntable, using a metal tie he took off a package of bread for a crossfader. He started rapping when the rappers he tried to form groups with failed to show up at concerts. He tried college—State Tech, in Memphis—but found it wasn't for him and sold his car for some studio time. He paid half; DJ Paul, a pest control salesman's son whom Juicy J met through DJing around Memphis, paid the other half. The result was 1995's Mystic Stylez, Three 6 Mafia's riotous debut. It has a ghoulish comic book cover and the dense, menacing, sample-filled production that would become the group's signature. And it sold. "I had never seen that much money in my life," Juicy J says. "I would go to the bank and cash that check and just walk out with $50-, $60,000 cash. Like, fuck it. In a bag!"
From that point on, Three 6 Mafia became his whole life. He'd work "birthdays, Christmas, Thanksgiving, Valentine's Day," he says. The group released an album every other year, more or less, over the course of the next decade. "When I get old," he says, "I'll be one of those dudes that's had a real good rich life, a successful life, but not a real life." When Three 6 Mafia ground to a halt, Juicy J could've tried to fill in those blanks, those voids where a real life would've gone, but instead he went straight back to work, rapping about pulling triggers, Xanax, cough syrup and strip clubs, same as he'd been doing since he was a teenager.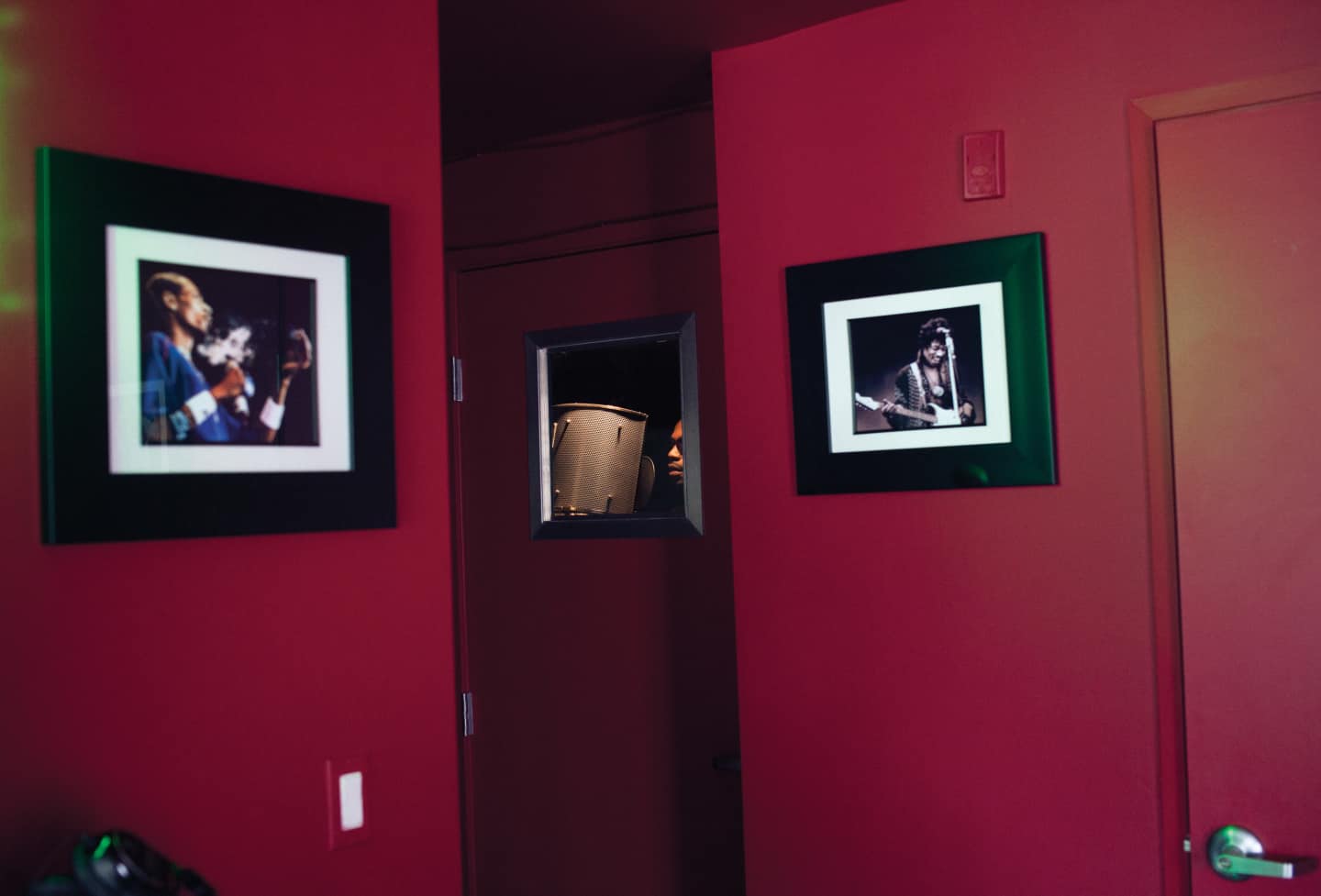 Not too far away from where we're sitting, Lil Wayne is in a Los Angeles hospital, recovering from what TMZ first described as a drug-induced series of seizures, and I ask Juicy J whether he worries about suffering a similar fate.
He looks at me disbelievingly and says no. "Might overdose on cash!"
Up in the studio, Khalifa's pained vocalizing has turned into music—a meditative, melancholy verse, followed by a quick, saccharine guest spot for a song intended for the debut album of a young Nickelodeon actor. Then Khalfia and Juicy J return to cueing Young Chop beats. The next one Drew plays is sinister, full of evil-sounding minor chords. Juicy J immediately begins rapping along. "This sound like old Three 6 Mafia," he says. He asks Khalifa to go back in the booth and record something over it.
Khalifa looks rueful. "I got nothing for this dark-ass beat," he says. They strike a compromise. Juicy J ascends the stairs and lays down a hook, all sneering tough talk, and Wiz follows him in, letting loose a series of improbable threats: Try to touch on Khalifa/ Catch 16 like a feature. After a couple verses, Khalifa emerges from the booth, visibly energized. "You got to do that to me more, man," he says to Juicy J. The engineer plays back the track, and the two men bounce along in the neon green light, bobbing their heads in violent unison. The song couldn't be more different from the first two Khalifa recorded.
Juicy J may not get recognized much outside of BET studios anymore, or get asked to help boost the careers of aspiring teen idols. He's not famous like Khalifa, and knows he probably never will be again. But inside a recording booth, he's at ease. His several careers' worth of experience show here in a way they don't quite anywhere else.
Khalifa is smiling. He turns to Juicy J. "You tell me what to do, I'll do it," he says. "Just point me there, and I'm going."
"I just like making music," says Juicy J, shrugging off the compliment. His eyes look tired behind his sunglasses. It's late now, but no one seems inclined to go home. "I'll stay in the studio for the rest of my life."