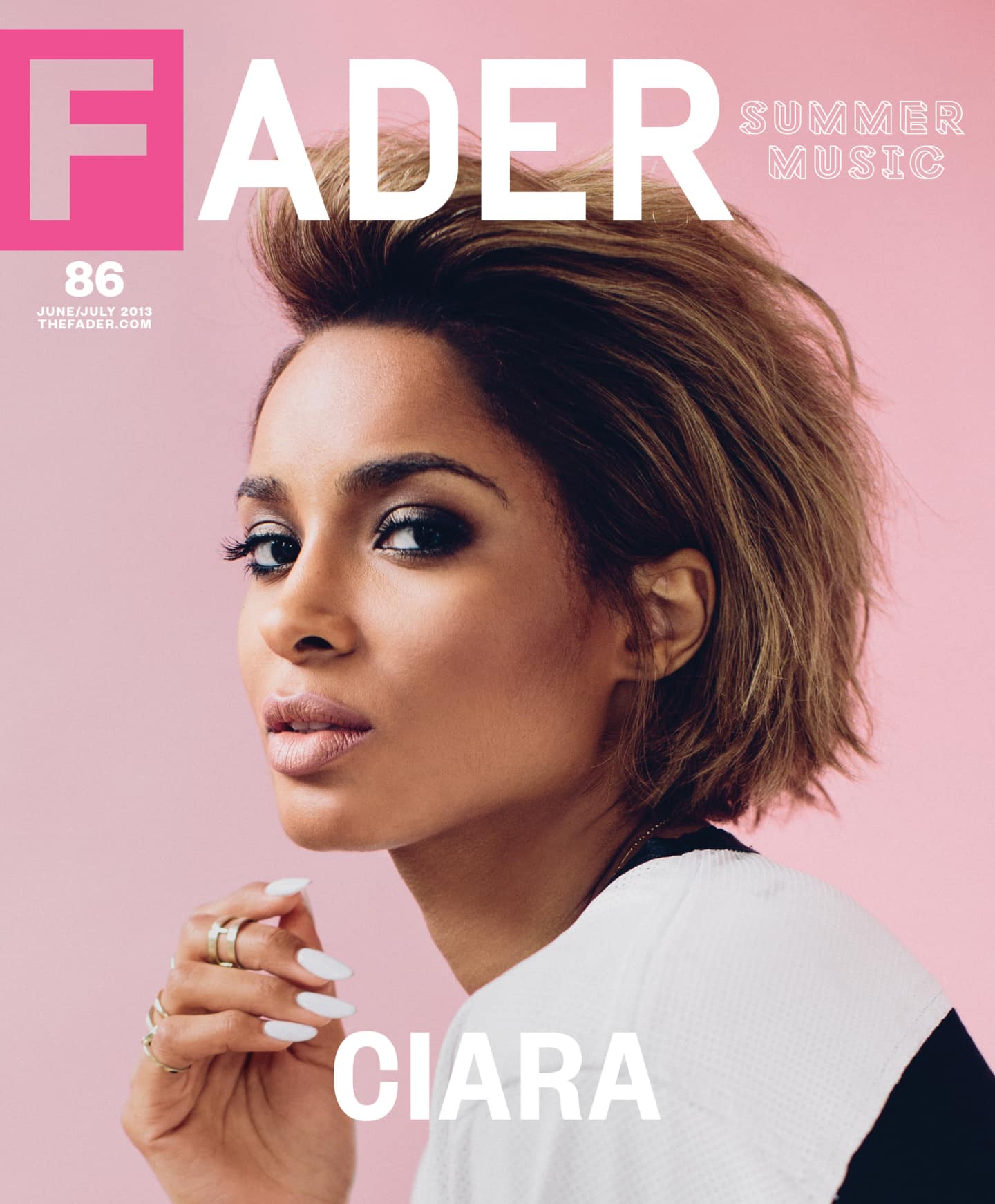 Ciara: Private Party
Ciara IS EVERYTHING YOU'VE HEARD
From the magazine: Issue 86, June/July 2013
Onstage in an industrial redbrick rehearsal space in Atlanta, 5,300 miles from the former Soviet Union, Ciara is practicing being spontaneous. "Hello Russia! Thank you so much for all your support. It's great to be here with you. Are you all ready for some love, sex, magic?" Outside, someone is grilling meat on a mini hibachi, and the numbing sound of traffic whooshes in the distance. Inside, the lobby walls are lined with yellowing autographed photos (Monica, Chilli from TLC) and framed gold records (and cassettes). Two weeks from now, Ciara will be touring in support of her fifth full-length album, Ciara, out this summer. Flanked by two athletic backup dancers, she's wearing a black sweatshirt, white Air Jordans, and perspiring. After rehearsing a particularly intricate bit of choreography synced with the Nicki Minaj verse on Ciara's next single, "I'm Out," the dancers high five each other. "This is so fun!" Ciara says with a big smile. A few days prior, at Quad Recording studios in New York City, Ciara played me her album but, in spite of her manager's encouragement, declined to unveil Minaj's verse, for fear details of its awesomeness might leak. "No," she said, flashing management a steely look, then turned in my direction. "Sorry," she said in a baby voice. "I want to protect it because it's very special." A lot is riding on Ciara.
When she arrived on the scene in 2004 as music mogul L.A. Reid's newest protégée, Ciara was a sporty, urban alternative to the hot pink power flirts of the era, Britney Spears and Christina Aguilera. But after two underperforming releases—2010's unfocused Basic Instinct debuted at a disappointing 44 on the Billboard chart and reportedly caused the singer's acrimonious split with now defunct Jive Records—Ciara is hoping this new record will reconnect her to the fan base that took her early albums multi-platinum. Once again under Reid's guidance, she's now at Epic and hoping to avoid becoming another casualty of the rapid pop hype cycle that can turn a potential superstar into a Norma Desmond figure before the age of 30.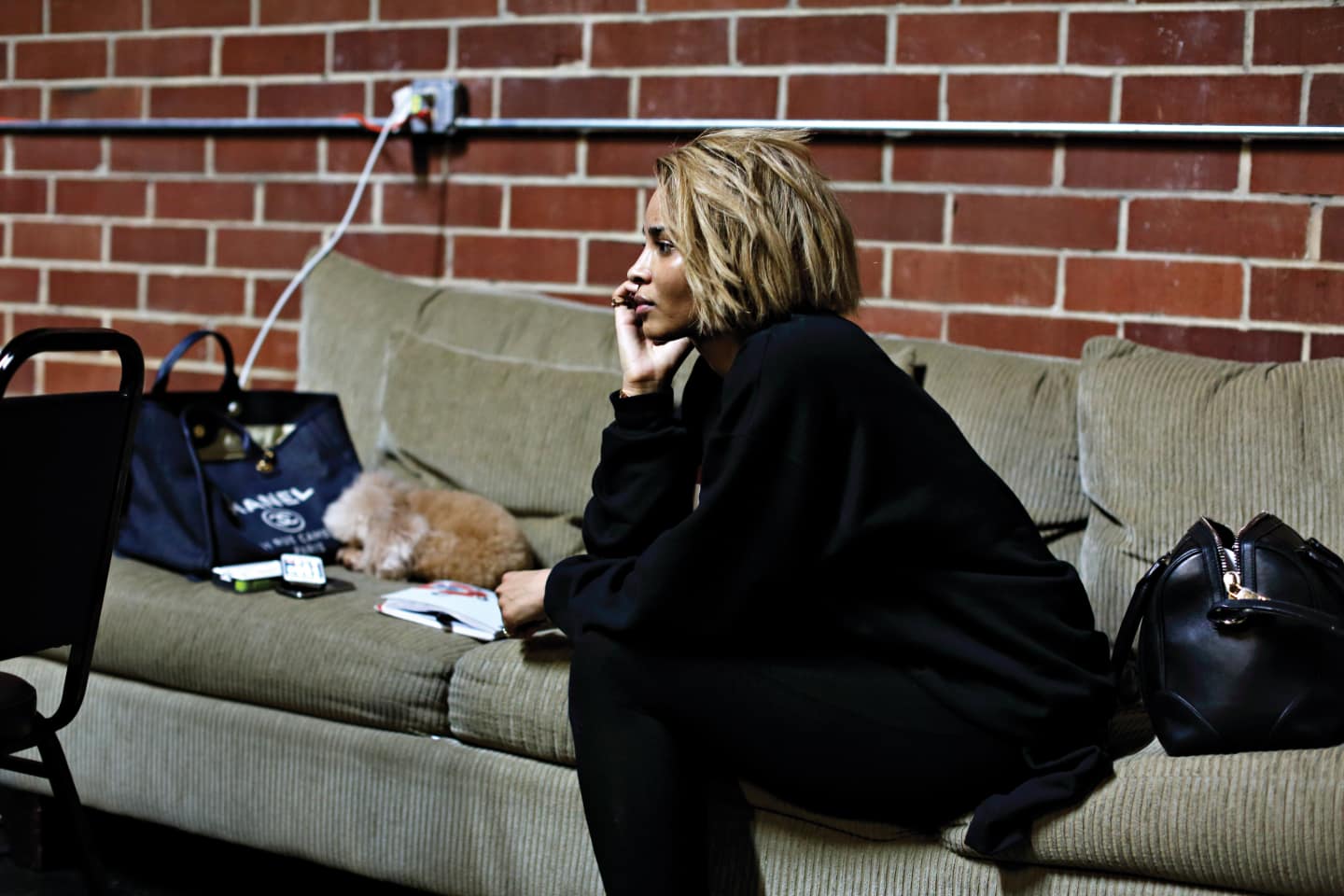 Part of what caused the prolonged stall in Ciara's rise is that the musical landscape has changed on her watch. When she emerged in the early 2000s, traditional skills like a magnificent voice, songwriting chops and killer dance moves were still considered crucial. Nowadays, big names like Lady Gaga, Rihanna and Katy Perry are characters as much as they are artists. They can sing, maybe, or dance, perhaps, but their most powerful gifts, especially in the social media era, are a primal need to share constantly and an innate sense of how to sculpt what they share into a brand. Today's pop stars are highly stylized archetypes; their singles are like trailers for the next installment of their persona. Ciara insists her new album reflects her truest self, a self she says she's dying to share with her fans, but her guardedness—which manifests as reticence with the press and a remote slickness on social media—suggests she doesn't have the pathological drive to be known or understood by the masses. "This is the saying I've created for when I do interviews: You have your job to do, and I have my job to do," she says. There may have been an era in which this kind of evasiveness led to even greater fascination, but it's long gone.
Born Ciara Princess Harris in Austin, Texas, the singer moved around a lot as a kid; her dad was in the military and her mom had been in the Air Force. The family eventually settled in Atlanta; that's where Ciara went to high school and now lives after some time in LA. After she graduated high school, Reid discovered and signed her to LaFace records. In 2004, she launched her career with "Goodies," a chastely flirtatious crunk track about saving yourself for the right guy. In the years that followed, Ciara became known as a reliable producer of decent radio singles (among others, her collaborations with Missy Elliot, "One, Two Step," and Justin Timberlake, "Love Sex Magic"). Her signature became the mid-tempo club jam, bound to inspire enthusiastic grinding. But it was on MTV where Ciara was able to show off her most exceptional skill: dancing. She's been nominated for several "Best Choreography" MTV Video Music Awards, and her video for 2010 single "Ride," a collaboration with Ludacris, stands up as one of the most captivating clips of the last 10 years. While some of the video shows her writhing in a swimsuit and a fur coat, for the bulk of it she rolls her body around in an empty room wearing a sports bra and a ball cap. It's compelling to watch, though, not just because it's sexy but because it's skillful. But in spite of her resume—touring with Jay-Z, modeling for Adidas, palling around with the Kardashians—and in part because of a legitimate lack of support from her former label, Jive, big fame continues to elude her.
"I love music so much and I do want to have a tremendous amount of success in it, but I want to live at the same time."
Recently, an ongoing spat between Ciara and Rihanna was reignited. The pair have known each other for years; Ciara was one of the opening acts on Rihanna's 2007 Good Girl Gone Bad tour. In early 2011, Ciara made an offhand comment about Rihanna not being particularly nice to her at a party and Rihanna took to Twitter: "My bad ci, did I 4get to tip u? #howrudeofme." It got nastier from there. Whenever Ciara's asked about this ongoing melodrama, which she is in every single interview, she talks about positive vibes and good energy and wishes Rihanna well. The high road is noble, but it's also lonely and boring. It's possibly sociopathic to operate with as little filter as Rihanna does (her recent comments about the Knicks' J.R. Smith being too hungover to deliver during the playoffs are so deliciously inappropriate they're almost pop art) but one thing Rihanna does not struggle with is transparency. She's been rewarded for that openness; Rihanna has nearly 30 million Twitter followers to Ciara's four.
Ciara, the singer says, is a new beginning. "Do I believe there was a disconnect creatively with the fans? And my vision—what I was hoping for? Absolutely," she says of her last few albums, though she doesn't get specific. "But again, you have to have those moments to know what to do and what not to do. This whole chapter where I am in my life—it's about not running from my fears and the things that make me uncomfortable. It's also about acknowledging the things that were wrong. I had a short break, but I plan to be here for a long time." Two days after meeting at Quad Recording Studios, Ciara arrives at a Chelsea photo studio for this magazine's cover shoot. She's mostly hidden away in a back room with her makeup artist and hairstylist, but emerges every once in a while in a new outfit followed by Georgia, her mini-mini-schnauzer, and Tyson, her sandy-colored maltipoo, both in Louis Vuitton collars. Somewhere between plays of Jay-Z and Kanye West's Watch the Throne and Madonna's Hard Candy (both Ciara's requests), the door to the studio opens, and in walk two stone-faced bodyguards along with Ciara's genial boyfriend, the rapper Future. He and Ciara have the same flashy smile, which Future displays around the room before slipping into the back to see his girl, leaving the delicious scent of good weed in his wake.
Though they've only been together a short time, Future is also from Atlanta, and it's hard to imagine that isn't part of Ciara's motivation to move back home and reconnect—sonically and otherwise—with her roots. Musically, the rapper's interest in exploring the fringes is already influencing Ciara's sound. "Body Party," the first single from her new album, is co-written by Future. It's got the slow jam tempo and sensual feel of a classic Ciara track, but with more inventive production, and Future's signature woozy Auto-Tuned vocals and ambient coos give the song a surreal vibe. The video is everything good about Ciara: racy, feminine and filled with mesmerizing dance sequences, including a scene in which Ciara, in lingerie and heels, gives Future a private show. It's both sexy and weirdly old-fashioned, two adjectives that sum up Ciara's general appeal.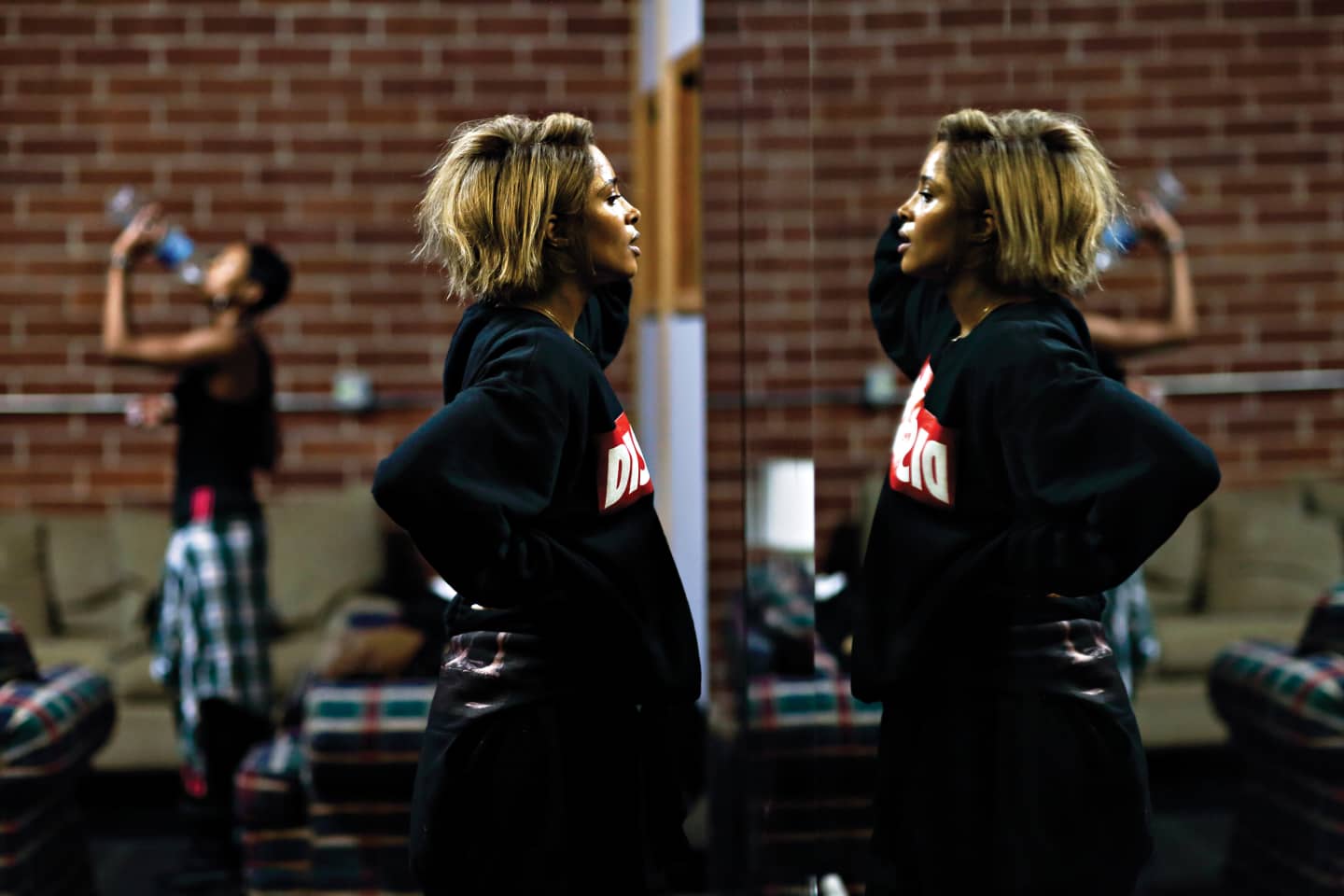 When she first showed up as a 19-year-old kid, she was singing cheekily about keeping her goodies to herself, but it didn't come across as prude or puritanical because it felt authentic. As she's grown into an adult woman, that innate sensuality has evolved into a sophisticated sexual confidence. That balance between demureness and rawness is how she pulls off giving her rapper boyfriend a lap dance in "Body Party" while seeming very much in charge. But that power is also something she's either unaware of or uninterested in talking about. "I don't know how to answer that question," she says when asked about the contrast between her remote, intensely private persona and the risqué nature of her videos. "Like, when I was recording 'Body Party,' I felt a certain feeling—it evoked a certain emotion." What emotion? She smiles shyly and plays with the delicate rings on her fingers. "Well…" she says. "I would think the emotion is obvious."
"This whole chapter where I am in my life—it's about not running from my fears and the things that make me uncomfortable. It's also about acknowledging the things that were wrong."
Ciara has been working on the songs that comprise this new record for a year and a half. First, the album was going to be called One Woman Army, and a few singles were released. They didn't connect. It was only when she hooked up with "Body Party" producer Mike Will Made It that "a whole new light switch flipped," she says. The single is her first Top 40 solo hit since 2006's "Like a Boy." "I just got to go out and hang out more, and be out more, and feel the clubs, feel the energy of what's happening in the streets," she says of the transformation to a more synth-heavy sound. "That's really what I was doing at the start of One Woman Army. I still was in the mental space that I'm in, but as time went on I got more clarity on the direction of exactly what I wanted." Newly inspired, she scrapped the entire one woman army concept and went for loose, playful tunes and a simple, direct album title. Tracks like "Living It Up" (which also features Minaj) and "Overdose" have an EDM-influenced, '80s dance vibe, and songs like "I'm Out" and "Super Turnt Up," on which Ciara raps for the first time, are undeniable bangers. You can feel the singer regaining her confidence, but it's a cautious, painstaking process. Ciara keeps talking about how she wants her fans to feel her but she's clearly still struggling between showing them who she really is and depending on them to tell her who she needs to be in order to secure a hit.
When Ciara is craving a little down time, she says she likes to watch ESPN. She's always been a bit of a tomboy and she can rattle off sports stats and analysis like a proper frat boy. An hour of TV is the kind of luxury she didn't used to allow herself. "When I first started all I did was work, work, work," she says. "That was really my main focus, and it still is a massive priority in my life, but I feel like I put my life now before my music. I love music so much and I do want to have a tremendous amount of success in it, but I want to live at the same time." She says she yelled at the TV during a shot Kevin Durant made in a recent game. It was the fourth quarter, and Durant's team was down when he got the ball, took a casual step back to the three-pointline, and hit the shot like he was practicing on an empty court. "I can only imagine the pressure, what must be playing out in his mind," Ciara says, shaking her head in admiration. "But with a player that talented…" She trails off, and it's clear we're no longer talking about basketball. Perhaps the only way to get Ciara talking about herself is to ask her about someone else.
Read More
1. Video: Ciara, "Body Party" (2013)
2. Stream: Ciara, "Sweat" (2012)
3. FADER TV: Ciara Live (2011)
4. Ciara Wants Free from Major Label Energy Suck (2011)
5. Celebrating Ciara's 2010 (2010)
6. Download: Ciara, "Deuces (Nguzunguzu and Dubbel Dutch Remixes)" (2010)