CocoRosie, Antony and More Will Host 13 Nights of Future Feminism at Hole NYC
Explore a frontier feminist point of view with CocoRosie, Antony and the Johnson, Lydia Lunch, Mariana Abramovic, and more.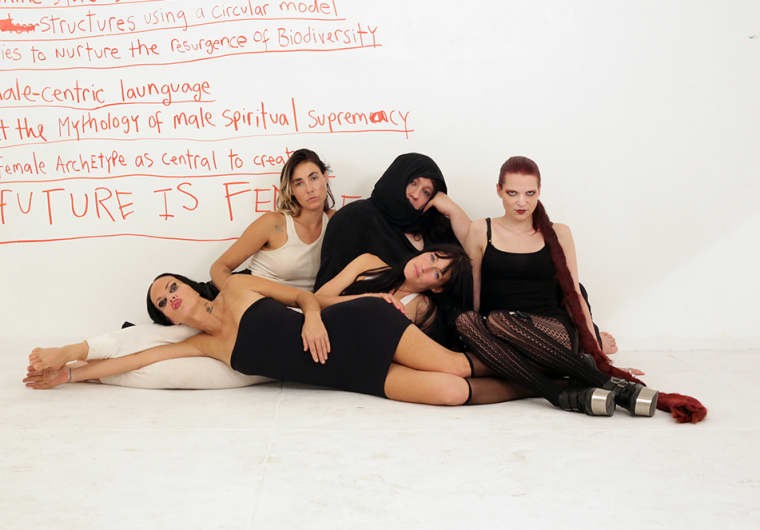 Kicking off tomorrow, the Hole gallery in downtown Manhattan will be taken over for thirteen days and nights by an art collective who call themselves the Future Feminists. The group, led by Kembra Pfahler, Johanna Constantine, Antony of Antony and the Johnsons, and Sierra and Bianca Casady of CocoRosie, have installed thirteen slabs of rose quartz that represent their rigorously workshopped 13 Tenets of Future Feminism. Each day, one tenet will be activated with a performance or lecture by the likes of Julianna Huxtable, Laurie Anderson, Lydia Lunch, Marina Abramovic, and more. Future Feminism opens tomorrow, Thursday, September 11, and runs until September, 27. "Tenet activation" performances will be held nightly at 8PM, and are open to the public on a first come first serve basis. Browse the full events schedule below, and visit Hole NYC's website for more information.
Thursday, September 11: Opening 6-9PM
Friday, September 12: Bianca and Sierra Casady, Sarah Schulman
Saturday, September 13: Johanna Constantine, Lydia Lunch
Sunday, September 14: The Factress aka Lucy Sexton, Clark Render as Margaret Thatcher, Laurie Anderson
Wednesday, September 17: Narcissister, Dynasty Handbag, No Bra
Thursday, September 18: Ann Snitow speaks with the Future Feminists
Friday, September 19: Kiki Smith presents Anne Waldman, Mei-Mei
Berssenbrugge and Anne Carson
Saturday, September 20: Kembra Pfahler and The Girls of Karen Black
Sunday, September 21: Lorraine O'Grady
Wednesday, September 24: Marina Abramović
Thursday, September 25: Carolee Schneemann, Jessica Mitrani, Melanie Bonajo
Friday, September 26: Terence Koh as Miss OO
Saturday, September 27: Viva Ruiz, Julianna Huxtable, Alexyss K. Tylor