From the magazine: ISSUE 94, October/November 2014.

Six years ago, when he was still a teenager, Warren Hildebrand suffered the unexpected loss of his younger brother, Drew. During the period of depression and confusion that followed, the Canadian-born songwriter only ever found solace in sounds: listening to ambient engineers like Brian Eno, mastering his friends' records and tinkering with his own breezy pop constructions. Presently, he runs a boutique indie label called Orchid Tapes out of the Brooklyn apartment he shares with his boyfriend and co-labelhead, Brian Vu. Over the past few years, while carefully shepherding releases from scrappy bedroom musicians like Alex G, Ricky Eat Acid and Coma Cinema, Hildebrand has been meticulously laboring over Ontario Gothic, his second full-length as Foxes in Fiction. Over seven songs, the 25-year-old constructs an achingly pretty dreamworld, filled with melancholic guitars and liquid synths. Below, in his own words, he opens up about hitting rock bottom, being at the center of a hyper-supportive music community and stitching his life back together, one song at a time.
Foxes in Fiction
"Ontario Gothic "
WARREN HILDEBRAND: Ontario Gothic came out of a desire to parse together some of the transformative life experiences that happened to me in the wake of my younger brother's sudden and violent death in 2008. We were both at a party, and he was attacked outside the house by someone who was drunk and belligerent and had been trying to start fights with people all night. My brother was tripped and hit his head on the pavement. The injury didn't seem serious at the time, but the next day he got really sick and went to the doctor and they realized how serious it was. While being rushed to the hospital, he went into a coma that lasted for 10 days. His injury had cut off oxygen to his brain and left him brain-dead, so the decision was made to take him off life support.
After a year of feeling disconnected and emotionally numb, I went through what I think most people would call a nervous breakdown. It lasted about five months. During that period, I started having panic attacks for the first time. On the worst days, I was having four or five a day. I eventually developed agoraphobia, which caused me to quit my job and temporarily stop attending the adult learning center where I was going to get my high school diploma. I had tried both anti-anxiety medication and therapy, but after developing an addiction to Ativan and being too unstable to make it to therapy sessions, I only felt more mentally ill. It was pretty bleak. In the end, I found that the only thing that made a big and lasting difference in my way of thinking was repeat listens of certain kinds of music.
I'd started Foxes in Fiction in 2005, when I was still in high school, three years before my brother's death. Back then, the project was mostly a vessel for stoned audio collages or ultra-basic guitar recordings made using old cassette machines and a copy of Audacity I'd downloaded to my old Dell PC. But coming across musicians like Brian Eno, Atlas Sound, Aphex Twin, Casino Versus Japan and composers like Pauline Oliveros, Laurie Spiegel and Steve Reich during that weird and vulnerable period really changed the way I thought about music. It wasn't until then that I began to see what a functional and immensely helpful tool it can be when you're going through a rough time.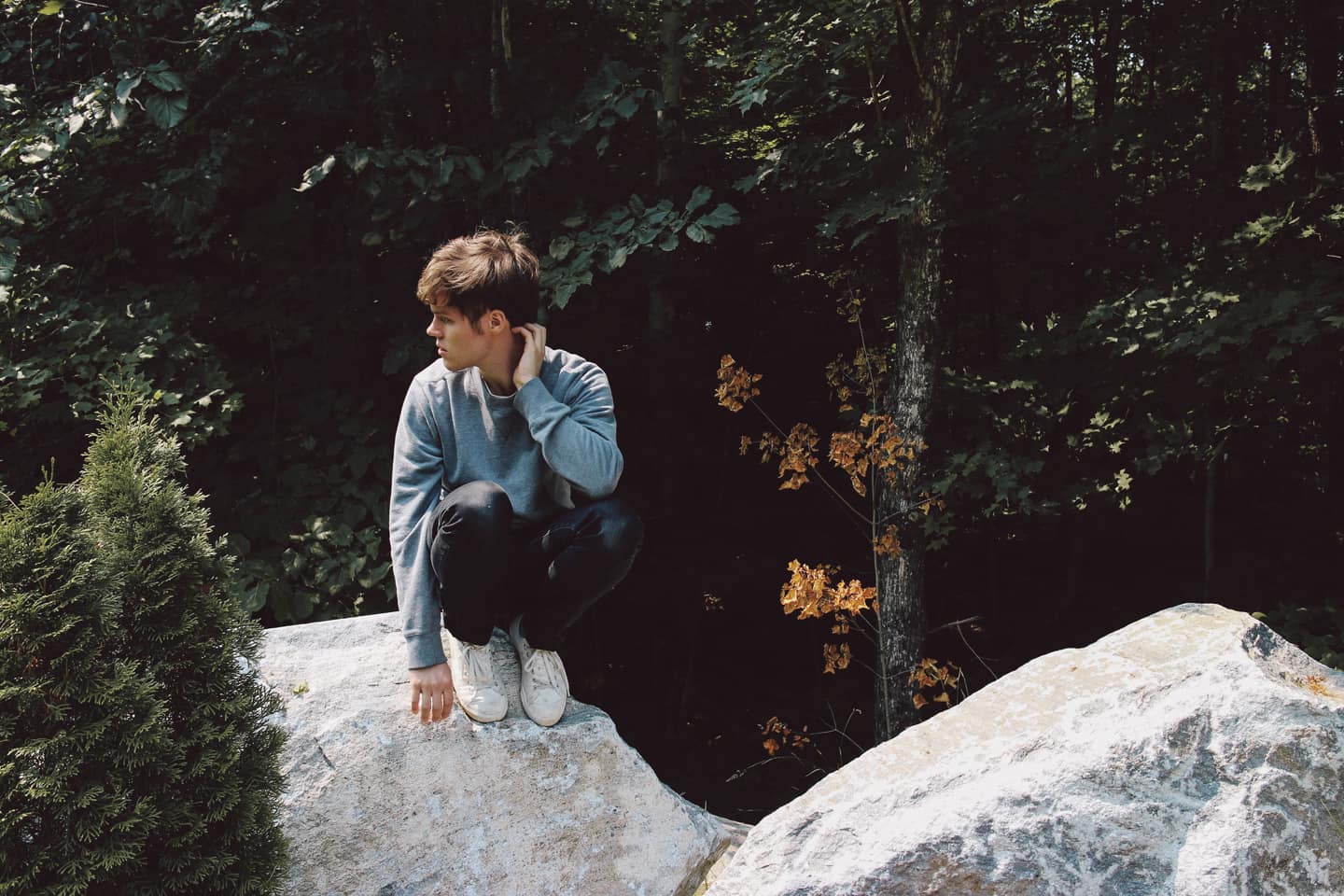 The collection of music from around that time that I still hold the greatest reverence for is Atlas Sound's three-track EP, Weekend. Even without any discernible lyrics, the combination of simple textures, evocative song titles and mysterious artwork affected me deeply. Taken together, they really sum up my idea of healing music: deep and soft and repetitive atmospheres that build their own self-contained world, inviting you to lose yourself within it; music that is both inherently relaxing and solitary and invokes nostalgic images like empty suburban streets; music that can make you feel like you're being removed from the pain that affects your everyday. Even now, when I go back to that little EP, I'm made to feel a way that no other music has ever really made me feel.
Since then, I've tried to invoke the experience I had with that EP in a lot of my own music. Recording my first album, Swung from the Branches, was my first attempt at this, done in a really impressionistic and soft-focus way, mainly through ambient music and light forays into pop experimentalism. Recording Ontario Gothic, I knew I still wanted to retain the overall idea of "healing pop," just done in a more direct and detail-oriented way. I think that's a big reason why it took three years to finish: the songs came easily, but the amount of time I spent ornamenting the record prolonged everything so much. I was lucky enough to have Owen Pallett agree to score violins for the record, and having my friends Caroline White, Ansel Cohen, Sam Ray, Beau Sorenson and Rachel Levy contribute to the record has been really amazing, too. Over the past few years, I've become really open to the idea of having friends play or sing on my music, and having so many amazingly talented people close to me who want to work with me on my things has been really cool.
Getting to self-release this album has been really important for me, too. After plans with another label fell through, the only thing that really made sense was to put it out on Orchid Tapes. 2014 has been such a crazy year in terms of growth and achievements for us, and I don't think it would feel right if the record had ended up somewhere else. The little community we've built up in the time it's taken to record Ontario Gothic has been one of the most exciting things to watch and be a part of, and helping to run Orchid Tapes has been one of the most rewarding and personally meaningful things that I've ever done with my life.
I feel like this is a point I reiterate a lot when I talk about my music, but the things I'm making are done in the name of being healing or in some way spiritually helpful to whoever comes across them. Yesterday, I got an email from a girl in Mexico that I've been in contact with for a couple of years. She told me she had just gotten out of the hospital after getting hit by a truck while riding her bike and suffering a head injury, and that the first music she wanted to listen to after regaining consciousness was my own. It's hard to know how to respond to something like that. I feel so horrible when anyone has to endure that sort of physical or mental suffering, but more than anything else, being told these kinds of stories inspires me to keep on working on music. It's a weird and overwhelming but ultimately good feeling to be making things that are helping bring real levity to the lives of people who are going through hell.