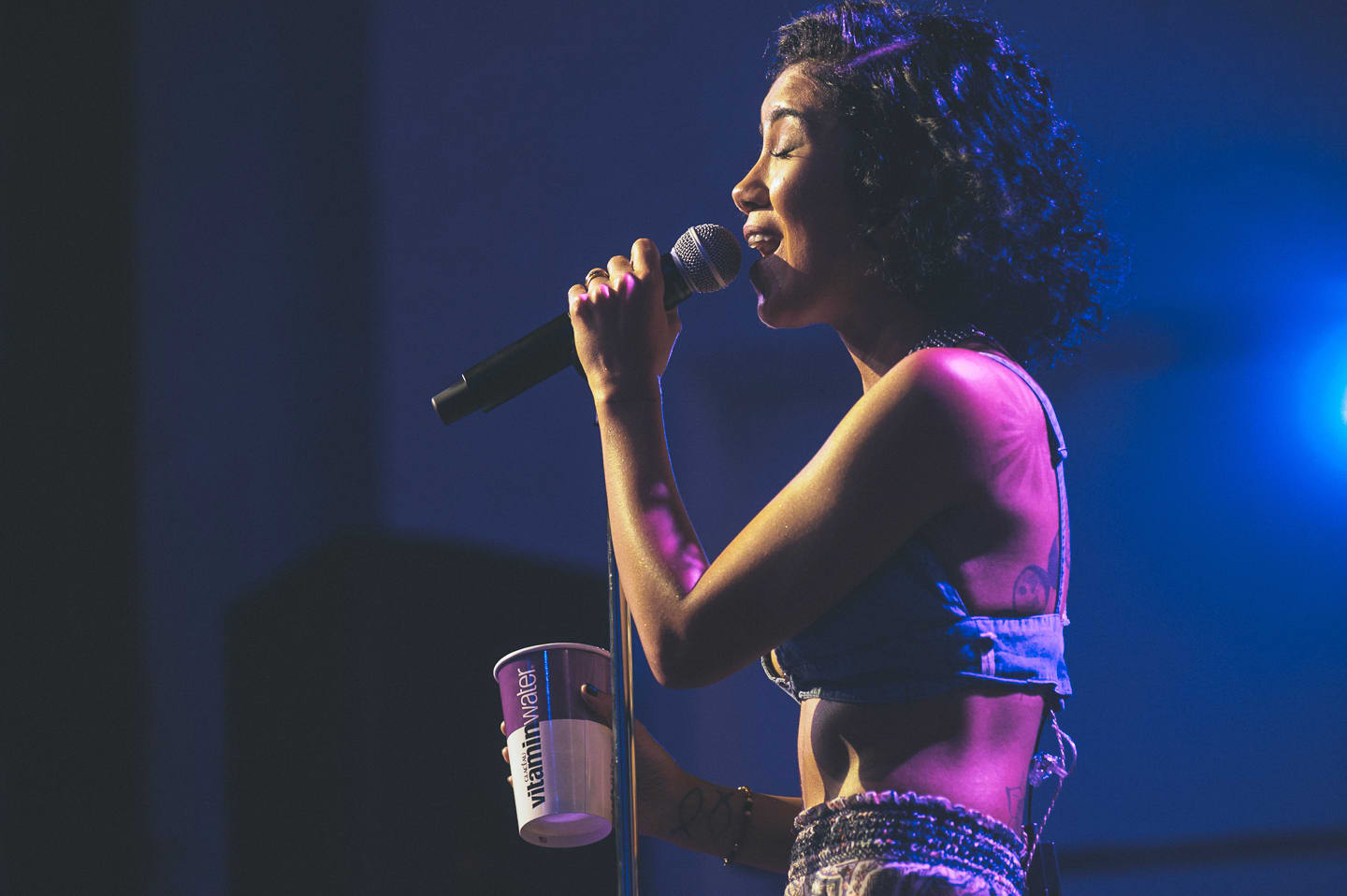 Live: Jhene Aiko, Ty Dolla $ign and Raury Hydrate Your Hustle at vitaminwater® #uncapped
Browse photos from the Philadelphia-based edition of vitaminwater® #uncapped and watch Jhene Aiko perform "Spotless Mind."
Last night, on a quiet street in the Fishtown neighborhood of Philadelphia, we had moment. It might have been an otherwise humdrum autumn Tuesday, but at the jam-packed Philly edition of our vitaminwater® #uncapped concert series—which celebrates artists who have hustled tirelessly to get to where they are—it felt like the weekend. By the time DJ Diamond Kuts started spinning a grab-bag selection of hip-hop gems, darting between disparate bangers like early-aughts Ludacris and iLoveMakonnen, hundreds of people had filed into the space. Attendees who weren't occupied snapping photos in the .gif booth, making custom tees at the screen-printing station, or posted up at one of the the vitaminwater® refreshment bars, did little to hide their collective excitement for the night's live performances, brought to you by three artists who know what it means to hustle: Raury, Ty Dolla $ign, and Jhene Aiko.
In an interview published on this site just last week, star in-the-making Raury explained that he's trying hard to make jams that can't easily be classified as any one, pre-existing musical style. "I'm trying to bring along a new era of music," he told us, "a new era of genre-less music where somehow everything happens to mesh." Dressed in his signature wide-brimmed "Raury hat," the young songwriter stayed committed to that notion in Philly last night; he performed rock-leaning versions of Indigo Child standouts (including soulful breakout "God's Whisper") with a fully loaded backing band, wriggled around the stage like a miniature pop icon, and played Nirvana and Queen songs. The latter came in the form of an energetic "Bohemian Rhapsody" cover. Raury encouraged everyone to sing along—so we did.
Ty Dolla $ign tends to be the life of any party. At least that's what we found out when we went to the West Coast to hang out with the singer, producer and Taylor Gang heartthrob for a cover story profile in the glossy pages of our 2014 Summer Music issue. When he stormed the #uncapped stage in Philly, he brought the already lit event to an entirely different level. Singing along to his hooks alone in your car is fun, for sure, but it doesn't really hold up against the experience of shouting Maybe I'm just paranoid with a mob of strangers, and Ty himself.
When Los Angeles-bred vocalist Jhene Aiko came on stage in a flowy pearl-white robe, even she was surprised by how enraptured the crowd seemed. "I'm not gonna lie to you," she said about halfway into her set of steamy ballads (including "Spotless Mind," which you can watch her perform in the video below) following a particularly energetic bout of audience hoots and hollers. "I didn't realize you guys were going to be so loud." This, remember, is coming from an objectively famous singer whose effortless contralto has prettied up songs by Drake and Big Sean, and whose new album—Souled Out—is currently perched high atop Billboard's R&B charts. It may seem like a dream, but the GEN F alum has worked impossibly hard to get to that very stage, where starry-eyed fans scream her name and know all her songs. "There's never been an instance where I wanted to give up," she said earlier in a behind-the-scenes interview, which you'll be able to watch in full on TheFADER.com soon. Well, we're certainly glad she didn't.