We pride ourselves at The FADER on scouring the globe to introduce you to some of the most left-field music around. But in our monthly column Popping Off, Aimee Cliff takes the temperature of mainstream pop music.
Vaginas: in a world where porn is mainstream, they're not as shocking as they used to be—as long as you're just alluding to them in a sexual context. On the London leg of Miley Cyrus's Bangerz tour last year, I watched as she thrust hers forwards on the hood of a car. On "Work," Kelly Rowland sings you gotta put it in when we get it on, while Beyoncé says hers is sweetest in the middle on "Blow," and Lana Del Rey wants you to know hers tastes like Pepsi Cola. But vaginas, we all know, can have many other functions; and recently, two prominent popstars are proving just how shocking they still are by drawing on that fact.

Björk's Vulnicura album campaign began at the beginning of 2015 with artwork that showed an opening beaming from her chest, and the release of the video for album track "Family" made her visual metaphor even more explicit. As she sews up the gaping hole that splits her down the middle to the tune of Vulnicura's call-to-arms, Björk is visualizing what she described in the album's release notes as the "biological" process of heartbreak: "the wound and the healing of the wound." But, let's be real: it also looks like a vagina! Which is, of course, the anatomical source of the family unit that she mourns on "Family," following the breakdown of her relationship. Where do I go to make an offering, she sings, To mourn our miraculous triangle: father, mother, child.
Just when you thought it might be safe to hit play again, last week FKA Twigs delivered a video for EP3 song "Glass & Patron" in which she peers menacingly over a prosthetic pregnant belly. Her bejeweled acrylic nails creep down between her legs and she "gives birth" to fistfuls of colorful scarves and a blast of white noise. The scarves morph into a fearsome troupe of voguers, and Twigs loses the bump in favour of a skin-tight bodysuit, performing the splits in various directions. The sequence can be read so many ways: it sees Twigs literally enacting a kind of "house mother" role, a la ball culture, but also suggests she's pregnant with new ideas and possibilities. Fundamentally, though, the visceral strangeness of it made me wonder something: when was the last time pregnancy or birth were represented in a pop music video?
There are stark few examples to draw from. Lauryn Hill, Britney, Christina Aguilera and more have written pop songs about the experience of being mothers, but rarely will you hear any of them speak directly to the biological reality of having a kid. More to the point, those songs are all album tracks rather than singles, and none have videos. One trail-blazing pop video that did dare to address the topic of motherhood on-camera is Neneh Cherry's 1989 video for "Manchild." In the clip, Cherry sings with her baby son on her hip and a towel on her head, before whipping her hair out, passing the baby off to a bystander and bursting into righteous spoken word. Like Twigs, she's not afraid to remind her audience that her body is capable of reproducing and being sexy too; unlike Twigs, she even has actual human offspring to prove it.
In the 27 years that have followed Cherry's video, there's been little else like it. In fact, women at the forefront of pop have even made efforts to actively conceal their roles as mothers when it comes to their public image and art. Madonna, who is generally considered a boundary-breaking figure when it comes to female sexuality in pop (e.g. "Papa Don't Preach"), went to great lengths to hide the fact she was pregnant in her 2001 "Music" video. Director Jonas Åkerlund, who shot and edited the film to disguise Madonna's bump, told GQ in a 2010 interview: "She was pregnant and we didn't want her to look pregnant—so we had to work around that."
Why is pop scared of pregnancy? Aside from the fact that women are so often presented as objects not subjects available for consumption in their own music videos—an illusion that's broken by the sight of a pregnant bump—perhaps it's something to do with that old nightmare of "having it all." Ever since the sexual revolution of the '60s and '70s—when sexual morals shifted, independence celebrated, and more women began to enter the workplace—women have been split into workers and nurturers. Even worse, we've been taunted with the patriarchally-loaded idea that we can't do both (an idea Neneh Cherry joyously railed against in the "Manchild" video). But maybe it's also artistry that's mistakenly thought of as being incompatible with motherhood; it sounds Victorian, but that stigma is more prominent than you'd think today. Just last year, Tracey Emin—the renowned British artist whose work has long explored female sexuality, from her first solo exhibition Every Part Of Me's Bleeding to her famous 1999 work, "My Bed," which featured blood-stained underwear—told told Red magazine: "There are good artists that have children. Of course there are. They are called men."
We're still far from living in a world where it's not shocking to see a popstar with a pregnant belly in her own video (if you want proof of that, just look to how the Daily Mail covered Twigs' latest: "Don't worry, Robert Pattinson fans!"). Thankfully, in recent years, several female performers have been steadily challenging this status quo. Twenty years on from Neneh Cherry's pregnant performance on UK chart show Top Of The Pops, M.I.A. caused a confusing uproar when she performed at the Grammys in 2009 on her actual due date. Lady Gaga pretended to give "birth" to a "new race" in her 2011 "Born This Way" video, though the message was communicated more through trippy visuals and pained facial expressions than any shots of her looking literally pregnant. Mariah Carey incorporated the voices of her twins all over 2014's Me...I am Mariah. The Elusive Chanteuse., and spoke openly to Billboard about the fact that she felt pregnancy had actually improved her voice. Kelly Clarkson made similar comments this year after the release of her latest LP, telling Spin: "It's hard to explain, but when you're pregnant, everything is enhanced. You just feel everything 100 percent more than normal, and so a lot of the vocals came off super passionate and intense. It was different to make a record like that—I liked it."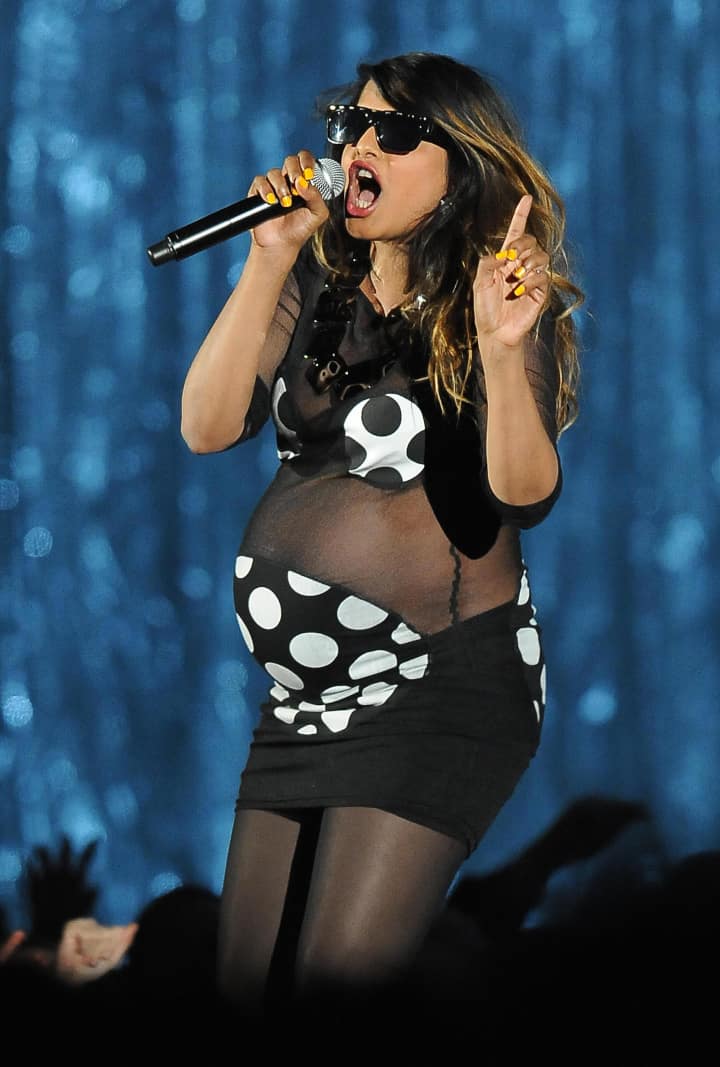 Few popstars have gone as far to incorporate motherhood into their artistry and their brand as Beyoncé. From the moment she whipped open her jacket onstage at the 2011 VMAs to reveal a burgeoning baby bump, Bey has never been shy about making her role as Blue Ivy's mom an integral part of who she is in public as well as in private. On 2013's Beyoncé, she was a woman in 3D: a sexual subject and a mother, too. You could see her prowling in lingerie and steaming up back seats of limos on "Partition," before hearing her coo sweet maternal nothings on "Blue" and even confess on "Mine": not feeling like myself since the baby. In the album's accompanying documentary series, she talked about breastfeeding while recording, and earlier this year she trolled the internet with an Instagram snap of her sporting a pregnant sand belly on the beach (below). While, as previously noted, many artists have dedicated album tracks to their babies, Bey's "Blue" not only earned her daughter a feature credit but it also got a video that has over four and half million YouTube views. There's no right or wrong way to be a mother in the public eye, but Beyoncé has done much to normalize pregnancy and motherhood in the world of pop.
So maybe pop culture is coming around to the idea that, if Beyoncé can perform in revealing costumes while carrying Blue in one arm and 20 Grammys in the other, women can totally "have it all" as workers, artists, sexual beings and—gasp—moms, too. In which case, why is a visible reminder of the female reproductive system still a shock when we see it in the context of a pop music video? Despite second wave feminism's obsession with female anatomy—with prominent feminist Germaine Greer famously writing in Suck magazine in the 1970s, "Lady, love your cunt"—pop culture has been slow to catch up. Vaginas that look like anything other than what you'd see in porn (and are used for anything but) are still largely missing from the public eye; apparently we still cannot handle the idea that many women's bodies are capable of carrying and giving birth to babies. Birth is a visual punchline in the world of Judd Apatow gross-out comedies; a horrific parasitic experience in the tradition of Cronenbergian body horror. Just last week, Ontario-based artist Rupi Kaur called out Instagram for repeatedly deleting a photo of her menstrually bleeding in bed, despite being fully clothed. "I will not apologize for not feeding the ego and pride of misogynist society that will have my body in an underwear but not be okay with a small leak," she wrote on Facebook. "I bleed each month to help make humankind a possibility."
It's 2015, and the social media platforms you use every day are apparently ok with you seeing the violent bloodshed of worldwide conflict but want to stop you from seeing a drop of menstrual blood. It's safe to assume that Greer, who says you're not truly liberated unless you've tasted your own menstrual blood, would think that's bullshit. And yet it remains that the reproductive functions of the female body are still shocking to mainstream pop—we are told that vaginas are for penetrating, not for having things pulled out of them. In this context, Björk turning herself into a human vagina in order to live out the story of her emotional post-divorce transformation is astounding. Likewise, FKA Twigs portraying herself with a bulging pregnant belly. These two artists are subtly waging the same war on pop's visual landscape that Rupi Kaur is waging on Instagram; it's time we were done with enforcing the sexualization of women while also being scared of their reproductive power.
Lead image: Still from FKA Twigs "Glass & Patron" video