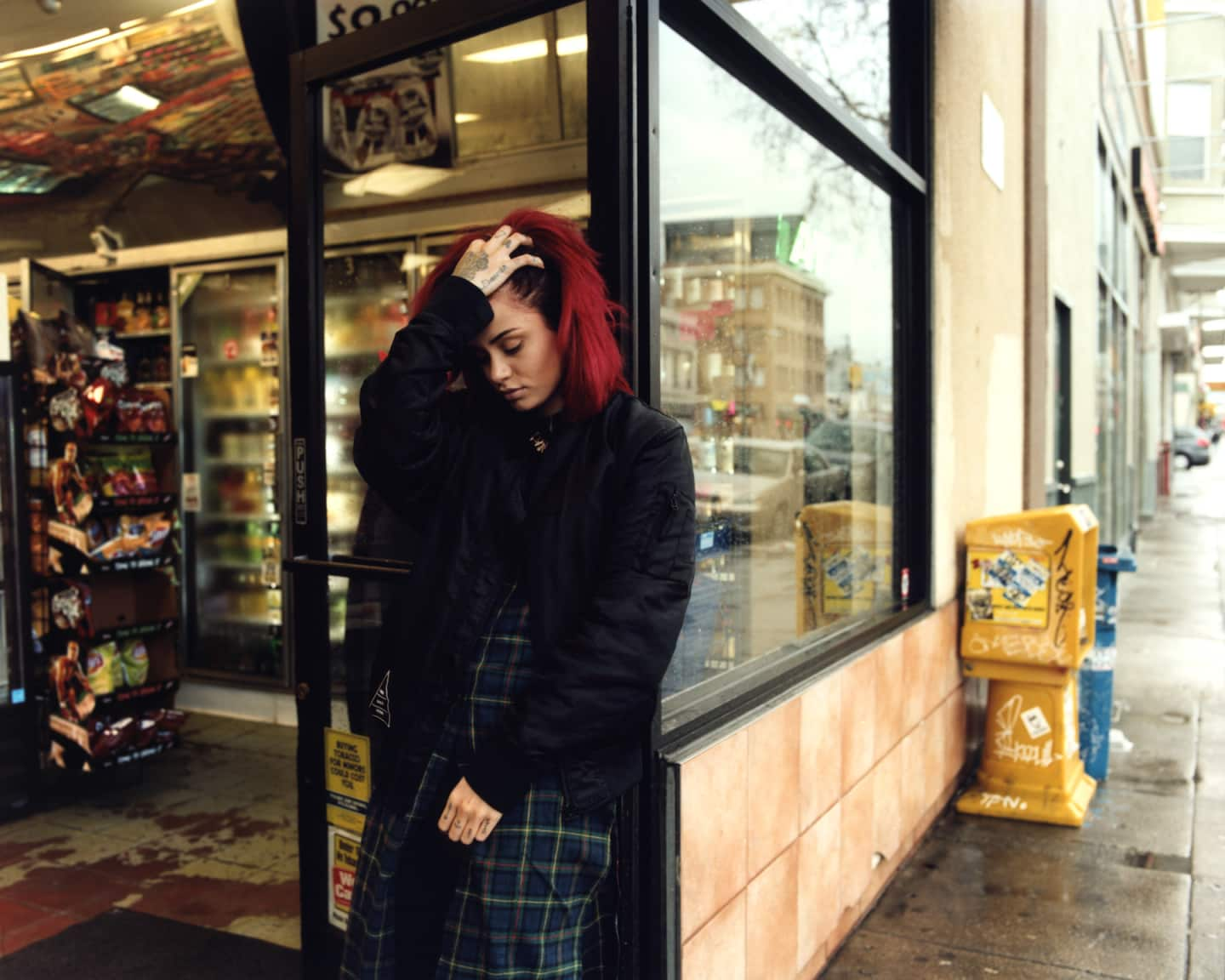 Kehlani Has Mink Eyelashes And More Tattoos Than She Can Count
In this edition of How I Live, R&B's next big thing dishes on her ever-evolving personal style.
For Bay Area R&B singer Kehlani, this year has been a wild one. Over the phone from her adopted homebase of Los Angeles, the weed-loving singer laughs when I ask how she spends her downtime. "Once you have the ball rolling, you can't let it stop rolling," she says. "My downtime is spent planning and plotting and talking and sending emails and taking meetings, if that's considered downtime." It isn't, but Kehlani does have an exceptional amount of momentum behind her right now; she's got a fast-ascending mainstream profile, a packed touring schedule, and a formidable social media presence (her Instagram followers are closely approaching half a million). Her fans—who've united under the cyber umbrella of #tsunamimob—love Kehlani for her empowering songwriting, her humility, and her true-to-herself aesthetic. The singer doesn't look like a pop princess or an industry darling, she just looks like Kehlani. Here, the 20-year-old tells us how she puts it all together.

"Kehlani: I went to M.A.C. before I left for tour because I had to do my own makeup. I met with this really cool makeup artist. She didn't overdo it, and she found all these little tricks so I wouldn't have to carry a bunch of products with me. I use a BB Cream because it's basically just a tinted moisturizer. She taught me that eyebrows are the most important thing on your face and how to take care of them and fill them in. She also taught me "the flash check," which is when you take a flash photo of yourself before you go onstage. I always forget to do that, but I just hope one of my girls loves me enough to tell me if I'm looking crazy. I don't really touch my eyelids because I get my eyelashes done at The Lash Loft in New York; they gave me a set of mink eyelashes. It was ridiculous and fancy but I don't have to worry about makeup running down my face when I cry on stage."
"My style is really comfortable. Because I have a lot of tattoos, I try to stay away from patterns. I like solid colors, distressed fabrics, sneakers, boots. I don't own any stilettos or pumps. I wear a lot of Adidas and Vans. The most comfortable shoe right now is the Adidas boots; they're green and they're the most comfortable shoes I've had in my entire life. I like vintage shopping on Melrose. Right now, I have a lot of people who are keeping me laced, and also a really cool style team. Daniel Buezo has been with me since the beginning; I always had a natural style but he heightened it. Debbie Gonzalez does high fashion and vintage stuff, she got me this Alexander Wang dress for Coachella. And I have a friend who gets streetwear. He'll pick out a base hoodie; he goes to sneaker releases and waits in line."
"I started getting tattoos when I was sixteen. My first tattoo was my knuckles. I got them done at the park. My best friend, who I call my sister, was moving away and I said 'tatt me!' We got in trouble, we almost got suspended—it was great. I don't know how many I have now. I have one shin and one calf and now I have a thigh tattoo. Stomach tattoo, under the ribs, my arm, my neck, my face, my back, my lip. When I was young, I was cheap as hell, getting tatted out of someone's garage. That's very Bay shit. So some of them have to be fixed up, but as far as content they're all very, very, very meaningful. I never realize how tatted I am until I'm in a bathing suit and I look in the full-length mirror and I'm like 'Geeze! I am so tatted.' I forget all the time, literally."
"I wash my face with African Black soap, which is so good for you, then I put on Clearasil moisturizer because it's fragrance-free. Sometimes, before I go to bed, I'll put on coconut oil. I'm really into natural products. I like musky oils, the kind you get from a flea market. I like oils that smell good and have other purposes; lavender relieves stress and orange helps with anxiety."
"I was really wild in high school, always dying my hair, always getting piercings, I didn't know what I wanted to look like. I used to have a mohawk. Switching up my look was just something I enjoyed. Right now, I'm growing my hair out from a pixie cut. My roommate is a hairstylist, so she makes sure my hair doesn't look crazy. She puts it in braids, makes sure I sleep with a scarf and that I use good products. I like Mane 'n' Tail and Moroccanoil."
"Switching up my look was always something I enjoyed. I think as a woman. that's a way to express yourself and become able to be a whole new personality for a second. It gives you a different feeling, a different type of confidence. I know Khloe Kardashian is feeling a whole new type of bad bitch with this blonde, cause I'm loving it. That's a bad bitch— she's living. I think I'm gonna constantly evolve [my look]. I think that's one thing that people really love about the women right now is that they're able to constantly set new trends. For example, Rihanna or Zendaya. Zendaya is family and she's always been really good at being able to pull off everything. Every time she goes on the red carpet it's a complete and opposite amazing look. I think it's something fun we can do as women. As long as we love it, we feel confident and sexy every time."