Cashmere Cat Is Finally Coming Out Of His Shell
The introverted producer—who's lent beats to Kanye West, Ariana Grande, and Tinashe—is pop's new not-so-secret weapon.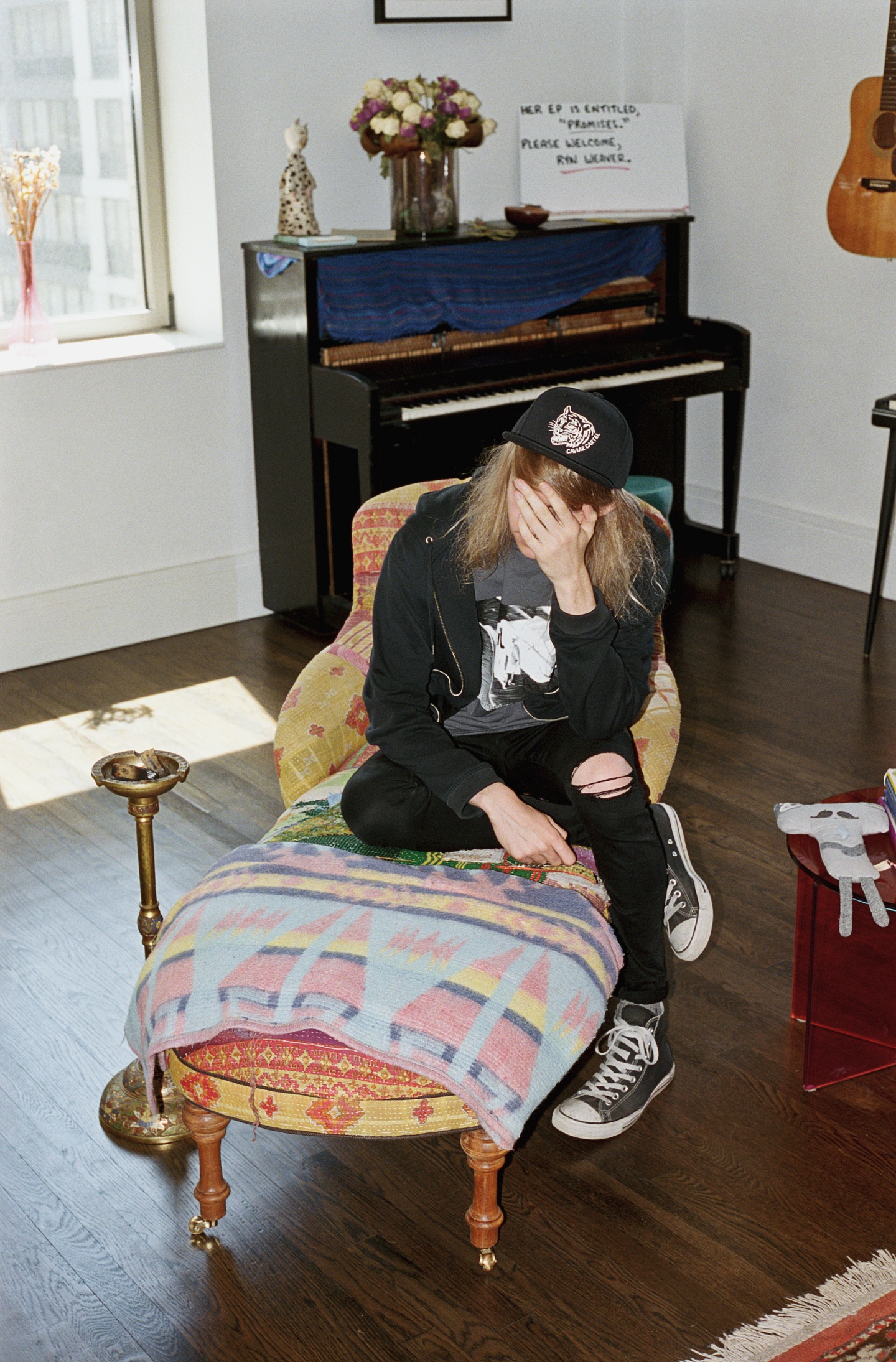 Cashmere Cat's been talking more lately. For one, the famously interview-wary Norwegian producer—who's lent his immersive, genre-hopping instrumentals to pop stars like Kanye West, Charli XCX, and Tinashe—agreed to speak with me for this piece. Secondly, he says he's gotten a bit less shy about chit-chatting with prospective collaborators. "It's really all about the speech that you give before you play someone something," he says over Skype from his folks' home in Oslo, a clean city on the northernmost edge of a fjord that links two Nordic seas. He's visiting for a couple weeks to unwind after a month-long stint as the opening act on Ariana Grande's Honeymoon Tour. "It's not just about me and the computer anymore," he says. "It's not only the beats that make people pick the beats, you know?"
Born Magnus August Høiberg, the 27-year-old producer grew up three hours from the Norwegian capital, in a small and quiet town where "there were no DJs and no one listened to rap music." Naturally introverted, he spent his teenage years scouring Kazaa for idiosyncratic hip-hop and hard-hitting electro, as well as tightening his skills as a quick-handed turntablist. Though he was a one-time finalist at the hyper-competitive DMC World DJ Championships, Høiberg admits he never really had a taste for the technical side of things. "I started realizing that the musical part was more interesting to me than intensely jabbing on the fader," he remembers. The MP3s he started releasing as Cashmere Cat in 2011—some twinkly solo tracks, plus blog-friendly remixes of artists like Miguel and Lana Del Rey—grew out of a desire to create club music with softer edges. "I'd been doing all this hard music for so long," he says. "I wanted to do stuff that wasn't just for a bunch of smelly bros in the first row pumping their fists."
The romantic blend of instrumental hip-hop and kawaii EDM that Cashmere Cat honed on his debut release for Pelican Fly, 2012's Mirror Maru, was both a reflection of its post-everything era and a couple steps ahead of it, forecasting the wonky-but-accessible pop music landscape that would emerge in the years following its release. It earned him co-signs from Diplo and Hudson Mohawke, as well as a personal message from wunderkind hit-maker Benny Blanco. "He emailed me, and a week later I was at his house hanging out with Maroon 5 or whatever," Høiberg remembers. "The first session we did together was with Jeremih, and I was terrified." Those early hangs sparked a still-strong friendship in and out of the studio. Cashmere Cat slept in the guest room of Blanco's Manhattan apartment for a year and a half. When he recently moved out, he chose an apartment in the same building, just one floor up.
Sometime after Blanco put him on, things started happening for Cashmere Cat in a real way. 2014 was especially big: in addition to releasing his second EP on tastemaking London label LuckyMe, Høiberg co-produced the vacillating beat on Charli XCX's snotty hit "Break the Rules," as well as the glassy backbone of Tinashe's "All Hands on Deck," strikingly different productions that somehow both have his playful fingerprints all over them. Things didn't slow down this year, either: Kanye's recent single "Wolves" features a stormy beat that Høiberg made with former Pelican Fly labelmate Sinjin Hawke. "I was going crazy," he remembers of the day "Wolves" debuted on the speakers at the launch of Kanye's Adidas collection back in February. On Instagram, there's a picture of Høiberg from that moment: he's face down on a hardwood floor at his lawyers' office, seemingly overwhelmed with emotion. "To me, it feels like my biggest achievement," he says of the collaboration.
About one month later, Høiberg dropped a massive new original, "Adore," which features Ariana Grande and writing from Jeremih. Grande's crescendoing vocal pairs perfectly with his blippy beats, and though he won't name names, Høiberg says he's got a bevy of vocal tracks cooking (he won't say whether "Wolves" is the only new Kanye song he's contributed beats to, either). "For a while, being in the studio with an artist was really scary to me, but now that's my every day," he says, humbly acknowledging that by staying busy, and making well-received work with artists he finds interesting, he's finally started coming out of his shell. "I'm trying to do more interviews, too," Høiberg says near the end of ours. "I'm trying to do scary stuff sometimes. Plus, I feel like I have things to talk about now. You know?"
From The Collection:
GEN F