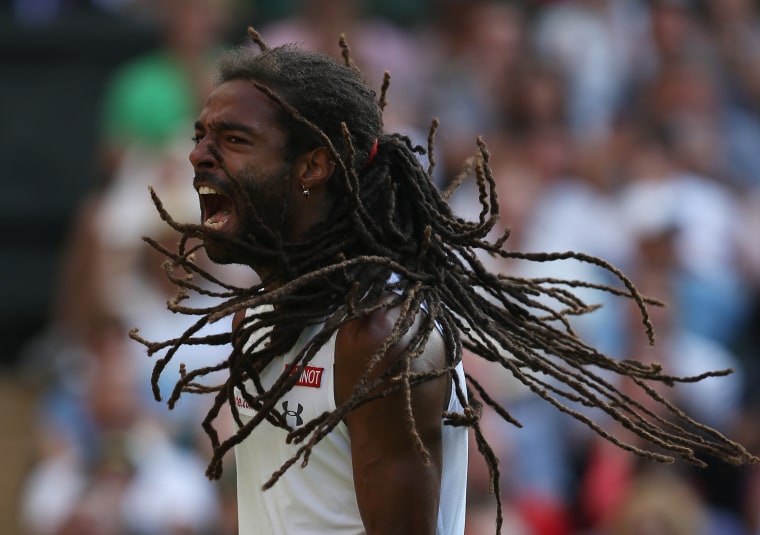 In a stunning upset, Dustin Brown, ranked 102nd in the world, defeated Rafael Nadal at Wimbledon yesterday. As BBC pointed out, "Nadal had never lost to a qualifier at a Grand Slam in 21 meetings. Brown had never before beaten a seed at a Grand Slam event." (That being said, Brown defeated Nadal once before, in 2014.)
It turns out Brown was listening to one of the highlights from A.L.L.A. before the event to get himself pumped up. "I walked on court with A$AP Rocky - 'Canal St,'" he told FADER. "It's been my walk on song all of Wimbledon. Basically on repeat 30-60mins before my match." The whole track is about Rocky overcoming obstacles: Face the fact, there's always niggas out there trying to knock the hustle, raps the MC. I guess that's why they say we trap—don't let niggas hold you back.
Brown listens "to tons of other songs" as well. His playlist also includes Rihanna's "Bitch Better Have My Money," Vybz Kartel's "Pressure," Jeezy's "Me Ok," and Emanny's entire Songs About Her 2 album. The eclectic list seems to be working for him so far.
Brown faces his next opponent, Viktor Troicki, tomorrow at 11:30 AM GMT. Revisit Rocky's "Canal St." below.