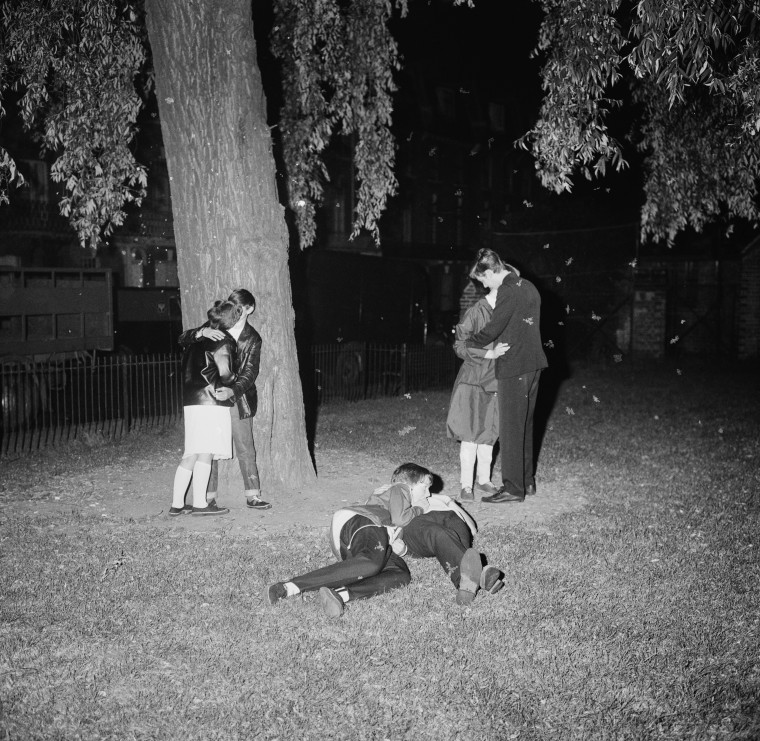 Karley Sciortino, Vogue (9/9)
In the wake of Vanity Fair's viral and controversial piece "Tinder and the Dawn of the Dating Apocalypse," there have been a lot of emerging opinions about the state of today's hookup culture. Slutever's Karley Sciortino wrote this smart and funny defense of hookup culture for Vogue. Because no, casual sex is not bad for you, and yes, women actually do enjoy casual sex, and no, Tinder itself will not cause chronic loneliness or sexually transmitted diseases. Anyway, I'll let Karley take it from here.
Jada Yuan, New York (9/10)
There is a huge problem in the U.S. right now: mass incarceration. New York Mag asked eight men who were recently released from prison after being wrongly imprisoned for capital crime to share their stories—what it was like to be set free after two decades, how they grapple with the time that they lost, and the challenges of planning to rebuild their lives.
Paul Gibbins, The FADER (9/11)
Lord of the Mics, the legendary MC battle clash series, is approaching its 10th anniversary. Boy Better Know's Jammer tells the story of how it shaped grime. Here's a taste:
"Clashing is the most important thing in our scene. Without clashing the scene was getting lost. People were trying to be pop stars and shooting these videos with Bentleys and Lamborghinis in the background. That's not our culture. People liked grime because it was music that reflected a culture from the streets and represented the people of London."
Michael Eric Dyson, New Republic (9/9)
If you're into intellectual stuff of any kind, or think pieces, or Twitter, or feminist articles on Magic Mike XXL, or essays on hip-hop, read this piece in New Republic about the emerging black digital intelligentsia.
Dawn Field, Aeon (9/11)
"In case you weren't paying attention, a lot has been happening in the science of genomics over the past few years. It is, for example, now possible to read one human genome and correct all known errors," Dawn Field begins in her piece on the future of genetic modification. It sounds like the opening to a sci-fi novel if you ask me. But it's not, it's real life. In the future, writes Field, "Personal DNA stories—including the quality of the bugs in your gut—will be the stuff of cocktail party chitchat." If you're not hooked already, I don't know what to tell you.
Erik Adams, Joshua Alston, and Marah Eakin, A.V. Club (9/9)
This past Wednesday marked the 25th anniversary of the debut of Law & Order, and damn! What a legacy! The endlessly enjoyable, almost always formulaic, and forever rerunning N.Y.C.-set show (with the exception of that one season of Law & Order: LA) can actually teach us some stuff about the past ten years. A.V. Club compiled 20 of the show's most important episodes from each of the years between 1990 and 2000. Each episode exemplifies the anxieties and preoccupations that Americans were consumed by at the time it aired. Ripped from the headlines! These are their stories...
Aimee Cliff, The FADER (9/8)
Micachu and the Shapes dropped their new album, Good Sad Happy Bad today. Aimee Cliff talked to composer Mica Levi about her band and their newest record, which is about "health, and ups and downs, reassurance, trying to relax. Smoking, and trying not to think about that." It's cool. Read about it. :)
Michael Brendan Dougherty, The Week (8/8)
In this crazy piece for The Week, Michael Brendan Dougherty suggests that there is only one way to punish homophobic county clerk Kim Davis. I won't spoil the end for you.
In more Kim Davis news, Mitchell Sunderland wrote a piece for Broadly about New York-based gay cult leader JJ Brine and how he put a spell on Kim Davis...
Leslie Garrett, The Atlantic (9/7)
Everyone knows what hoarding is, right? Like, serious, actual hoarding. Like, an apartment stuffed so to the brim that its occupant can't walk through their home without having to climb. Our culture is so obsessed with not hoarding, with decluttering, organizing, purging, that it might seem silly to think that the opposite of hoarding is also an illness. Leslie Garrett explains this other kind of obsession over "stuff."
BBC (9/10)
Once upon a time there was a chicken. The year was 1945, and on a small farm in Colorado, this special chicken's head was chopped off. What made him special? Well, after he was decapitated, he kept kicking. So they kept the chicken alive and named him Mike. He lived for 18 months, traveling the country, and became so famous that he was known nationwide as Miracle Mike. Read his story.