In a world of phonies, Rihanna is the realest. How she manages this, we may never know.
As I'm writing this, there are members of the Rihanna Navy lined up on the sidewalk outside the Macy's in downtown Brooklyn. They're waiting for Rihanna to appear and perform at the unveiling of her seventh perfume, RiRi, on Monday. That's in three days. They've been there since 6 a.m. Plenty of time to wonder what she'll wear. What she'll say.
I get it. I've waited for Rihanna too. In fact, I'm waiting for her right now. The whole deal with this cover story was that she wouldn't grant us any facetime, or phone time, but agreed to answer five questions over email.
Thing is, I knew she could go ghost. Not just because she can, which she can. Not just because of Beyoncé's recent Vogue September issue cover story, where Pulitzer-prize winner Margo Jefferson wrote a killer writearound with zero involvement or comment from Bey's camp. But because I've been in exactly this position before—seven times, actually, if you count each leg of Rihanna's 777 Tour in 2012.
From Mexico City to Berlin and Toronto to Stockholm, I've waited for Rihanna. Once, I waited on the tarmac at Charles de Gaulle airport for three hours because she wasn't quite finished shopping for lingerie at Chantal Thomas. After which she stopped at La Perla, another very nice underwear store. This was documented on Rihanna's Instagram, and Just Jared's. I think she ran into Puffy at La Perla.
At the time I—along with 140 other journalists, a handful of fans, and a caravan of international contest winners—was sleep-deprived, hungry, and utterly fucked sideways from back-to-back redeye flights. The tour was the brainchild of Rihanna and her manager Jay Brown. A Boeing 777 furnished by Delta would squire a roving enclave of carefully selected individuals to visit 7 countries in 7 days for 7 Rihanna concerts and parties to commemorate her 7th studio album in as many years.
There's a special kind of confusion and circadian loopiness that accompanies landing in different countries one after the other without ever seeing daylight. It makes you feel insane. A documentary was shot to capture the trip for posterity, and in it Brown states that the whole point was so other people would know what it feels like to live like Rihanna.
I can't say what it's like to be Rihanna, but judging by that week, I'd guess it feels like being a jetlagged basketcase in a hostage situation. I do know that the very special circumstances surrounding that tour conditioned me to become more obsessed with her, and that three years later, she comes up a lot. I have discussed, at length, over drinks, whether or not she works out. How many phones she has. If she ever gets sick. If there exists a man who could date her and, more importantly, who we'd want that man to be, because surely we deserve a vote, because stars are just like us, and of all stars, Rihanna feels the most real. I believe this is a sentiment shared by many of her fans, even ones who were never trapped on a plane with her. Still, I can't picture Rihanna jogging. Or going to the dentist. I usually envision Rihanna in the sun, languidly smoking. In short, I can only imagine things that she's already shown us.

They say that certain politicians win by dint of how badly you want to have a beer with them. No one doesn't want to hang out with Rihanna.
Rihanna wasn't always this space-alien famous. I actually interviewed her once before. It was in 2007, right before Good Girl Gone Bad, her third album. She had released major singles—"Pon de Replay" was catchy; I knew "SOS" but was irked by its tinny Soft Cell sample; "Unfaithful" was riotously maudlin, though it's since grown on me a lot. But at this point, to me, Robyn Fenty occupied the same space as a Cassie. I thought she was cute—faint and extraordinarily inaccurate praise should you consider her now.
With Good Girl Gone Bad came "Umbrella," a song you couldn't help but surrender to. The album's title was a little on the nose, sure, but it gave you some indication of where Rihanna was headed. She had just gotten a haircut—this asymmetrical, angular, jet-black, lopsided Posh Spice-type lob. It was the sort of declarative hairdo you acquire when you've shucked the trappings of one life to begin another.
The profile I was writing was her first cover. My editors expressed concern that she'd seem a little dry or boring. They wondered if there was any there there. This was long ago, when the first iPhone wasn't out yet. She didn't have all those tattoos.
We met in a beautiful house with a pool in the Hollywood Hills. I recall how flattered she was when I said I liked her new look, how she laughed and thanked me when I said she resembled an assassin. We were both wearing gold bamboo earrings. We listened to "Umbrella" together in the kitchen of the house where we took photos; it was the first time I heard it. Her forever bestie, Melissa Forde, was there. Rihanna was wearing roller skates, which she was deeply unhappy about. She requested to be changed out of a sea-foam miniskirt because it was too short. She was 19. At the time, I was already older than she is now, by a year. It is amazing to me that Rihanna has felt so young, so exciting, and so still-promising for almost a decade. An irrelevant Rihanna, to me, is unfathomable.
Then, in what is still the most horrifying professional bungle of my career to date, the tape I used to record her (yep, tape) got fucked up on my flight home. I'd spent hours with her, and we'd had a great talk. Over the phone, a few days later, I apologized. She gave me another 90 minutes.
We talked about how this was the album where you'd finally be able to hear her accent. How much she wanted to act. And that of all the actors in the world, the person she most wanted to work with was Paul Walker. When he died two years ago, I wondered if she'd remember wanting that.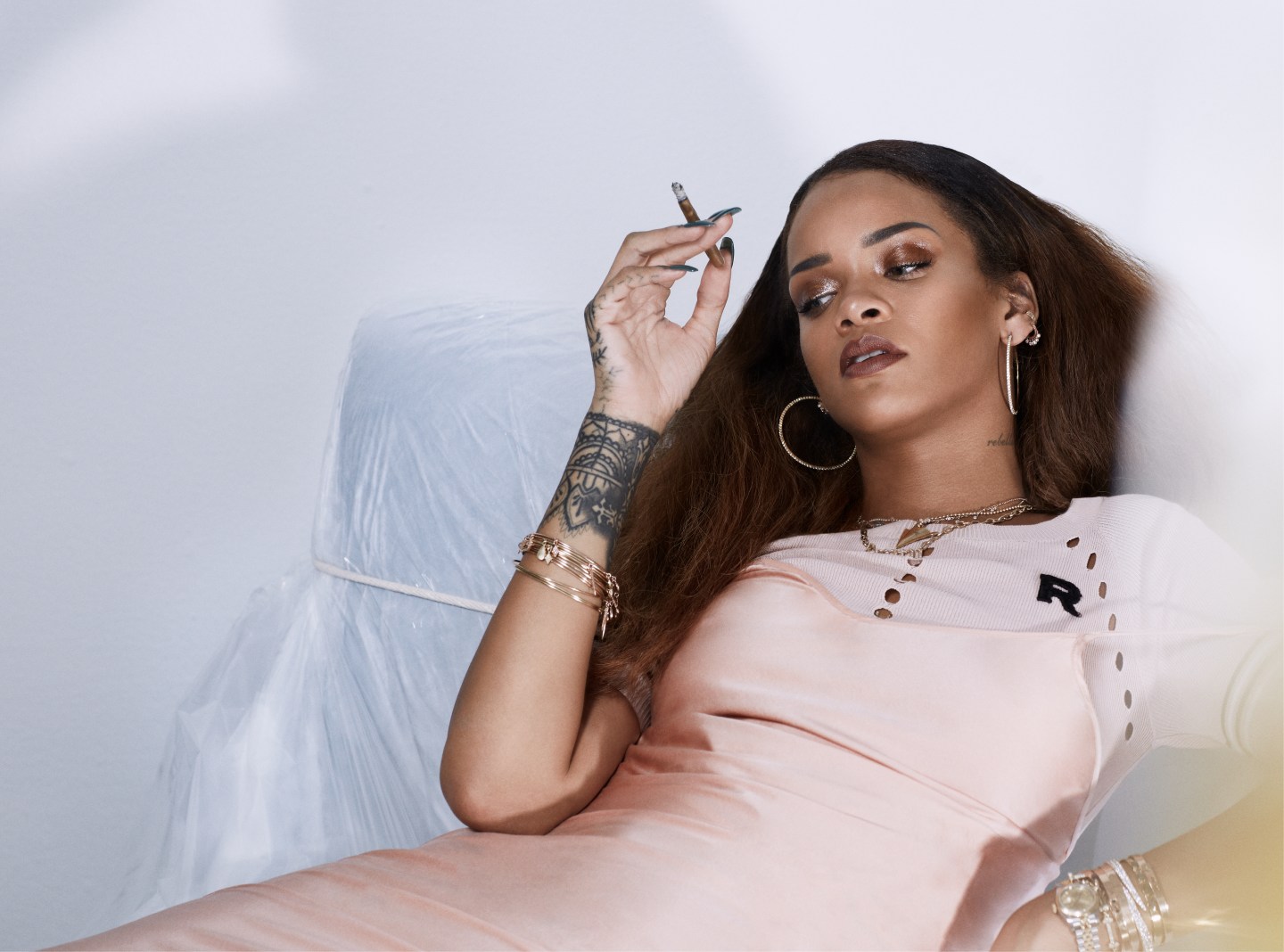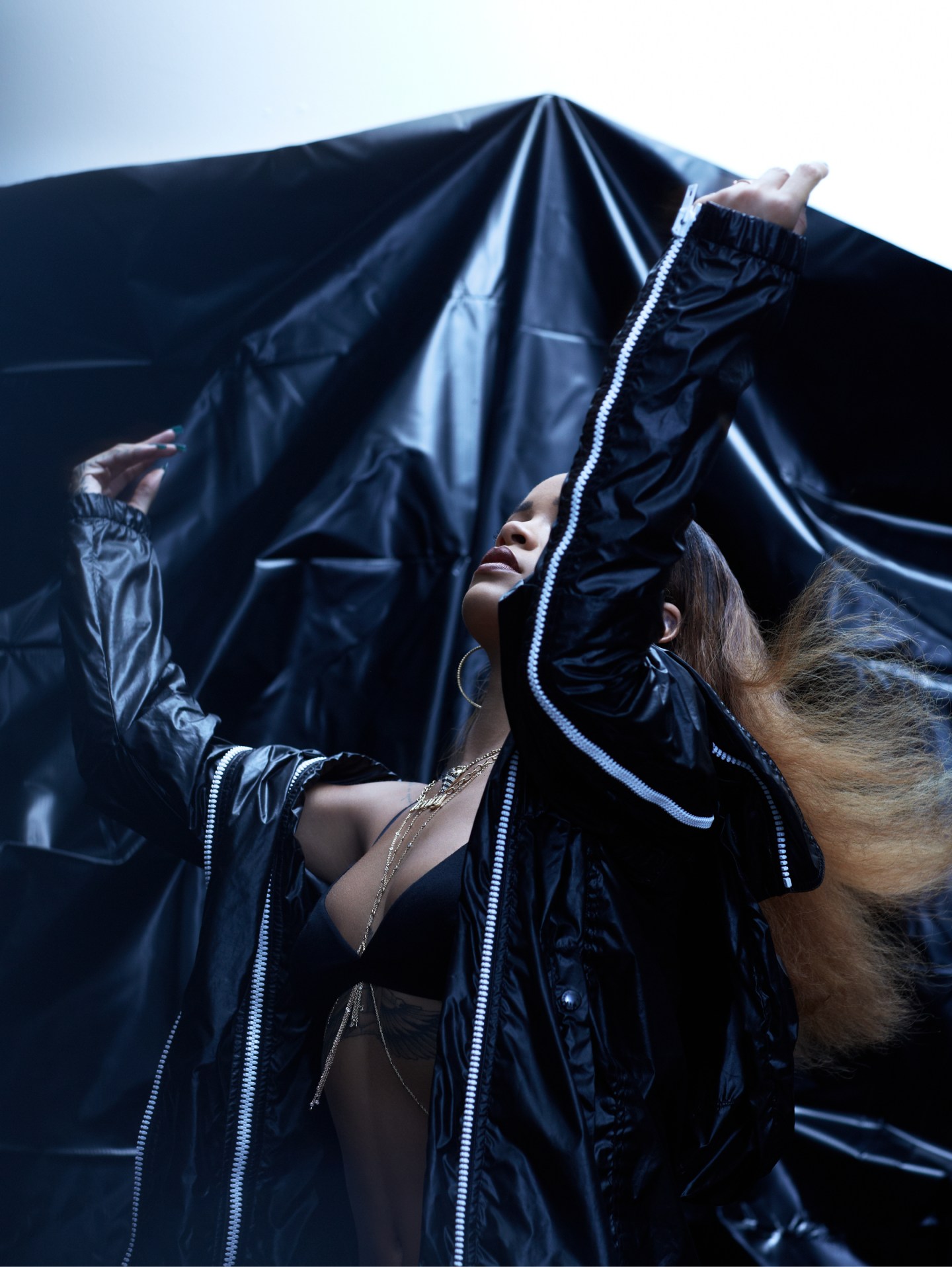 I have discussed, at length, over drinks, whether or not she works out. How many phones she has. If she ever gets sick. If there exists a man who could date her and, more importantly, who we'd want that man to be.
For almost a decade Rihanna released an album per year, but it's been over 1,000 days since her last one. Sure, there have been singles, collaborations with Eminem, and "FourFiveSeconds" with Kanye West and Paul McCartney. There was "Bitch Better Have My Money," a single and video that she directed with a quartet of French men who go by the name MegaForce. There was the Met Ball dress, Maori hand tattoos in New Zealand, tours through Dubai, and crop overs at #heauxm. Countless magazine covers. Her River Island collaboration. MAC Cosmetics deal. Dior ads. Hosiery collaborations. PUMA campaign. Among this all, her music is more relevant than ever: in July of this year, she became the first artist to surpass 100 million gold and platinum certifications encompassing 37 separate singles to be the winningest chart-topper in the history of cochleae.
Since summer 2014, Rihanna has acknowledged an upcoming eighth album by using the umbrella hashtag #R8. There have been maddening video snippets of her at work in the studio, sessions with legendary vocal coach Kuk Harrell, and rumors that the project will introduce a reinvented sound, a new Rihanna. In November 2014, Dash Radio host DJ Skee said an album was "closer than anyone realized," to which Rihanna responded on Twitter: "ANY news about #R8 will be delivered directly from me!!!!" Four months later, while promoting the blockbuster movie Home, she told MTV she wants "soulful," "forever" songs to "perform in 15 years" that will still feel like they represent her then. She has yet to formally announce the album's tracklist or
release date.
For all this time, anxious fans have been able to feel a sense of access to her, through Instagram, Snapchat, Twitter. Rolling that blunt on the Coachella security guard's head, playing dress-up with baby Majesty, she feels like she belongs to us. They say that certain politicians win by dint of how badly you want to have a beer with them. No one doesn't want to hang out with Rihanna. You suspect that you could even be yourself around her. Have fun. She certainly looks like she's having a blast. On the one hand, it's hard not to want for her, at 27, to have a break from the rigors of the Q4 album rollout, to cheer her on for pausing and taking some time. On the other, you can't help but wonder if she's sometimes felt just plainly over music.
If this were a normal story, I'd tell you what she ordered if we'd gone to Giorgio Baldis, her favorite L.A. restaurant, even though she pretty much always gets the same thing (fried calamari and pasta with tomato sauce). I'd tell you if she smelled like Reb'l Fleur, her old fragrance, or, if she's wearing RiRi, and what that smells like. The story wouldn't be so much about what she said in response to my questions—Rihanna is media-trained—it would be about registering any silences. Or flickers of eyelid. Or churlishness. Or evasiveness. It would be reading tea leaves. It makes you wonder why any savvy celebrity would ever agree to an interview, and understand why in this case Rihanna did not.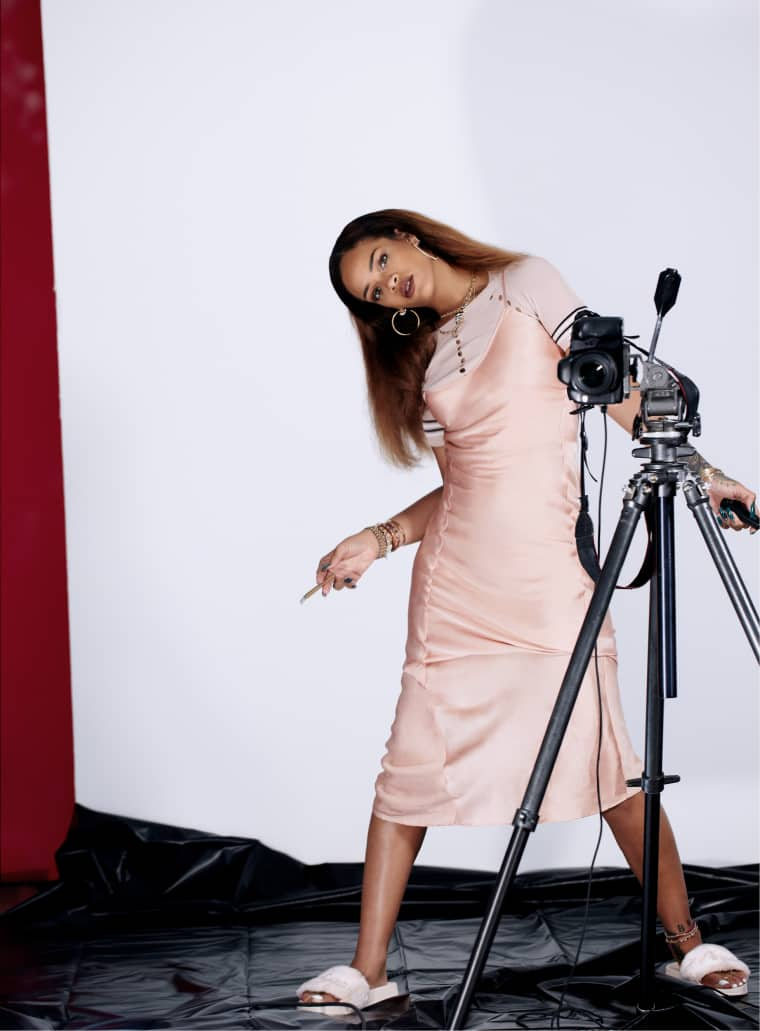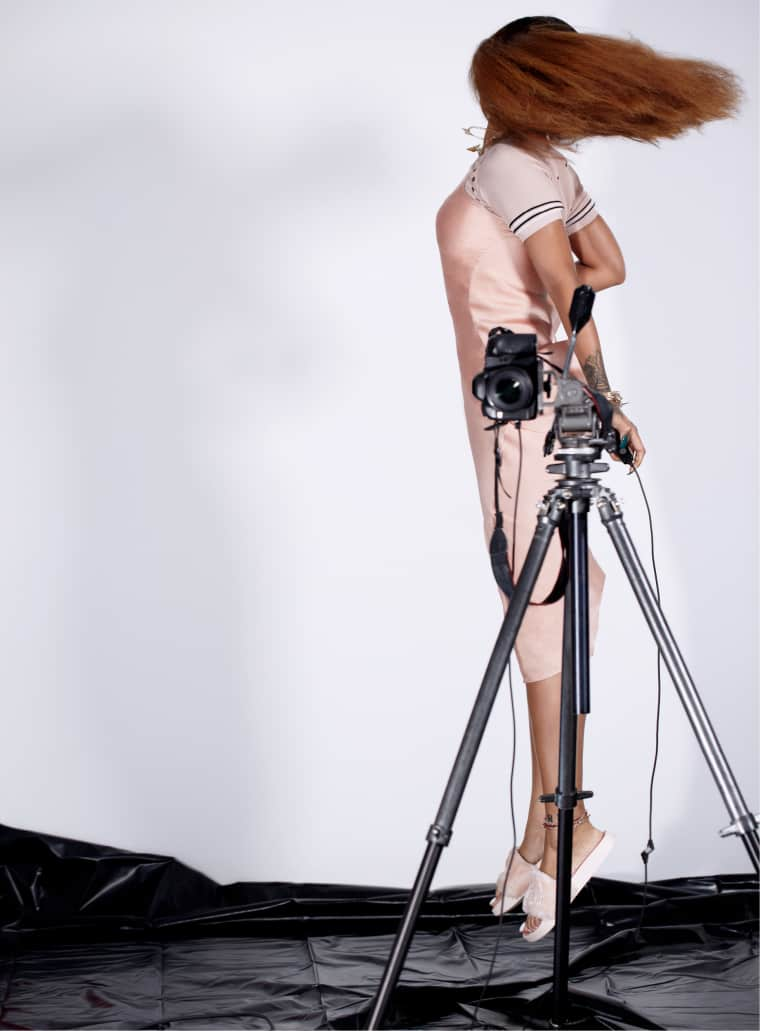 If there are no more Rihanna interviews in the world from now on, I think that's OK. Or at least it seems fair.
But as agreed, I did send over five questions. In fact, we sent five questions. I enlisted a trusted group of women who are similarly sparkly-eyed about Rihanna and her place in the pantheon of pop-culture goddesses, and we came up with some bangers. We did want to know what was so special about R8 that it warranted such a lag. We nixed all questions of men. We decided we don't care about Leo or whatever is going on with her and Travi$ Scott. (Truthfully, we want to know everything about what's going on with Travi$ Scott, but why waste a question with one that she'd rightfully not answer?) We wanted to know if she was ever alone and how it felt. What she does for self-care. How payroll works when you hire all your best friends. How she makes sure she attends important personal events like #DAVIS420WEDDING when she is quite literally Rihanna. If being Rihanna in Barbados feels any different from being Rihanna in New York. In short, we wanted some insight into the life that she shows us glimpses of but never talks about. Some revelation that would normalize her, help us understand what makes her seem so well-adjusted despite the rigors of her mega fame. Advice that we could, perhaps, incorporate into our own much smaller lives.
I am fairly sure I'll never again be on a plane with Rihanna. Or on a phone call. And if there are no more Rihanna interviews in the world from now on, I think that's OK. Or at least it seems fair. Five answers would do little to slake the immeasurable collective thirst of everyone who spends any time wondering about her. The mythic ideal of this woman who has remained in front of us, without our ever tiring of her, in an artful, sophisticated dance.
We keep on insisting, or at least wanting, a blueprint or a calculable algorithm to justify how she feels as knowable to us as a friend who made it without inspiring any resentment or jealousy. We feel like we're given a vision of her that is real because she chooses not to portray herself as perfect, which only makes us believe that she is. And maybe there's no way to explain it. Rihanna just has to be it. God knows we'll take it.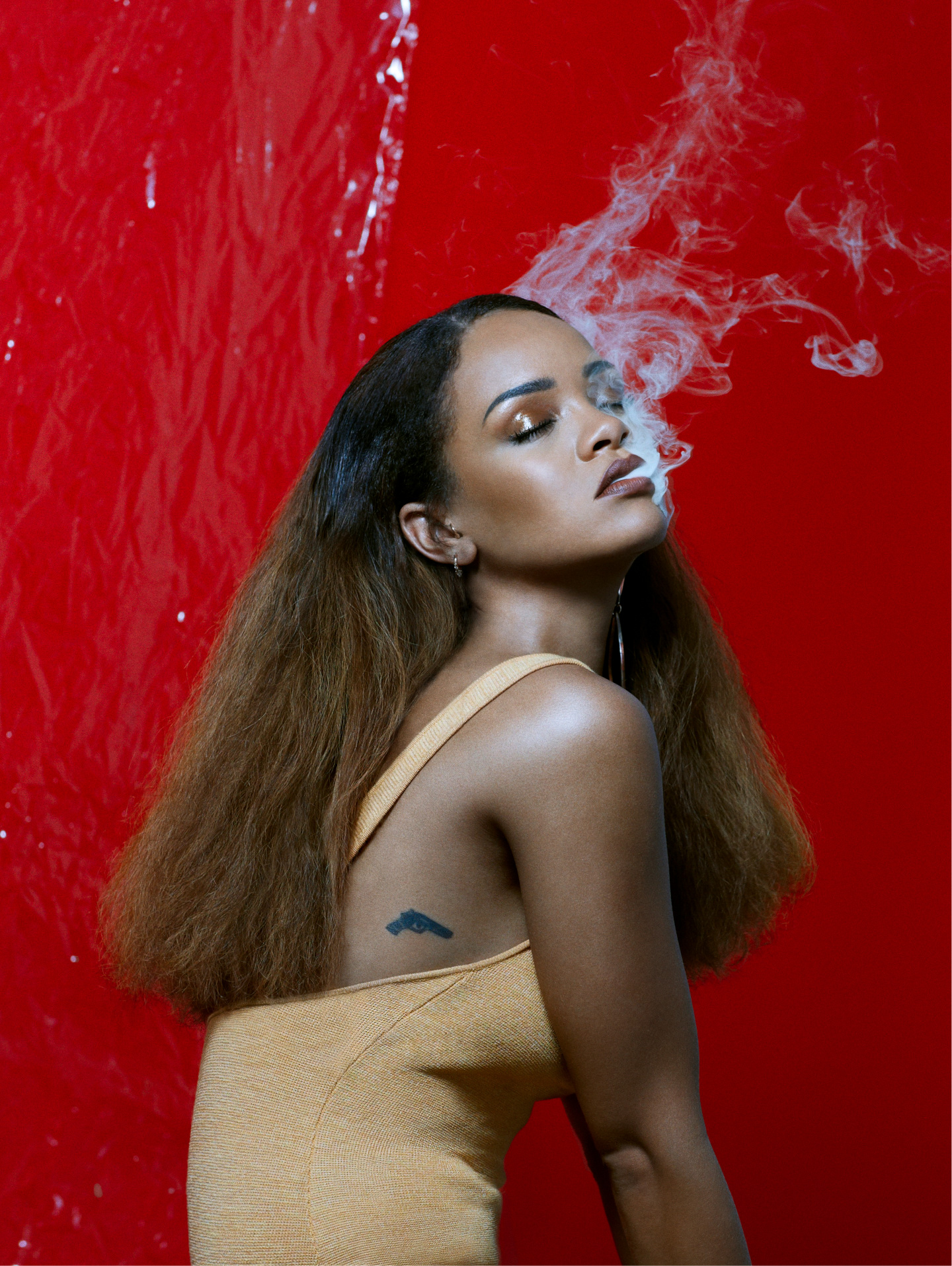 Hair by Yusef Williams.
Makeup by Mylah Morales.
Nails by Kimmie Kyees.
Set Design by David Browne.