The FADER Weekend Reading List
This week, we're reading about #vapelife, crossword puzzles, and Jadakiss's diet.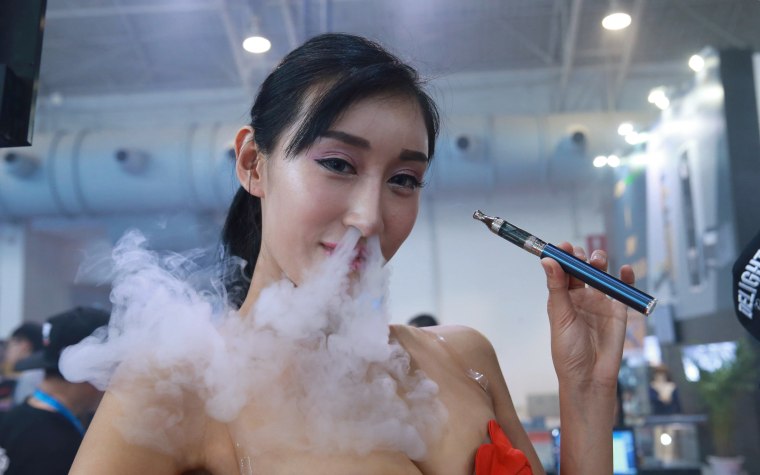 Jené Gutierrez, The Daily Dot (9/30)
This dude Jené over here went to a thing called VapeBlast, which is a real life vape convention in an Oklahoma casino. Jené went there for the lulz, as he said, but came out of the experience with appreciation for the #vapelife. Read why vaping isn't as douchey as you think.
Vanita Salisbury, Grub Street (10/2)
"'Health is wealth,' according to Jadakiss." Honestly, I think that is all you need to know before indulging in this delicious food-for-the-soul article. Bless you, Jadakiss.
Alana Massey, Medium (9/28)
Alana Massey is the author of an incredible piece published on BuzzFeed from the beginning of this year, "Being Winona In A World Made For Gwyneths," which chronicles her toxic relationship with a man along with her work as a stripper. In this powerful essay on Medium, Massey intertwines her personal experience with eloquent observations about "how the unrestrained, unaccountable emotional lives of men wreak havoc on women," and the destruction men create with their "cowardice at the prospect of female bodily and financial autonomy." I've read it thrice already while crying, laughing, and feeling very frustrated, but also like "YAS QUEEN."
Mary H.K. Choi, The FADER (9/28)
On Monday, our second cover story from our 100th issue hit the net. You've definitely seen those soon-to-be-iconic portraits taken by Renata Raksha, with collaboration from Rih herself. But if you haven't taken the time to read the full profile, you need to immediately, and I'm not just tooting the horn here. Choi's piece on how and why Rihanna is the realest girl in the world, and why it doesn't really matter that she didn't answer those five questions, is definitely worth your time.
Ben Popper, The Verge (9/30)
This article is all about how we discover music online these days. Ben Popper delves into the complicated world of music playlist curation, how Spotify's Discover Weekly is dominating the game, and the people behind the service who are "as good as DJs." Plus, in FADER contributor Alex Welsh's portrait, Discover Weekly's senior product manager Matt Ogle kind of looks like the dreamy lead singer of an indie band.
Craig Mod, Aeon (10/1)
What is the future of reading? It's a question we've all been asking for a while now. Craig Mod ponders the evolution of how we read, in the context of the plateauing popularity of the e-book. He touches on all sorts of aspects of how we consume the written word, including references to Gutenberg (of course), Borges' Book of Sand (1975), .epub, and more. "Containers matter," Mod writes. "They shape stories and the experience of stories." Read (hehe) more to find out why Mod returned to the physical book.
Aimee Cliff, The FADER (10/2)
Pop's glittery warrior, Kesha, is involved in a drawn out legal battle with her ex-producer and manager, the sleazy Dr. Luke, who has been accused of sexual harassment and general awfulness. In alignment with this awfulness is the fact that he's suing her back for slander. Ugh. In this edition of her Popping Off column, Aimee Cliff writes about the woman who encourages us all to be who we R, and why the airwaves need Kesha's empowering voice. Cliff writes: "Kesha herself is what made Kesha singles so abrasively, thrillingly weird, and without her mainstream pop music is missing a female voice unafraid to kick against the rules of respectability. With her rhyming flippantly about getting wasted and casual sex on 'Tik Tok,' early reviews branded her as a 'hussy,' exposing exactly how archaic the pop world's attitudes towards women still were. Kesha didn't care, and that's what made her the coolest." Read it all here.
Matthew Kassel, The Observer (9/30)
Straight up, crossword puzzles are really tight. But there aren't that many great places to get a fun, challenging crossword puzzle except from the NYT, and those aren't really tailored to a young audience. And apparently lots of young-ish people are into crosswords. This information lightens my heart. So does the fact that yung Caleb Madison is over at BuzzFeed working on setting up a whole crossword thang, geared towards people under 40. Also, because it will be online, there's more room for longer, cooler clues. For instance, Madison says, "I put in 'JEREMIH' first, and that gave me 'EMOJI,' which I like." Here for it.
Choire Sicha, Eater (9/30)
Ina Garten "laughs constantly," writes Sicha. Ina Garten says, "There isn't a letter, there isn't a recipe, there's no photograph, there isn't a font, there isn't a color, there isn't a detail that I don't totally do myself." Ina Garten is a "stalwart defender of being welcoming," and she "believes a house should smell good." Ina Garten is graceful, warm, loving, and an amazing chef. You need to read this profile of her crazy, beautiful life right now.