Jerrod Carmichael Is Making The Family Television People Actually Want
The Carmichael Show is the rare network sitcom with relatable characters and, most importantly, real-life stories.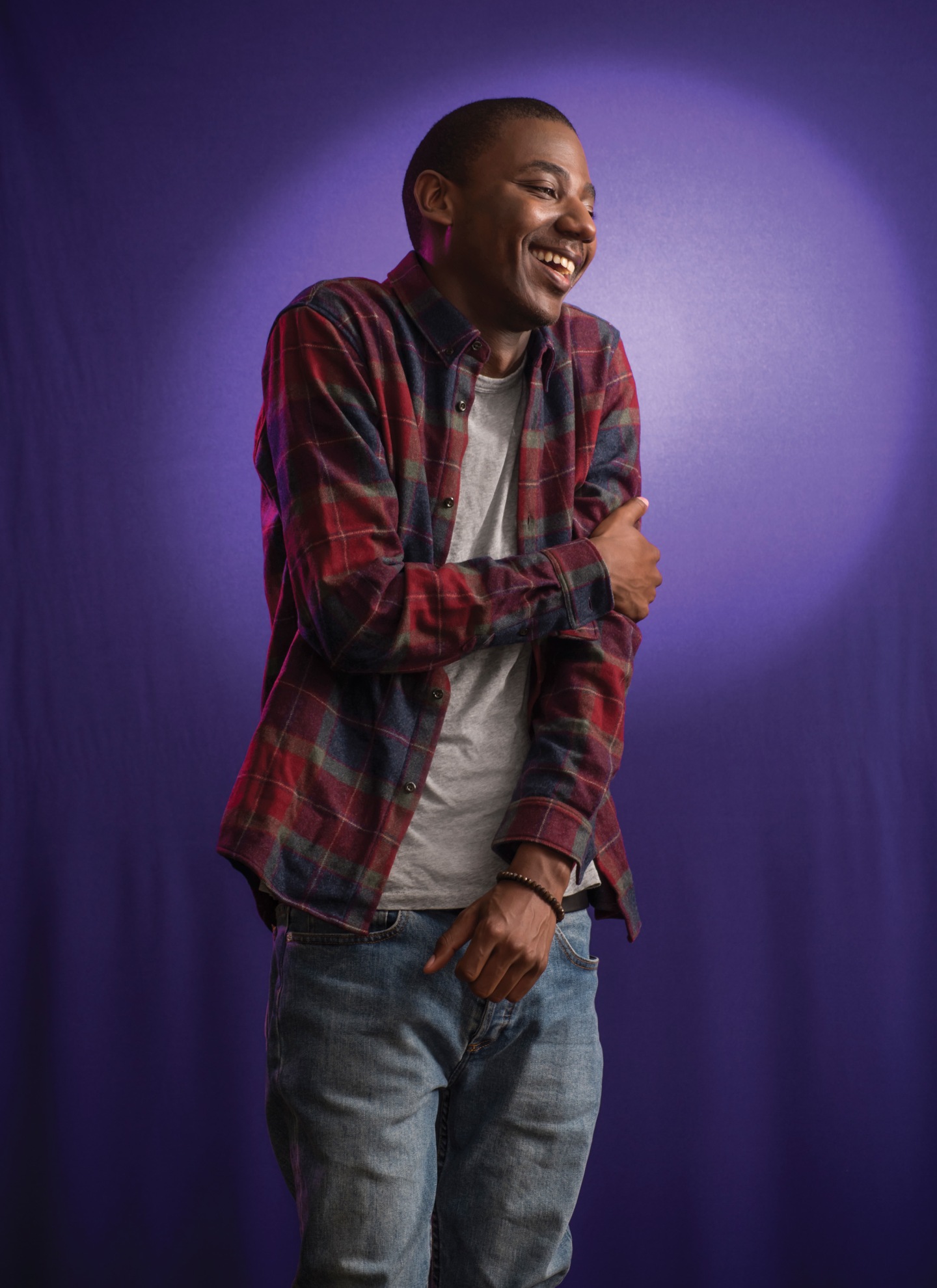 Jerrod Carmichael found out about the cancellation of his NBC sitcom, The Carmichael Show, in true Hollywood fashion. "They gave up my parking space," he says with a laugh. The show was ultimately picked up again, but the 27-year-old comedian really liked his space. "I don't know who has it now, but whenever he or she isn't here, I take my parking space back. Growing up in the hood, you think that everything is going to lead to a fight, and so that's what I'm mentally prepared for. But in Hollywood, nothing happens! This other person is probably very successful, and I'm sure they'll take care of them. I'm sure they will find another 10 feet to donate to his car."
Carmichael, who is from North Carolina, has stormed the comedy world much in the same way as he has the parking lot—filling voids people hadn't noticed were empty. He was 20 when he first tried stand-up, working through subversive routines about Chick-fil-A and slavery with droll, snail-like delivery. He soon landed bit parts in comedies like Neighbors, starring Seth Rogen, and in 2014 he taped his first HBO special, Love at the Store. The Spike Lee-directed hour was Carmichael's first time performing on television.
After the special, he started developing The Carmichael Show as a family-oriented, multi-cam, live-studio-audience sitcom that harkens back to Thursday night classics like All in the Family and The Fresh Prince of Bel-Air. In the show, Carmichael plays a version of himself: a tall, skinny man-child living with his med-schooler girlfriend, sleeping in camo snuggies, and avoiding his crazy family. His parents, played heartily by David Alan Grier and Loretta Devine, are upper-middle-class churchgoers who impart aged wisdom to their two sons—whether they ask for it or not. "A lot of it's rooted in the perspective of my family, and people I've met," he says. "It was always rooted around conversation."
The series quietly debuted as a summer mid-season tester, an unpromising fate referred to in the industry as a "burn-off." "Somewhere between football and the return of the fall shows," Carmichael says. The six episodes tackle social issues like gun ownership and gender identity alongside riffs on relationships and race, all from a one-of-one perspective that would make any network nervous. "People think if you say something slightly uncomfortable, or even something slightly unlikable, [viewers] are just going to shut down and turn off the televisions," he says. "But no, people turn on the television for interesting things."
According to NBC, the show attracted 4.7 million viewers in its 9 p.m. slot, making it the most-watched new summer comedy on the Big Four networks in eight years. "Lena Dunham just sent us something really nice about the show, and that feels special," Carmichael says. "John Legend told me he liked the protest episode. That was really special to me, cause I actually named my girlfriend's character, Maxine, after one of his songs." In September, just four days after renowned TV critic Daniel Fienberg declared, "NBC should renew The Carmichael Show—and renew it with haste," Carmichael got the good news. "I found out maybe 10 minutes before the public," he remembers. "I wanted to do a show on Thursday nights on NBC since I was, like, 14. We got Wednesday—we're getting closer, still early."
The day of our conversation, The Carmichael Show staff is about a week from getting back into the writers' room, and the young comedian is excited for the chance to flesh out ideas he'd hinted at in the first season. With a spacious, well-furnished loft and a wisecracking disposition bearing resemblance to his IRL persona, what did Carmichael's character do for a living? For all the family detail they squeezed into six episodes, the writers never got around to giving him a job. "It's so funny because I just kept pushing it off, like, 'We don't have to address it,'" he says. "But since so many people have asked, we will make something really fun out of the fact that we didn't." As the television industry tries on new formats and styles, attempting to catch up with trends in culture and technology, the fan-driven clamoring for a second season of The Carmichael Show—and to get to know its characters better—is a reminder that audiences want what they've always wanted: relatable personalities, real-life conversation, and hella punchlines.